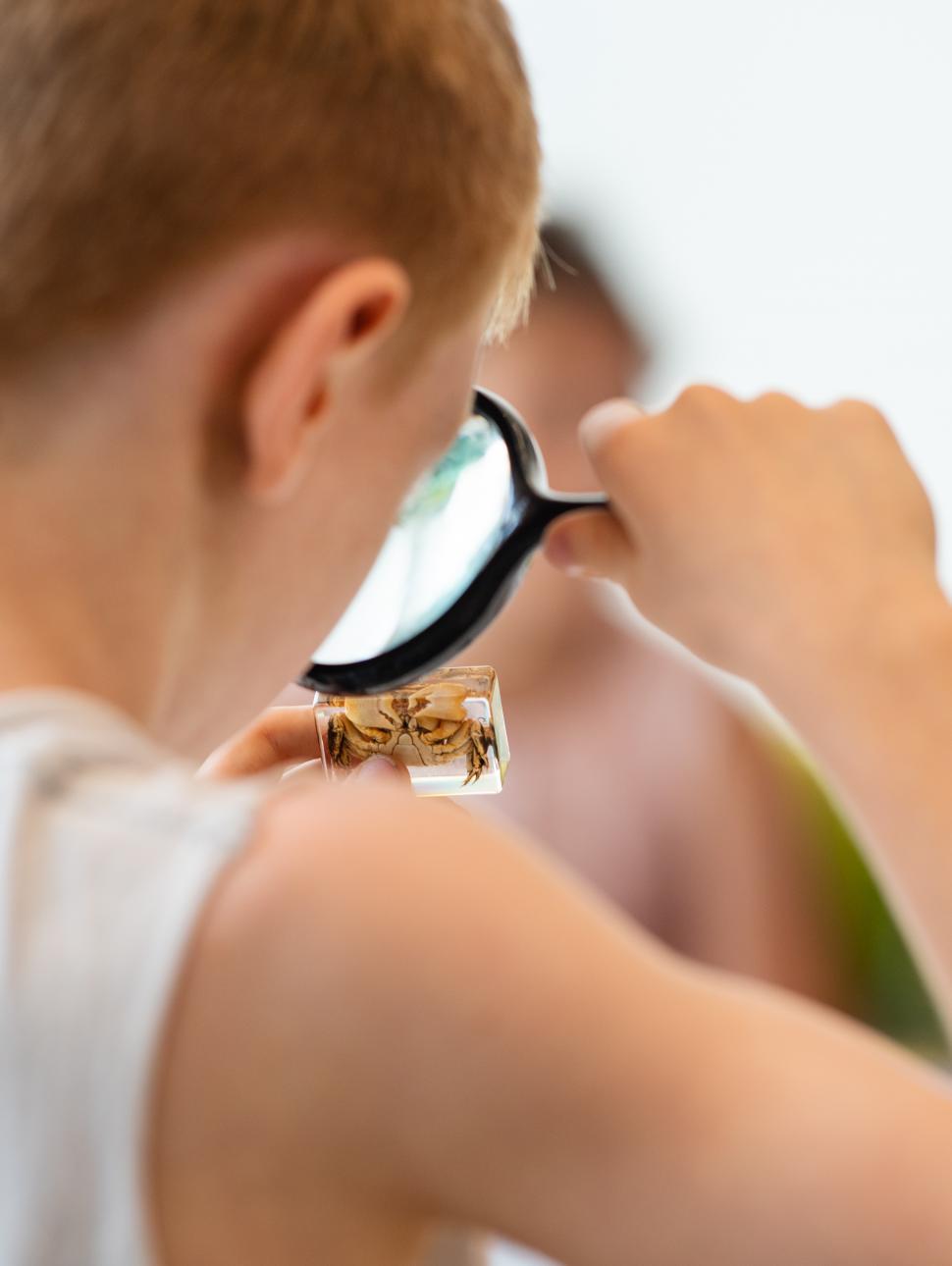 National Science Week 2022 School Program
Dates
National Science Week | 13 - 21 August
Curriculum
Science
Science as a human endeavour
Cost
Free
Bookings
Those who signed up to receive access to the Virtual Talks will be emailed a link prior to the event.
This National Science Week meet our biologists, palaeontologists, archaeologists, chemists, molecular scientists and more.

 
Our WA Museum National Science Week events are the perfect way to meet and hear from one of our team who spend their days using science in a variety of ways to learn more about our State and the world we live in. Don't miss this exciting opportunity to connect with them online from the comfort of your classroom!
From 15-19 August, you can sign up for a series of virtual talks to hear about recent findings, discoveries and unbelievable facts that will help to inspire and motivate your class. This year's National Science week theme; Glass: more than meets the eye, has inspired the Museum to consider all things glass in the world of science. From stained glass to mobile phones, we can guarantee you will never look at a piece of glass the same again.
In addition to the unique opportunity, make the most of the self-led activities and materials that will be available for you to explore with your class. Consider booking an educator led Virtual Lab for you to delve in deeper to your findings and research and discover some of ours.
---
Virtual Talks 
What stories can a piece of glass found in the ocean tell us?
Monday 15 August | 1pm

WA Museum maritime archaeologists are asking this very question through exploring the chemical make-up of glass bottle fragments found on shipwrecks to see if they can help determine where the glass came from.
Dr Deb has been working in the underwater environment for over 20 years. From searching for submerged cultural landscapes in Slovenia to wreck sites in Vietnam, diving on the pirate ship Queen Anne's Revenge in the US to the former slave-trader James Matthews in Australia, her work spans four continents and countless adventures. Dr Deb is interested in the impacts of climate change on maritime cultural heritage and enjoys using innovative techniques to discover new stories, revealing site and artefact secrets.
Weird and Wonderful Specimens
Wednesday 17 August | 1pm
Dr Mark Harvey is Curator of Arachnids & Myriapods at the Western Australian Museum, a position he has held since 1989. Dr Mark is an internationally renowned scientist whose research focuses on the biodiversity of the Australasian invertebrate fauna, and is an accomplished taxonomist and has described nearly 800 new species during his career.
Join Dr Mark to learn what weird and wonderful things we store in glass vials and jars, from scorpions and trapdoor spiders to millipedes and pseudoscorpions. He'll share his recent discoveries during recent fieldwork in the Kimberley – several new species of spiders and pseudoscorpions that have never been see before by museum scientists.
---
Virtual Lab with a Boola Bardip Educator
Friday 19 August & Friday 26 August 
Wrap up your National Science Week celebrations with one of our educator-led virtual sessions. The 30 minute session is an opportunity for you to link up with one of our education staff at WA Museum and students from other schools, to discuss your findings from the self-led resources provided, and to explore the theme of glass a little bit further.
Sessions will be offered on Friday 19 August and Friday 26 August, with slots available throughout the day.
---
'

More than Meets the Eye' Classroom Resources
Available online until Friday 26 August
After you hear from our amazing researchers, download our self-led resources and undertake glass-themed activities at school to stay inspired. Our 'More than Meets the Eye' resources will get you thinking about glass in new ways.
'Glass from the Past' and 'Mirrors and Mazes' for primary students, and 'Investigating Telescopes' for secondary students, with a 'Telescopes Student Activity Sheet'.