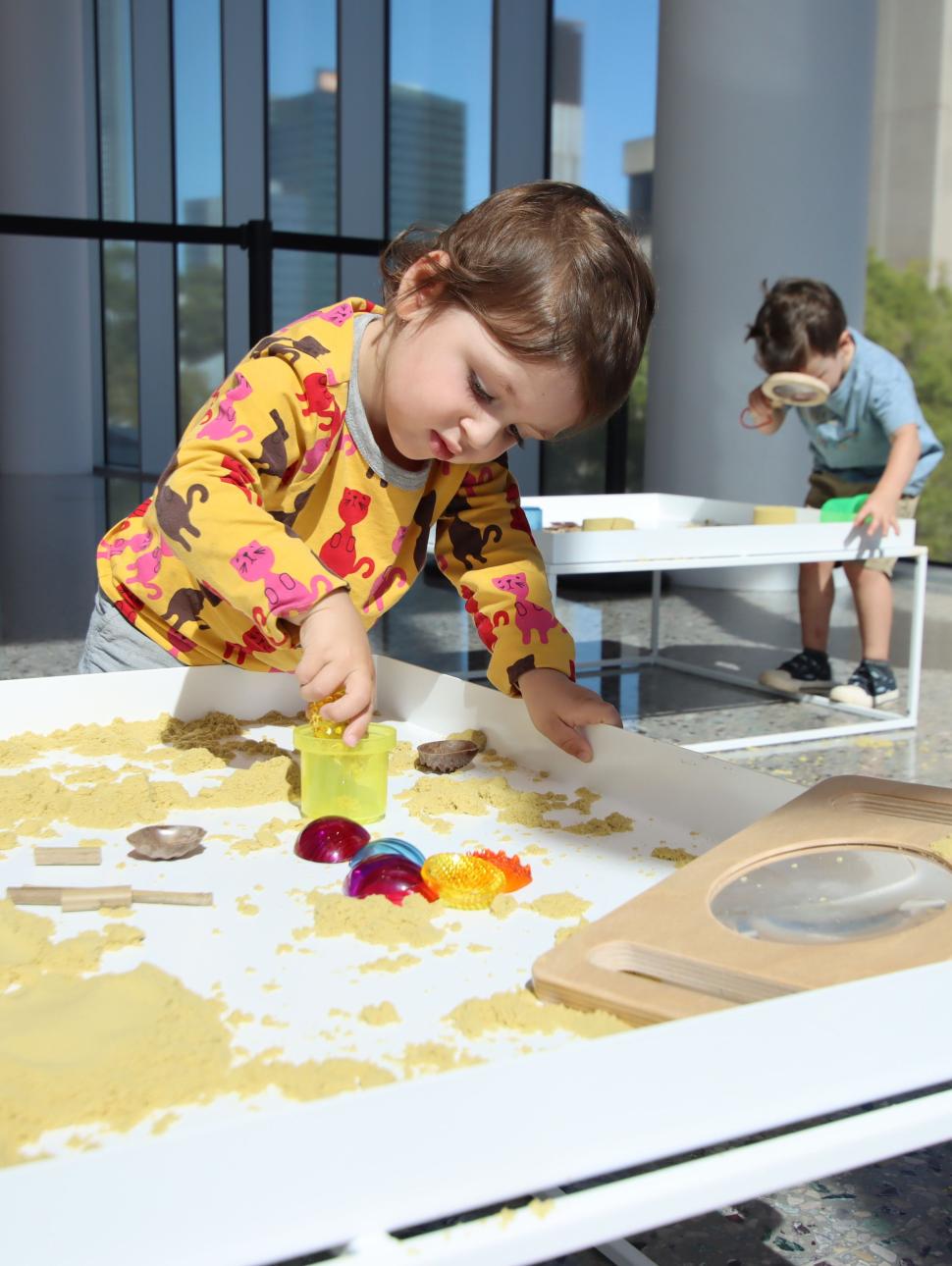 Pyramid Playtime: Under 5s
Dates
Mondays during school term from 19 June | 9.30am - 12pm
Cost
Includes Discovering Ancient Egypt exhibition entry.
Adults | $25
Concession | $22.50
Under 5s | Free
Membership
Friend Members receive 15% off ticket pricing for this event.
Welcome to Pyramid Playtime, a morning designed especially for under 5s and their adults to enjoy while exploring the Discovering Ancient Egypt exhibition.
Every Monday morning during school term, Pyramid Playtime offers exhibition access, spot-talks for the 'ancient mummies' and sensory Egyptian themed play for the 'little Pharaohs' with free admission for under 5s.
Begin the morning in our Pyramid Play Area near the Carnotaurus on Level 1 for song, rhyme and play-based activities. Then, explore the exhibition at your leisure, fitting in with little one's timings. Our Pyramid Play Area is always available to drop in and out of to suit your needs.
Adults who want to dive a little deeper into the exhibition can uncover more through short popup talks during the session. They're short and perfect for bite sized information while you explore with your little ones. Join us at 10am, 10.30am and 11am. 
Little ones under 5 can engage in a variety of activities including songs, music and play, led by our education staff in our Pyramid Play area. These activities run throughout the morning, to enable your group to dip in and out as you wish or even free play with the toys we have in the area. Our Pyramid Play area has space set aside for adults and bubs who would prefer to have tummy time only.
Don't miss out on this unique opportunity to explore the wonders of ancient Egypt with your little pharaohs.
Related exhibitions
Journey along the Nile to unravel the mysteries of ancient Egypt with the must-see exhibition.