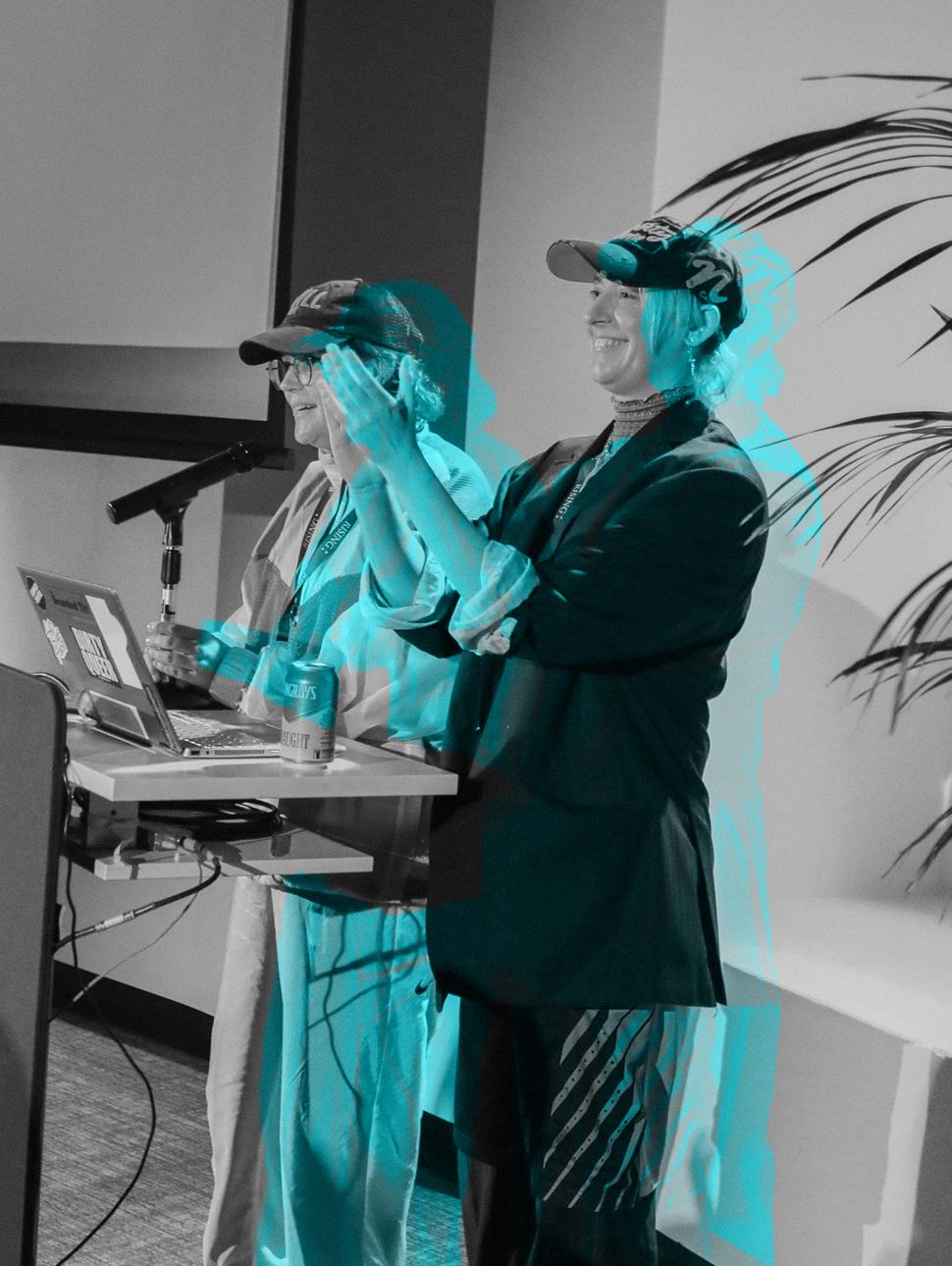 Dates
Friday 10 November | 6.30pm – 10pm
Cost
Standard | $25
Concession | $22
Membership
Friend Members receive 15% off ticket pricing for this event.
Applications to apply as a presenter close Sunday 8 October
A deep dive into the ideas, current obsessions, deeply felt convictions and fascinations of some of WA's queer creatives.
Since their 2022 performance at Boola Bardip, the Queer PowerPoint team have delivered shows at Rising Festival, Sydney World Pride, Now or Never and the Sydney Opera House.
Now, in partnership with WA Museum Boola Bardip, Queer PowerPoint returns to Boorloo to commission another troupe of WA-based artists to dive headfirst into their deepest, most niche passions, whatever they may be.
Whether you fancy being a presenter or just enjoying the show as an audience member, don't miss this evening of delightfully obscure, joyful and super queer sharing!
The presenter lineup will be announced in October. Check our the Event Information below for details on how to submit an EOI.
See you there!
---
Evening schedule 
Doors Open | 6.30pm
Performance | 7.30pm
Post Show Drinks | 9pm
---
A message from the creators and hosts Xanthe Dobbie and Harriet Gillies. 
"We invite you to join us for a night of surprising stories, secrets and starwipe transitions. The only rule is artists must use that most staid and ubiquitous of programming tools – PowerPoint! We're reclaiming and queering the corporate presentation from our straight capitalist wannabe-overlords." 

Event Information
Apply now as a presenter
Calling Perth-based queer creatives of all art forms and interests – Sydney-based artists Harriet Gillies, Xanthe Dobbie & Thom Smyth, in collaboration with WA Museum Boola Bardip, are commissioning four new artworks that go deep down your favourite rabbit hole to explore something you have learnt, felt, become obsessed with, or been freaked out by.

There is only one rule – you must share your idea in a 10-minute talk with slides built using that most staid, straight, and ubiquitous programming tool – Microsoft PowerPoint. Selected participants will be supported with an artist fee and an online workshop where the creators will introduce the concept, expectations, and the support available to them as they create their presentations. Participants will be selected with the intention of creating a genuinely diverse line-up of ages, backgrounds, and interests.

EOIs are super simple and due by midnight Sunday 11 October– just let us know your idea, and why you are so into it, and give us a link to your website, Instagram or other examples of your work. 
 
Artists will be notified by Wednesday 11 October. 

Number of spots: 4 artists will be programmed
Expected workload: 1 – 2 days including performance
This is a paid opportunity. Artist fees can be found at the APPLY NOW link above.
Find out more by getting in touch with ciaran.mcdonald@museum.wa.gov.au 
Meet the creative Queer PowerPoint team

Queer PowerPoint is a collaboration between an all-queer Sydney-based team of creatives: performance maker Harriet Gillies, digital artist Xanthe Dobbie, creative producer Thom Smyth and AV Manager Charlie Kember.
Produced by Unfunded Empathy.