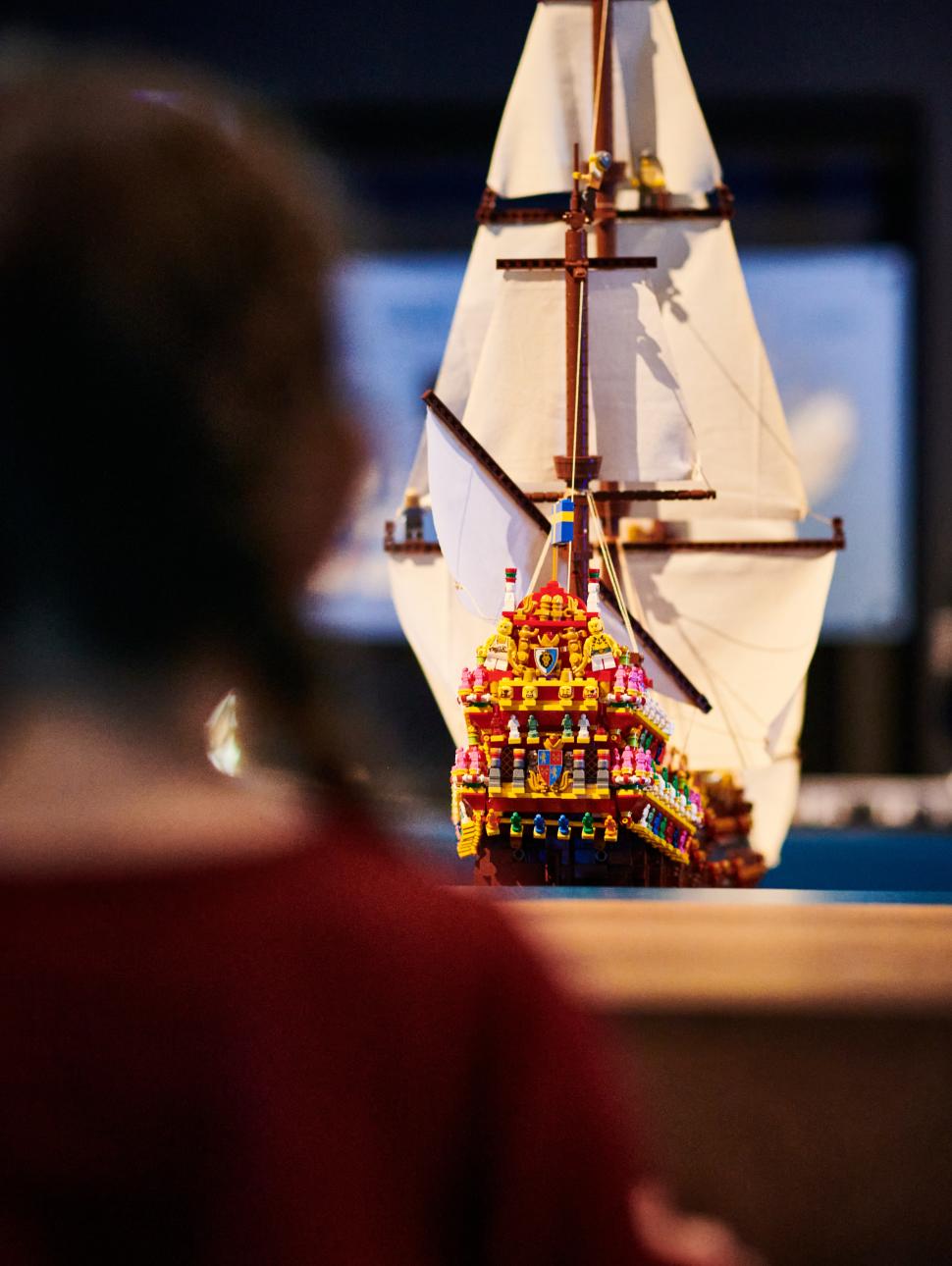 Brickwrecks: Sunken Ships in LEGO® Bricks School Visits
Dates
Monday to Friday during term | 10am
Start time may be adjusted on request.
Year Level
All year levels
Cost
$7.50 per student
$12 per teacher
Bookings
See booking information below
Overview
Are you planning to bring your class to the Brickwrecks exhibition? Great choice! It's a fantastic experience that your students will be sure to remember!
Below, you will find everything that you need to know for a self-guided visit.
For an extra-fun bonus, you may also wish to consider one of our facilitated programs as an extension to your visit.
---
At the Museum
What your class will experience
Self-Guided Brickwrecks Exhibition Exploration. Explore the Brickwrecks exhibition in small groups, each with an adult helper.
Focus on aspects of the exhibition that link to classroom programs/learning areas, such as maritime archaeology (Science and History), maritime history (History), model building (Design and Technology) or shipwreck stories (History and English)
A Learning Resource is available below to provide ideas on how to explore the exhibition
The exhibition also includes several hands-on interactives that explain aspects of maritime archaeology and history 
A food and toilet break can be included in this hour if required
This part is led by your group leaders
Download the Brickwrecks Learning Resource [PDF 8.18MB]
---
Booking instructions
Step 1 – Understanding the rotation
We can accommodate up to 2 classes per day – starting at 10.30am or 11.30am rotating through the self-guided Brickwrecks exhibition exploration and a self-guided exploration of the rest of the Museum of the Goldfields (start time can be adjusted on request)
Step 2 – Making a booking
Please send an email to goldfields@museum.wa.gov.au with the following details and we will begin to process your booking:
Program choice: Self-guided Brickwrecks visit
Preferred visit dates and session times
Number of classes and student numbers in each class
Number of attending adults per class
Contact teacher name, email and mobile number
School
Step 3 – Planning your visit
Don't forget to read the Planning Your Visit section below so you are prepared for your visit to the Museum
If you are booking for more than one class, please share this page with your fellow class teachers
Please email goldfields@museum.wa.gov.au or call us on (08) 9021 8533 to discuss other booking options if the above is not suitable.
Booking conditions
We may need refuse entry if we are already at capacity at your selected Museum and you haven't pre-booked
A minimum supervisor ratio of 1 adult to 10 students is required, however a ratio of 1 to 6 is preferred for this program
Bookings need to be made 14 days before the date of your visit
Changes to dates and times are subject to availability
Refunds are not available if you cancel your booking within 14 days of your visit
---
Curriculum links
Brickwrecks: Sunken Ships in LEGO® Bricks covers content which suits a wide range of year levels and Curriculum outcomes.
The Brickwrecks Learning Resource has been developed with reference to the Australian Curriculum, as is the best way to learn about how you can incorporate your visit into your classroom program.
Download the Brickwrecks Learning Resource [PDF 8.18MB]
---
Duration
The self-guided exploration of Brickwrecks exhibition and the Museum will take 45 minutes to one hour.
Allow time for swapping groups, food and toilet breaks into your schedule.
---
Planning your visit
On arrival at the Museum, please check in at the Front Desk to confirm your student numbers, booked session times and emergency contact details
The Museum is open from 10am for access to toilets and storage of bags etc.
If you are running late please contact the Museum of the Goldfields front desk on (08) 9021 8533
Further information can be found in the Museum of the Goldfields Excursion Management Guide