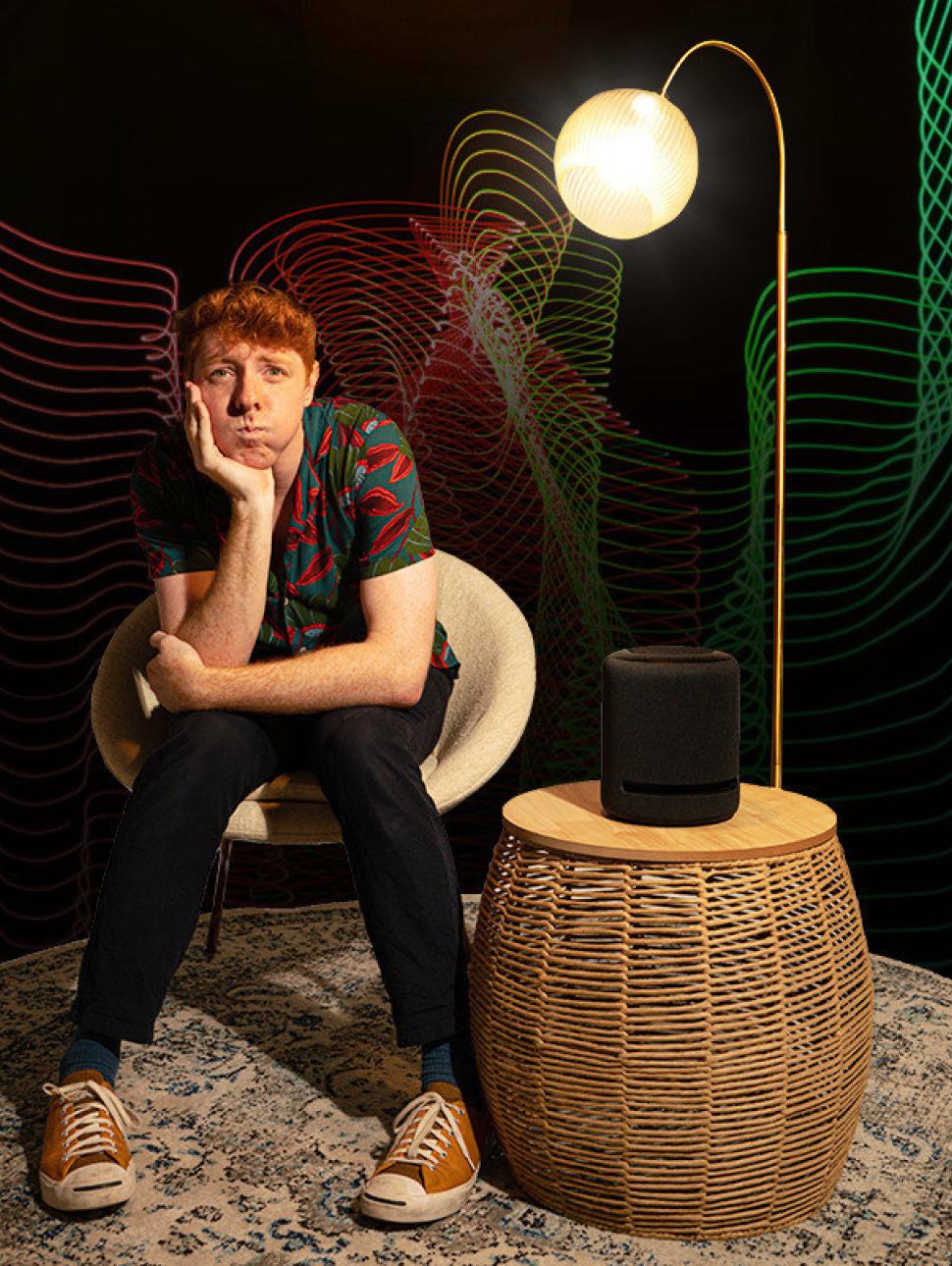 Alexa, Turn on the Lights
Dates
This event has now finished. Please visit
Tours & events
to see what's on at the Museum.
2, 3, 4, 5, 9, 10, 11, 12 February | 7pm - 7.50pm 
This event has now finished. Please visit
Tours & events
to see what's on at the Museum.
Part TED talk, part couples therapy, 'Alexa, Turn on the Lights' is a begrudging duet between performer Jacob Watton, and an Amazon Alexa smart home device.
'Alexa, Turn on the Lights' uses bespoke artificial intelligence programming to make a truly interactive performance. Critics call it "bite-sized, intimate theatre at it's best!" Stage Whispers, 2021.
Technology is the way we connect. How can we have 5000 Facebook friends, and still have no one to talk to? 
Heartfelt, funny, and joyful. 'Alexa, Turn on the Lights' is a performance for audiences who moan about the printer in their life that they have never liked. The constant of Siri piping in to any and all conversations; unannounced, uninvited. It's a show for technophobes in a deeply technological world.
---
Presented by:
Jacob Watton & Cluster Arts
Jacob Watton is a Queensland-based choreographer and performer working in Meanjin, Brisbane. In 2017 Jacob graduated with first-class honours from a Bachelor of Fine Arts (Honours) from QUT. Jacob works broadly across the performing arts as a performer and collaborator in making dance and theatre, a teaching artist, facilitator, and a creator. Jacob's choreographic work has toured internationally presenting at the Ars Electronica Festival in Linz, Austria and at the Busan International Dance Festival in South Korea. Most recently Jacob is presenting his solo technology performance, 'Alexa, Turn on the Lights'. Jacob often collaborates with Queensland based art makers: RAVA Productions, Prying Eye Productions, Phluxus2 Dance Collective, Angela Chaplin, and Claire Marshall among others.
---
FRINGE WORLD Festival 
This event is part of FRINGE WORLD Festival. Some tickets are sold directly through FRINGE WORLD festival, if there are no tickets available for the session you are looking for please check the FRINGE  WORLD Festival website. Whether you are looking for some fringey goodness for the family, or some late night live arts, discover more Fringe events taking place at the Museum here. 
---
City of Perth free parking 
City of Perth parking is free for three hours on the weekend, the State Library parking at 15 Francis Street, Northbridge is the closest to the WA Museum Boola Bardip.