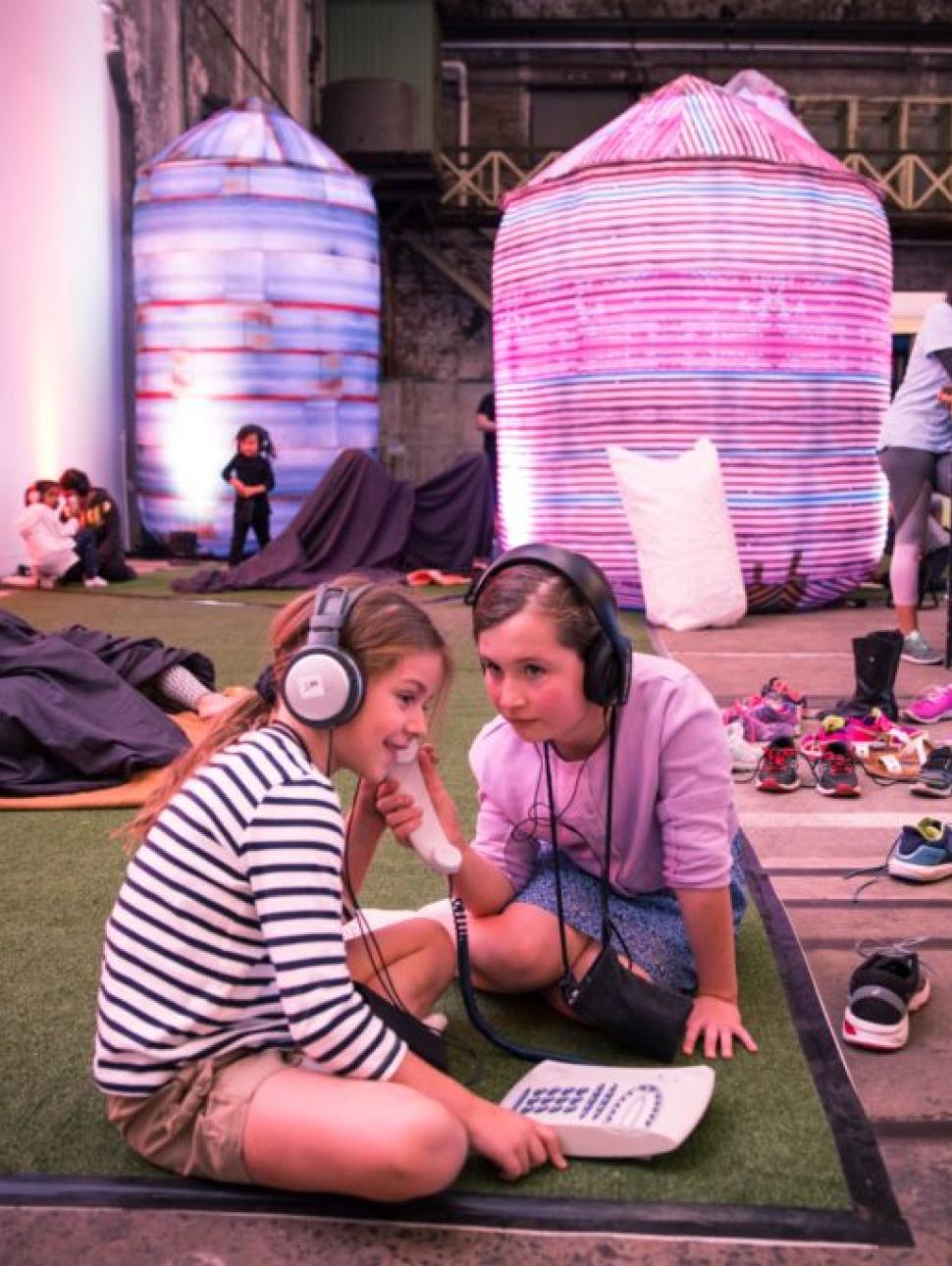 Dates
This event has now finished. Please visit
Tours & events
to see what's on at the Museum.
Daily | Sessions every 30 minutes from 10am - 4pm
Thursday 12 January - Wednesday 25 January, excluding Sundays
Cost
Included with General Admission | Drop-in
Ages 
Suitable for children aged 6 - 12 year old
This event has now finished. Please visit
Tours & events
to see what's on at the Museum.
Being a Turner is hectic — one minute you're a normal kid, the next you're waking up to find you've been taken hostage by half-snake, half-human creatures.
Step into the centre of a unique action-adventure experience, based on Mick Elliott's book series The Turners. Equipped with a mobile phone and headphones players physically act out the story together, each guided by their own rich audio score and individual instructions.
Leo and Abbie aren't ordinary kids, they're Turners, a secret species that change from human to animal and now they've found themselves at the centre of a global plot to annihilate their kind. It's a terrifying situation and now they have no choice but to unmask the shadowy figures behind it all.
This is a very active and human tech experience; it takes the imaginative, physical play that kids love and elevates it up with sound effects and a cinematic score. Audioplay is inviting kids to imagine a brave new world with the help of some great sound effects.
"Audio stories and imaginative play come together in the most creative way possible with Audioplay" Lester Ng, Little Day Out
---
Free sessions every 30 minutes
There are four players per play space with four play spaces operating every half hour. Those arriving together will be grouped in play spaces together, with a maximum of four players per play space. Where there are not enough players, accompanying adults may be asked to step in to fill some roles to allow the session to go ahead. 
Allow 30 - 45 minutes for the experience. All equipment will be provided. Please note this experience is not suitable for children under 6 years.
---
FRINGE WORLD Festival 
This event is part of FRINGE WORLD Festival. Some tickets are sold directly through FRINGE WORLD festival, if there are no tickets available for the session you are looking for please check the FRINGE  WORLD Festival website. Whether you are looking for some fringey goodness for the family, or some late night live arts, discover more Fringe events taking place at the Museum here. 
Book Credits
Based on the book series The Turners written by Mick Elliott
Director – Zoe Pepper
Writers – Zoe Pepper & Adriane Daff
Composer – Jethro Woodward (4 Player), Jamie Messenger (Play@Home) Sound Design & Edit –Cue Sound
Vocal Performers – Liam Graham (Leo), Emily Rose Brennan (Abbie - 4 Player), Adriane Daff (Abbie - Play@Home), Andrea Gibbs (Rattle), Ben Sutton (Boa), Igor Sas, Tegan Mulvany, Henry Inglis
Set Design – Gemma Pepper (4 Player) Producer – Gemma Pepper
Turners Illustrations – Douglas Holgate
This project is presented by WA Museum Boola Bardip.
This project has been supported by the Australian Government through the Australia Council for the Arts, its arts funding and advisory body and by LOFT, an initiative of The Blue Room Theatre, supported by the State Government through the Department of Local Government, Sport and Cultural Industries with technical support from Hipflask
About Audioplay
Audioplay's award-winning experiences let kids step into the story and be the characters that they love, complete with a blockbuster soundtrack.
Drawing on over 20 years' experience writing, directing and producing film, theatre and events Audioplay's experiences can be found far and wide from festivals and events, to local libraries and community programs as well as being available for families to play at home.
Audioplay has won numerous awards including two silver awards; for Best Family Podcast and Best Fiction Podcast at the Australian Podcast Awards (2021), a nomination for Best Direction (Interactive or Immersive Title) Australian Directors Guild Awards (2021) and winning Best Sound in the Australian Game Developers Awards (2020).