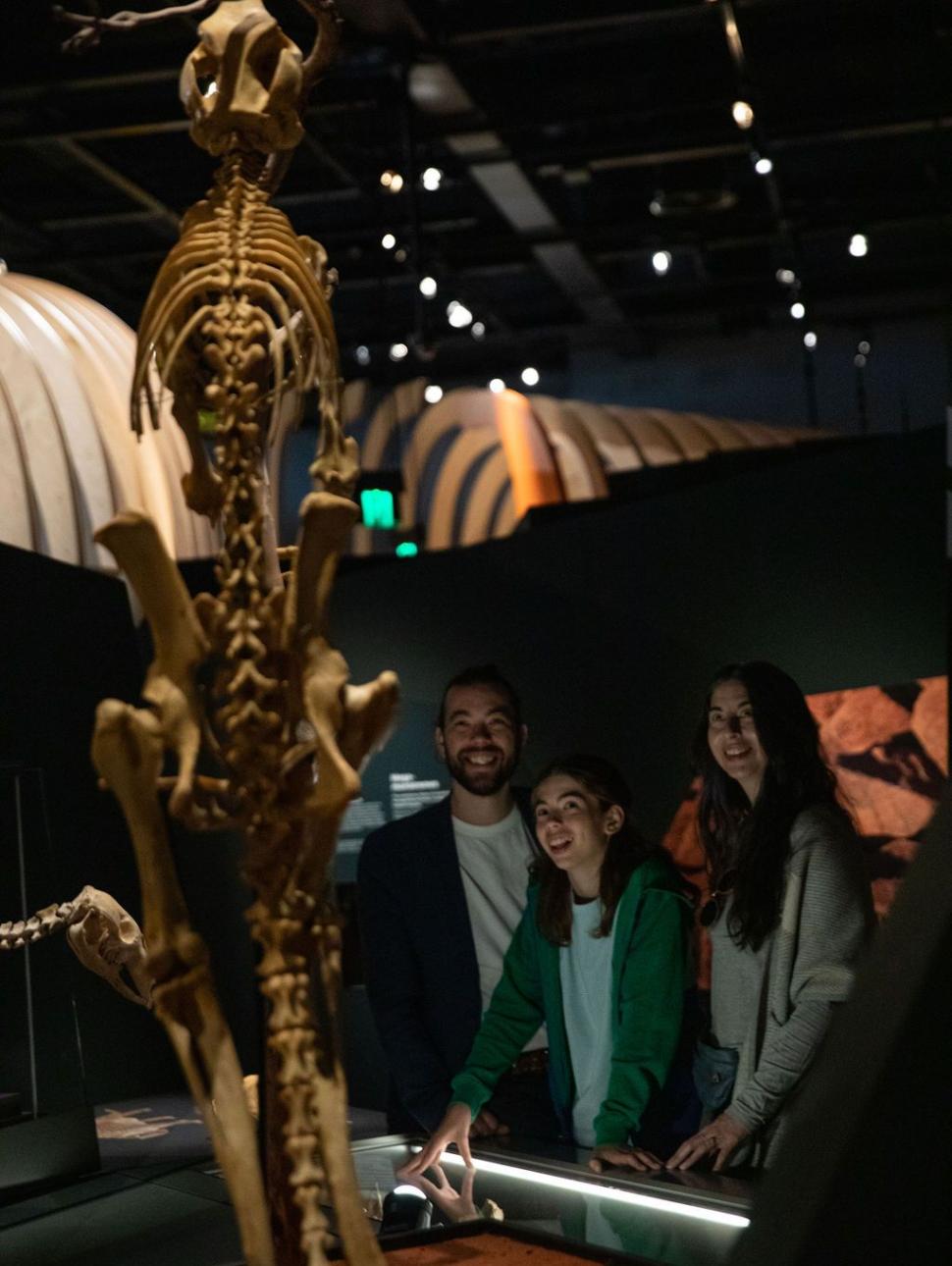 Family Tour: WA Dinosaurs
Dates
Sunday 10 January 2021 | 11.30am - 12.30pm
Sunday 17 January 2021 | 11.30am - 12.30pm
Sunday 24 January 2021 | 11.30am - 12.30pm
Sunday 31 January 2021 | 11.30am - 12.30pm
Sunday 7 February 2021 | 11.30am - 12.30pm
Sunday 14 February 2021 | 11.30am - 12.30pm
Sunday 21 February 2021 | 11.30am - 12.30pm
Sunday 28 February 2021 | 11.30am - 12.30pm
Sunday 7 March 2021 | 11.30am - 12.30pm
Sunday 14 March 2021 | 11.30am - 12.30pm
Sunday 21 March 2021 | 11.30am - 12.30pm
Sunday 28 March 2021 | 11.30am - 12.30pm
Sunday 4 April 2021 | 11.30am - 12.30pm
Sunday 11 April 2021 | 11.30am - 12.30pm
Sunday 18 April 2021 | 11.30am - 12.30pm
Sunday 25 April 2021 | 11.30am - 12.30pm
Sunday 2 May 2021 | 11.30am - 12.30pm
Sunday 9 May 2021 | 11.30am - 12.30pm
Sunday 16 May 2021 | 11.30am - 12.30pm
Sunday 23 May 2021 | 11.30am - 12.30pm
Sunday 30 May 2021 | 11.30am - 12.30pm
Sunday 6 June 2021 | 11.30am - 12.30pm
Sunday 13 June 2021 | 11.30am - 12.30pm
Sunday 20 June 2021 | 11.30am - 12.30pm
Sunday 27 June 2021 | 11.30am - 12.30pm
Sunday 4 July 2021 | 11.30am - 12.30pm
Sunday 11 July 2021 | 11.30am - 12.30pm
Sunday 18 July 2021 | 11.30am - 12.30pm
Sunday 25 July 2021 | 11.30am - 12.30pm
Sunday 1 August 2021 | 11.30am - 12.30pm
Sunday 8 August 2021 | 11.30am - 12.30pm
Sunday 15 August 2021 | 11.30am - 12.30pm
Sunday 22 August 2021 | 11.30am - 12.30pm
Sunday 29 August 2021 | 11.30am - 12.30pm
Sunday 5 September 2021 | 11.30am - 12.30pm
Sunday 12 September 2021 | 11.30am - 12.30pm
Sunday 19 September 2021 | 11.30am - 12.30pm
Sunday 26 September 2021 | 11.30am - 12.30pm
Sunday 3 October 2021 | 11.30am - 12.30pm
Sunday 10 October 2021 | 11.30am - 12.30pm
Sunday 17 October 2021 | 11.30am - 12.30pm
Sunday 24 October 2021 | 11.30am - 12.30pm
Sunday 31 October 2021 | 11.30am - 12.30pm
Sunday 7 November 2021 | 11.30am - 12.30pm
Sunday 14 November 2021 | 11.30am - 12.30pm
Sunday 21 November 2021 | 11.30am - 12.30pm
Sunday 28 November 2021 | 11.30am - 12.30pm
Sunday 5 December 2021 | 11.30am - 12.30pm
Sunday 12 December 2021 | 11.30am - 12.30pm
Sunday 19 December 2021 | 11.30am - 12.30pm
Sunday 26 December 2021 | 11.30am - 12.30pm
Sunday 2 January 2022 | 11.30am - 12.30pm
Sunday 9 January 2022 | 11.30am - 12.30pm
Sunday 16 January 2022 | 11.30am - 12.30pm
Sunday 23 January 2022 | 11.30am - 12.30pm
Sunday 30 January 2022 | 11.30am - 12.30pm
Sunday 6 February 2022 | 11.30am - 12.30pm
Sunday 13 February 2022 | 11.30am - 12.30pm
Sunday 20 February 2022 | 11.30am - 12.30pm
Sunday 27 February 2022 | 11.30am - 12.30pm
Sunday 6 March 2022 | 11.30am - 12.30pm
Sunday 13 March 2022 | 11.30am - 12.30pm
Sunday 20 March 2022 | 11.30am - 12.30pm
Sunday 27 March 2022 | 11.30am - 12.30pm
Sunday 3 April 2022 | 11.30am - 12.30pm
Sunday 10 April 2022 | 11.30am - 12.30pm
Sunday 17 April 2022 | 11.30am - 12.30pm
Sunday 24 April 2022 | 11.30am - 12.30pm
Sunday 1 May 2022 | 11.30am - 12.30pm
Sunday 8 May 2022 | 11.30am - 12.30pm
Tuesday 6 April 2021 | 11.30am - 12.30pm
Wednesday 7 April 2021 | 11.30am - 12.30pm
Thursday 8 April 2021 | 11.30am - 12.30pm
Friday 9 April 2021 | 11.30am - 12.30pm
Monday 12 April 2021 | 11.30am - 12.30pm
Tuesday 13 April 2021 | 11.30am - 12.30pm
Wednesday 14 April 2021 | 11.30am - 12.30pm
Thursday 15 April 2021 | 11.30am - 12.30pm
Friday 16 April 2021 | 11.30am - 12.30pm
Tuesday 6 April 2021 | 2.30pm - 3.30pm
Wednesday 7 April 2021 | 2.30pm - 3.30pm
Thursday 8 April 2021 | 2.30pm - 3.30pm
Friday 9 April 2021 | 2.30pm - 3.30pm
Monday 12 April 2021 | 2.30pm - 3.30pm
Tuesday 13 April 2021 | 2.30pm - 3.30pm
Wednesday 14 April 2021 | 2.30pm - 3.30pm
Thursday 15 April 2021 | 2.30pm - 3.30pm
Friday 16 April 2021 | 2.30pm - 3.30pm
Dinosaurs of all sizes once walked the ancient plains of Western Australia.
From long-necked herbivorous sauropods to formidable theropods with deadly claws, scientific research has allowed us to reconstruct the ancient landscapes — and the dinosaurs — that once roamed Western Australia.
Join us for a one-hour dinosaur tour where you will learn about different species, marvel at gargantuan life-sized models and meet our Augmented Reality resident.
 
---
If you register for a tour, program or an event, general entry is included in your booking.