Presented by White Spark Pictures
Location
Museum of the Great Southern
Residency Road, Albany
Tickets
 Bookings coming soon
Accessibility

Journey to the edges of the Universe in this spectacular 360° VR film.
Experience one of the greatest international scientific endeavours in history as you step onto Australia's future site of the incredible SKA telescope in an immersive 25-minute, 360° virtual reality cinema experience.
Travel to the radio-quiet Western Australian outback to explore where the world's largest radio telescope will be capturing the corners of the Universe and breaking new ground in astronomical research.
Narrated by physicist Professor Brian Cox (Universe, Horizon, Brian Cox's Adventures in Space and Time), join the quest for answers as the telescope enables us to see further into space-time than ever before and presents our greatest chance of discovering extra-terrestrial life.
Guided by scientists, experts, and ancient astronomers, see the sky in unprecedented 360°, witness our world from a new perspective and be transported to the edge of what's possible.
We acknowledge the Wajarri Yamaji as the Traditional Owners of the Observatory site.
Important information
Session times
Session times are coming soon.
Each screening runs for 25 minutes.
Accessibility

This event is wheelchair accessible.
50% visual – Beyond the Milky Way has both sound and visual components but sight isn't essential to meaningfully engage with the work.
50% sound – Beyond the Milky Way includes dialogue and has background music and sounds.
Selected screening dates will include closed captions. Please check back to confirm the closed caption screening dates once bookings are available.
If audience members are unable to wear a VR headset, there is a movie screen at the front of the room that will project the film in a traditional 2D cinema format so you can still enjoy the film experience.
The dialogue in Beyond the Milky Way requires an understanding of the English language, but the visuals and sounds can be experienced without the language comprehension.
The VR headset is designed to accommodate most prescription glasses. Take care to wear the VR headset in a manner in which the VR headset lenses to not rub or impact your prescription lenses.
If you have any questions about access at Museum of the Great Southern, please get in touch with us either via reception@museum.wa.gov.au or on (08) 9841 4844.
About White Spark Pictures
White Spark Pictures is an independent production company based in Perth, Australia. It was founded in 2017 by producer, director, and writer Briege Whitehead and from the outset has had two distinct divisions: one producing factual content for the international television market and one harnessing the latest technology and filming techniques to produce VR (virtual reality), immersive and interactive films for venues and VR-enabled platforms. White Spark has quickly developed an enviable reputation and has established strong relationships with broadcasters, financiers, distributors and government organisations, both domestically and internationally.
To date, TV productions from Briege Whitehead and White Spark Pictures have appeared on leading broadcast platforms around the world such as National Geographic, the History Channel, Discovery and Netflix, while its first VR title, The Antarctica Experience, has been declared one of the most successful VR projects of all time after playing to sell-out audiences in major venues including Canberra's National Museum of Australia and Sydney's Australian Maritime Museum.
Currently, The Antarctica Experience is in the top 10 of highest grossing theatrically released Australian documentaries of all time. White Spark is now gearing up to launch this ground-breaking VR film to international audiences.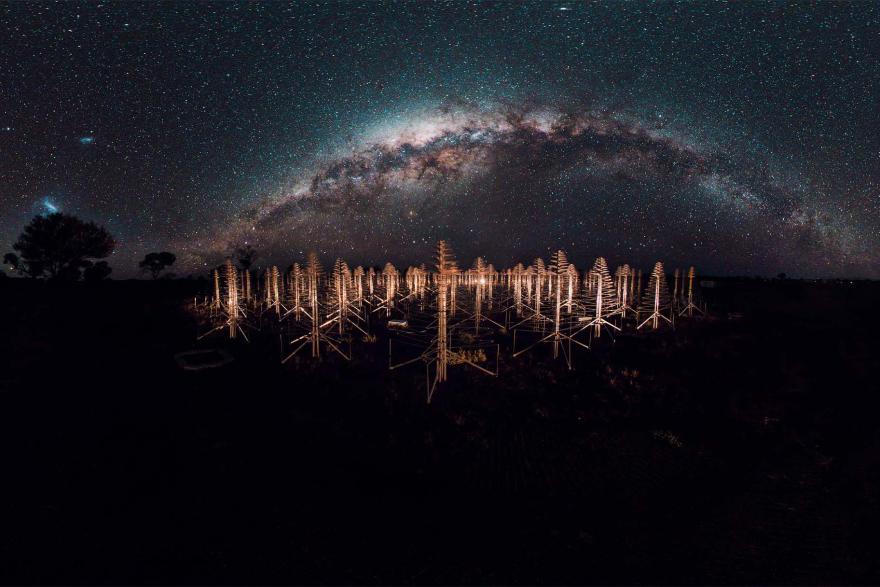 The Milky Way over prototype antennas for the SKA at CSIRO's Murchison Radioastronomy Observatory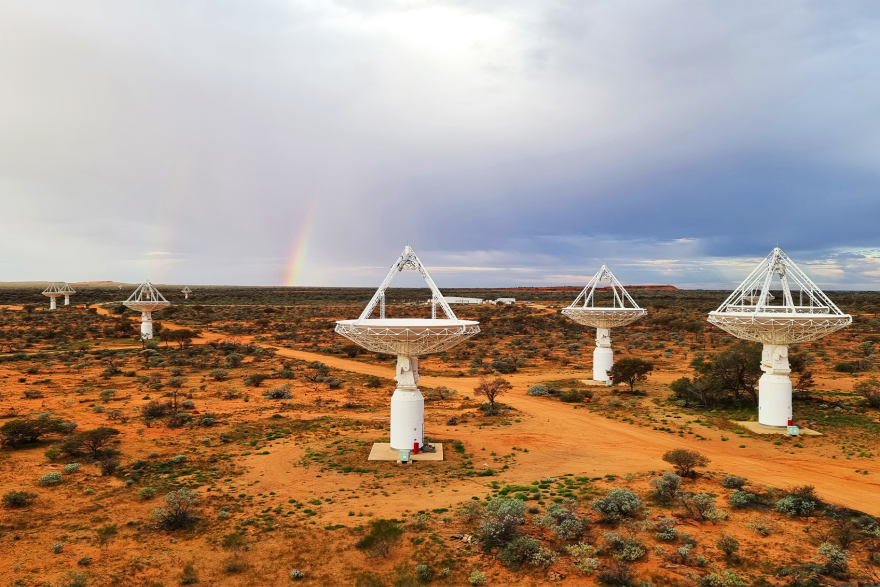 CSIRO's Australian SKA Pathfinder (ASKAP) telescopes at CSIRO's Murchison Radio-astronomy Observatory.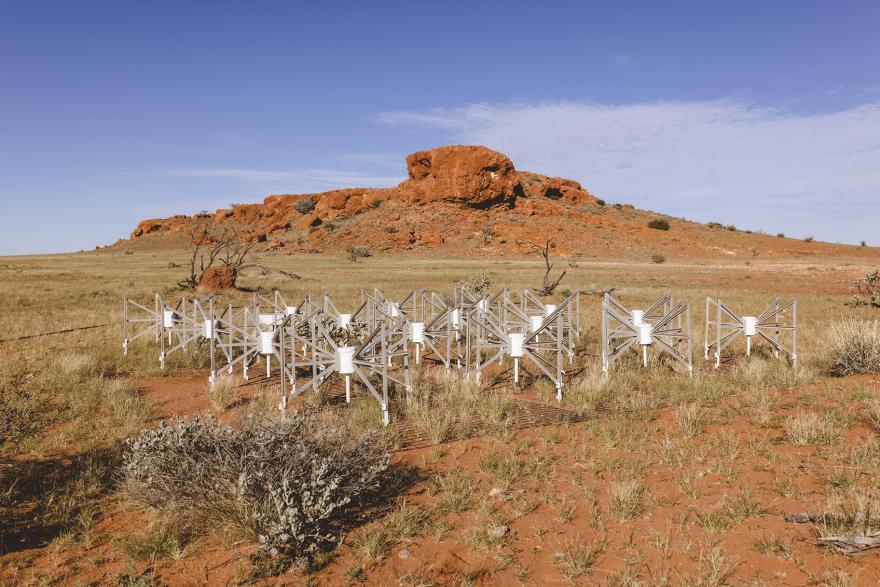 One tile of the Murchison Widefield Array (MWA) telescope at CSIRO's Murchison Radio-astronomy Observatory.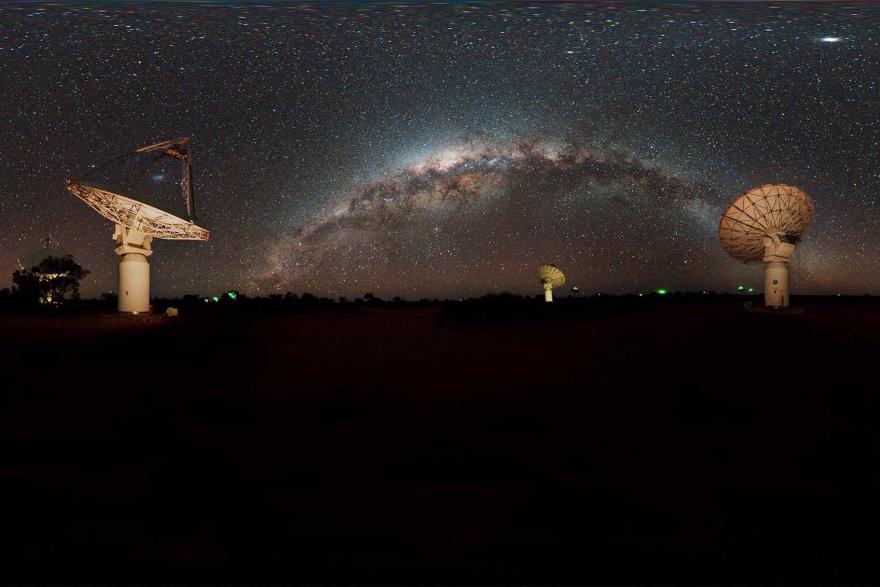 The Milky Way over CSIRO's Australian SKA Pathfinder (ASKAP) telescopes at CSIRO's Murchison Radio-astronomy Observatory.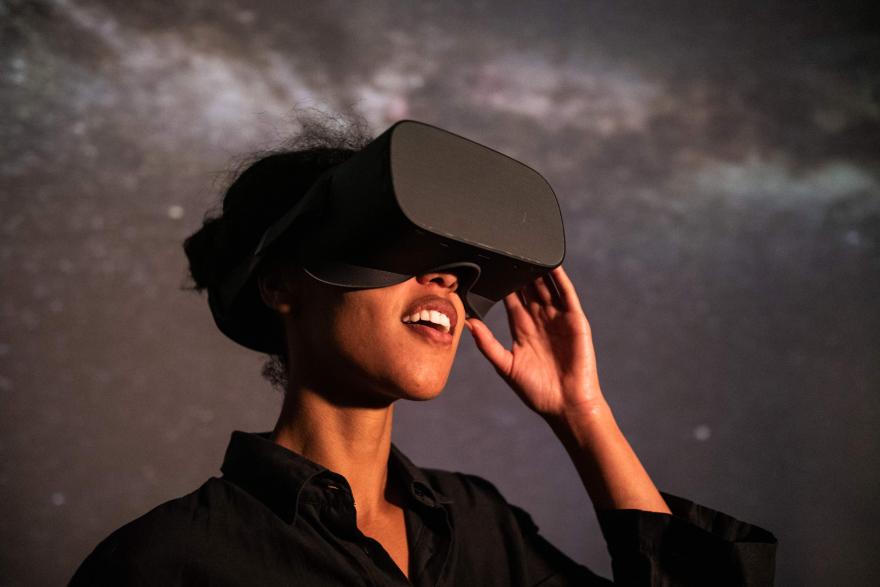 The Pico G2 4K VR headset worn to experience Beyond the Milky Way.

Images © White Spark Pictures