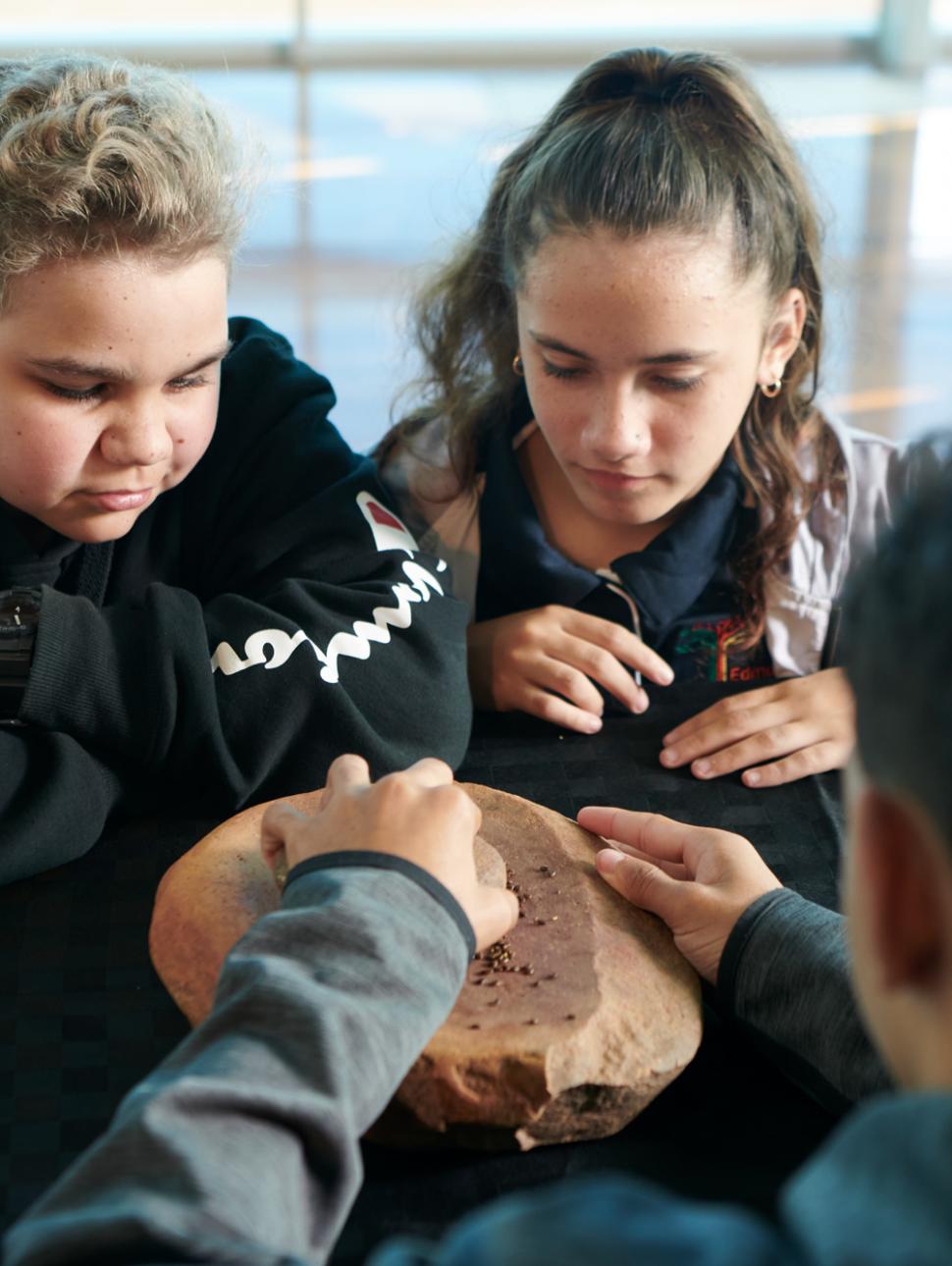 Cultural collisions
Dates
Monday to Friday at 10.00am and 12:30pm.
Curriculum
Aboriginal and Torres Strait Islander Histories and Cultures
Asia and Australia's engagement with Asia
HASS
Critical and creative thinking
Personal and social capability
Ethical understanding
Intercultural understanding
Cost
$240 per group (up to 32 students)
Learn about the early encounters and collisions of culture between the Aboriginal peoples of Western Australia and a variety of newcomers since 1616.
Students critically examine First Contact experiences between Aboriginal peoples in our state, investigating the history of encounters with various visitors through industry, trade and colonisation. Evidence of these diverse relationships and their cultural, social, and economic consequences are examined through artworks, objects and oral histories from the Museum's collections.
Student Experience
Students will investigate
Case studies of early contact in the Wesfarmers Gallery Ngalang Koort Boodja Wirn exhibition
Role-play to explore lasting impacts of colonisation and government policies
The diversity of pre-colonial and colonial relationships and encounters with Aboriginal peoples
Legacies of these early relationships, reflecting on their own attitudes and learning
Skills development
This program links to the following strands of the Western Australian Curriculum:
Year 4
First contacts: The diversity and longevity of Australia's first peoples and the ways they are connected to country/place (e.g. land, sea, waterways, skies) and their pre-contact ways of life (ACHASSK083)
First contacts: The nature of contact between Aboriginal and/or Torres Strait Islander Peoples and others (e.g. the Macassans, Europeans) and the impact that these interactions and colonisation had on the environment and people's lives (ACHASSK086)
---
Year 5
The Australian colonies: The patterns of colonial development and settlement (e.g. geographical features, climate, water resources, transport, discovery of gold) and how this impacted upon the environment (e.g. introduced species) and the daily lives of the different inhabitants (e.g. convicts, free settlers, Aboriginal and Torres Strait Islander Peoples) (ACHASSK107)
The Australian colonies: The economic, social and political impact of one significant development or event on a colony and the potential outcomes created by 'what if…?' scenarios (e.g. frontier conflict; the gold rushes; the Eureka Stockade; the Pinjarra Massacre; the advent of rail; the expansion of farming; drought) (ACHASSK107)
---
Year 6
---