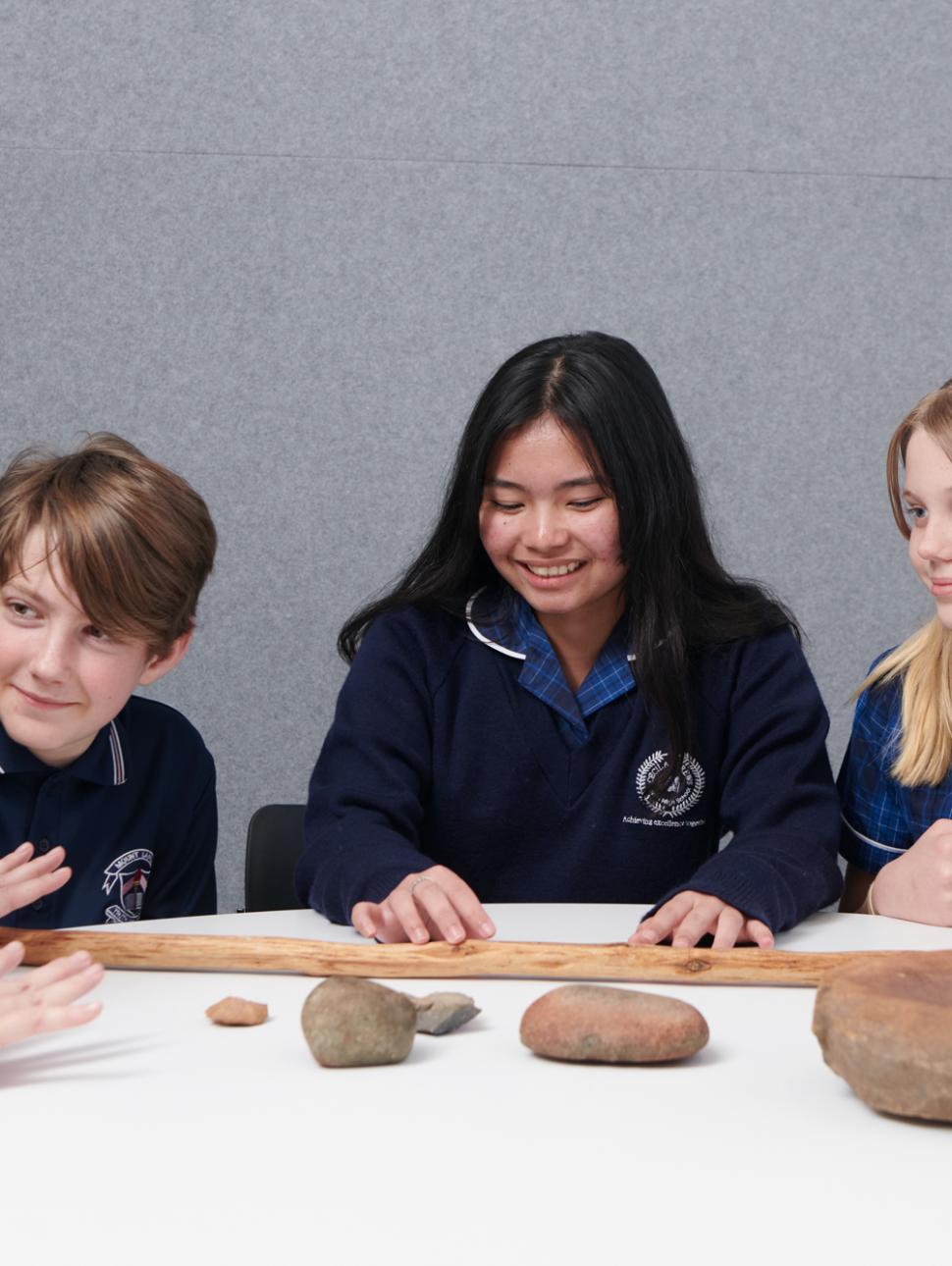 Debating Ancient History
Dates
Monday to Friday at 10.00am and 12:30pm.
Curriculum
HASS
Aboriginal and Torres Strait Islander Histories and Cultures
Cost
$240 per group (up to 32 students)
We are lucky enough to be home to the oldest living cultures on Earth. How do we know about them, and how to we continue to find out more?
In this hands-on workshop, students unpack multiple perspectives on Australia's ancient history, using objects and artefacts to piece together elements of the past. Using professional techniques to analyse real and replica objects from the Museum's collections, students learn from Aboriginal knowledge holders, archaeologists, and historians while considering ethical concerns associated with the treatment, display and interpretation of collections.
Student Experience
Students will
View and handle significant and replica objects and artefacts from the Museum's collections

Use inquiry-based learning to better understand professional investigation techniques

Learn about a significant Western Australian repatriation case study

Encounter challenging questions and interrogate issues around collecting cultural artefacts and human remains
Program feedback:
"I loved the discussions about misappropriation of Aboriginal culture. The exhibits were great, the education team were clear and explained things well."
Skills development
This program links to the following strands of the Western Australian Curriculum:
Year 7
Investigating the ancient past: How historians and archaeologists investigate history, including excavation and archival research (ACDSEH001)
Investigating the ancient past: The range of sources that can be used in an historical investigation, including archaeological and written sources (ACDSEH029)
Investigating the ancient past: The importance of conserving the remains of the ancient past, including the heritage of Aboriginal and Torres Strait Islander Peoples (ACDSEH148) 
---
Year 11
Ancient History General
Unit 1 – Ancient civilisations and cultures
Elective: Ancient Australia and the First Peoples
Ancient History ATAR
Unit 1 – Investigating the ancient world
Students investigate the significant issues related to at least one of the following topics:
Historical authentication and reliability
Preservation, conservation, and/or reconstruction of ancient sites
Cultural heritage, ownership and the role of museums
Treatment and display of human remains
---
Year 12
Ancient History ATAR
Unit 4 – Reconstructing the ancient world
Understanding the nature, purpose and significance of the sources
Understanding issues relevant to the fragmentary nature of the evidence, reliability, excavation, and conservation
Apply key concepts as part of a historical inquiry, including evidence, significance, perspectives, interpretations and contestability
Use historical skills
---