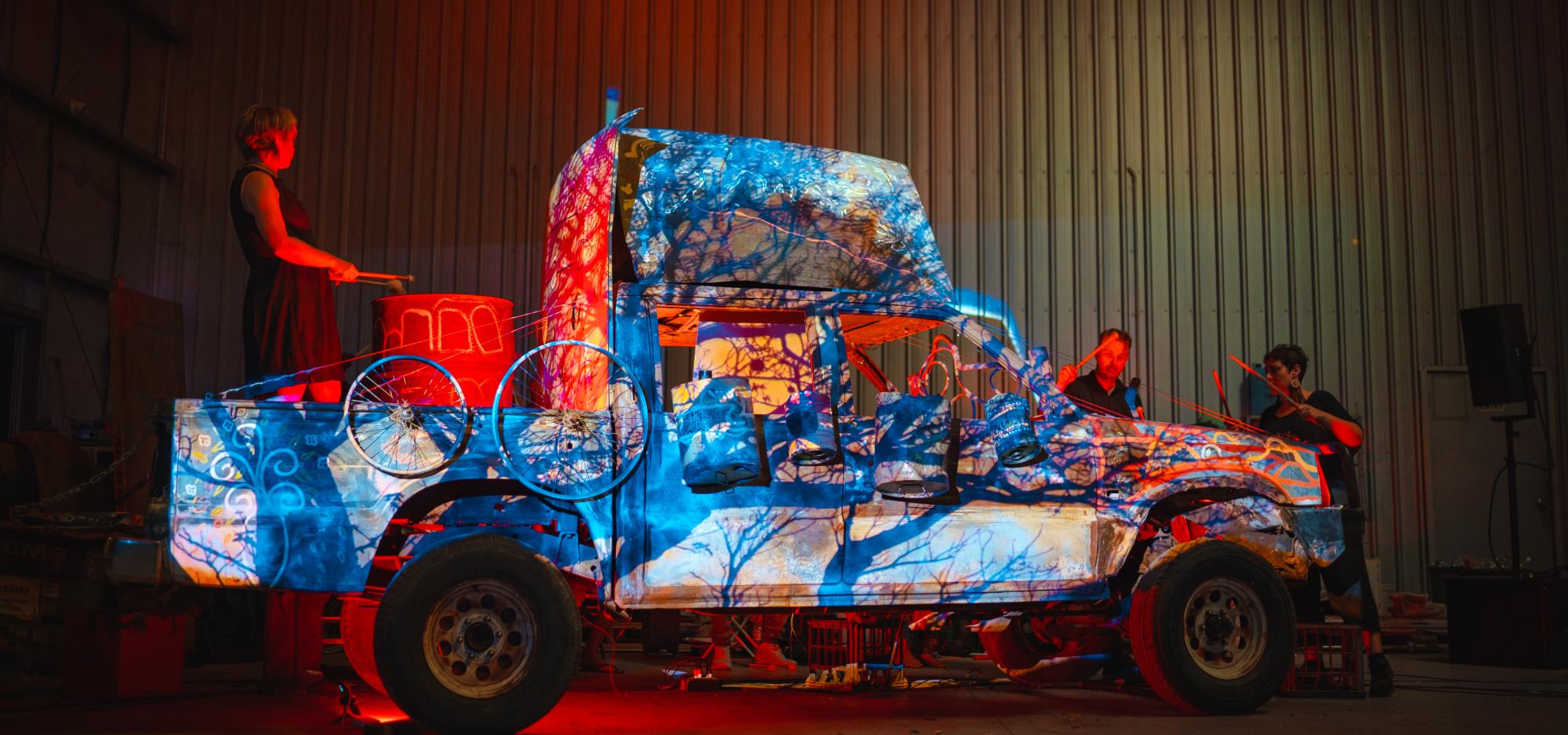 Dates
Arrives at Boola Bardip 18 November 2023
The Journey Down is an animated and vibrant performance of culture, dance, song, projections, and otherworldly sounds coming together to transform an old car wreck into a travelling canvas of story and culture.
Created and performed by Gija (Warmun) and Mirriwoong (Kununurra) performers along with some of Australia's leading musicians, The Journey Down features Warnarral Ngoorrngoorrool (Gija word for 'old car'), a powerful cultural object shaped by sound, story and intercultural collaboration.
In 2017 an old car wreck was converted into a sonic sculpture and instrument by composer and sound artist Jon Rose and was subsequently painted by Gija artists depicting stories of Country and cars, to create what is now known as Warnarral Ngoorrngoorrool. The work was acquired by the WA Museum in 2020. In 2023, The Journey Down will premiere in the Kimberley, before it heads off on a significant journey to WA Museum Boola Bardip in Perth, stopping along the way to present community performances that explore the role of vehicles in the Kimberley region and the way they connect us.
The three-week tour from Kununurra to Perth will take place in May–June 2023, with Warnarral Ngoorrngoorrool going on display at WA Museum Boola Bardip from 18 November 2023.
The Journey Down is a project initiated and produced by Tura New Music and presented in partnership with the Western Australian Museum.
Important information
Accessibility

This event is wheelchair accessible.
50% visual content rating – The Journey Down has both sound and visual components.
50% aural content rating – The Journey Down has sound components.
If you have any questions about access, please get in touch with us via reception@museum.wa.gov.au or on (08) 9021 8533.
The Journey Down is made possible through the support of the State Government through The Department of Local Government, Sport and Cultural Industries and the Australian Government through The Australia Council.