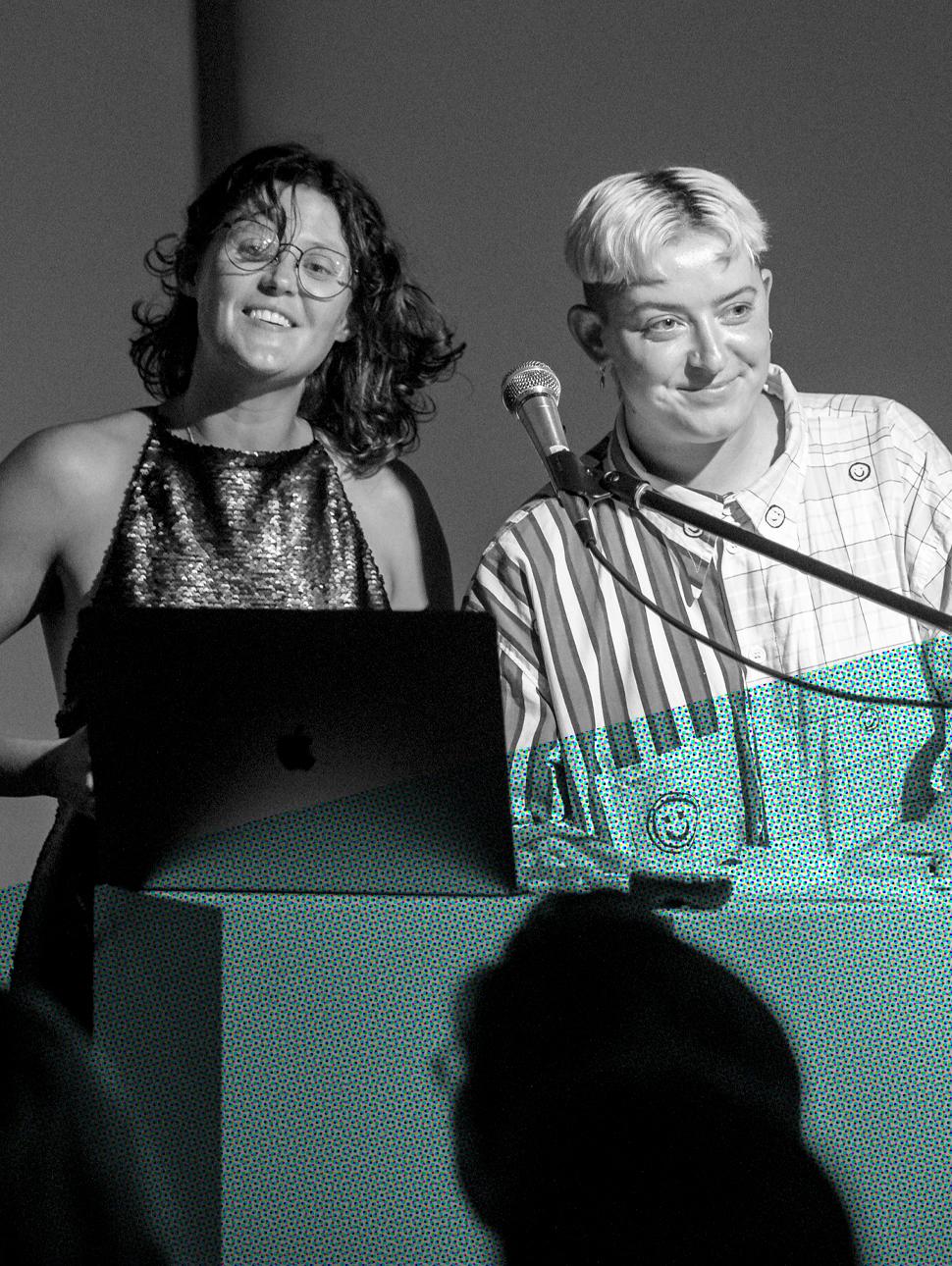 Dates
This event has now finished. Please visit
Tours & events
to see what's on at the Museum.
Friday 18 November | 6.30pm - 10pm
Cost
Standard | $20
Concession | $18
Companion Card | Free
Fan or Friend?
Standard | $18 or $17
Concession | $16 or $15
This event has now finished. Please visit
Tours & events
to see what's on at the Museum.
A deep dive into the ideas, current obsessions, deeply felt convictions and fascinations of some of WA's queer creatives.
After 2 sellout Sydney shows at the MCA and 107 Projects, Queer PowerPoint comes to Perth to commission four WA-based artists to dive headfirst into their deepest passions, whatever they may be.
Creators Xanthe Dobbie and Harriet Gillies will host this hilarious night -
"We invite you to join us for a night of surprising stories, secrets and starwipe transitions. The only rule is artists must use that most staid and ubiquitous of programming tools – PowerPoint! We're reclaiming and queering the corporate presentation from our straight capitalist wannabe-overlords."
Whether you fancy getting up to present or just enjoy the show as an audience member, don't miss this evening of delightfully obscure, joyful and super queer sharing!
Doors Open | 6.30pm
Performance | 7.30pm - 9pm
Post Show Drinks | 9pm - 10pm
Meet the artists!
 
Harriet Gillies
Harriet is an award-winning performance artist working across a range of performance modes. She makes post-internet performance works that explore sex, death and capitalism. She is also a lifesaver at Tamarama beach and trying to become a mermaid.
Xanthe Dobbie
Xanthe Dobbie is an Australian new media artist and filmmaker. Working across on- and offline modes of making, Dobbie's practice aims to capture the experience of contemporaneity as reflected through queer and feminist ideologies. Drawing on humour, pop, sex, history and iconography, they develop shrines to a post-truth era.
Dureshawar Khan (aka The Desk Goblin)
Dureshawar Khan (The Desk Goblin)  is an emerging multidisciplinary artist originally from Khyber Pakhtunkhwa and now settled in Nyoongar Country. Khan's work explores concepts of displacement, identity and belonging. She creates works from the perspective of a Queer Muslim person and as a migrant Esapzai Pashtun finding  ways to reconcile her Abrahamic upbringing with her people's pre Islamic Tribal history.
Dakota Jones
Dakota is an aboriginal person from Darwin, who belongs to the Yawuru, Gurindji, and Moodinji people of Northern Australia. Part-time fishmonger and full-time playlist maker, Dakota recently performed her spoken word at Tenth Muse's Symbiosis, but mostly he just likes to take silly art a bit too seriously.
Nicola Macri
Nicola is a Perth comedian with an ever-expanding bag of weird tricks. Following a couple of stand-up shows, she branched out into wigs, props, audience participation and in-depth film analysis for the breakout hit 'The Hilary Duff Film Re-Enactment Festival', which has gone on to win awards and delight millennials all around the country. Her new asexuality-focused stand-up show 'Single Entendre' premiered at Adelaide's Feast Festival in 2021.
Music by the prince of the Connies terrace, Louis King.
 
---
Creative Team
Queer PowerPoint is a collaboration between an all-queer Sydney-based team of creatives: performance maker Harriet Gillies, digital artist Xanthe Dobbie, creative producer Thom Smyth and AV Manager Charlie Kember.
Produced by Unfunded Empathy.
Presenter line up to be announced late October!