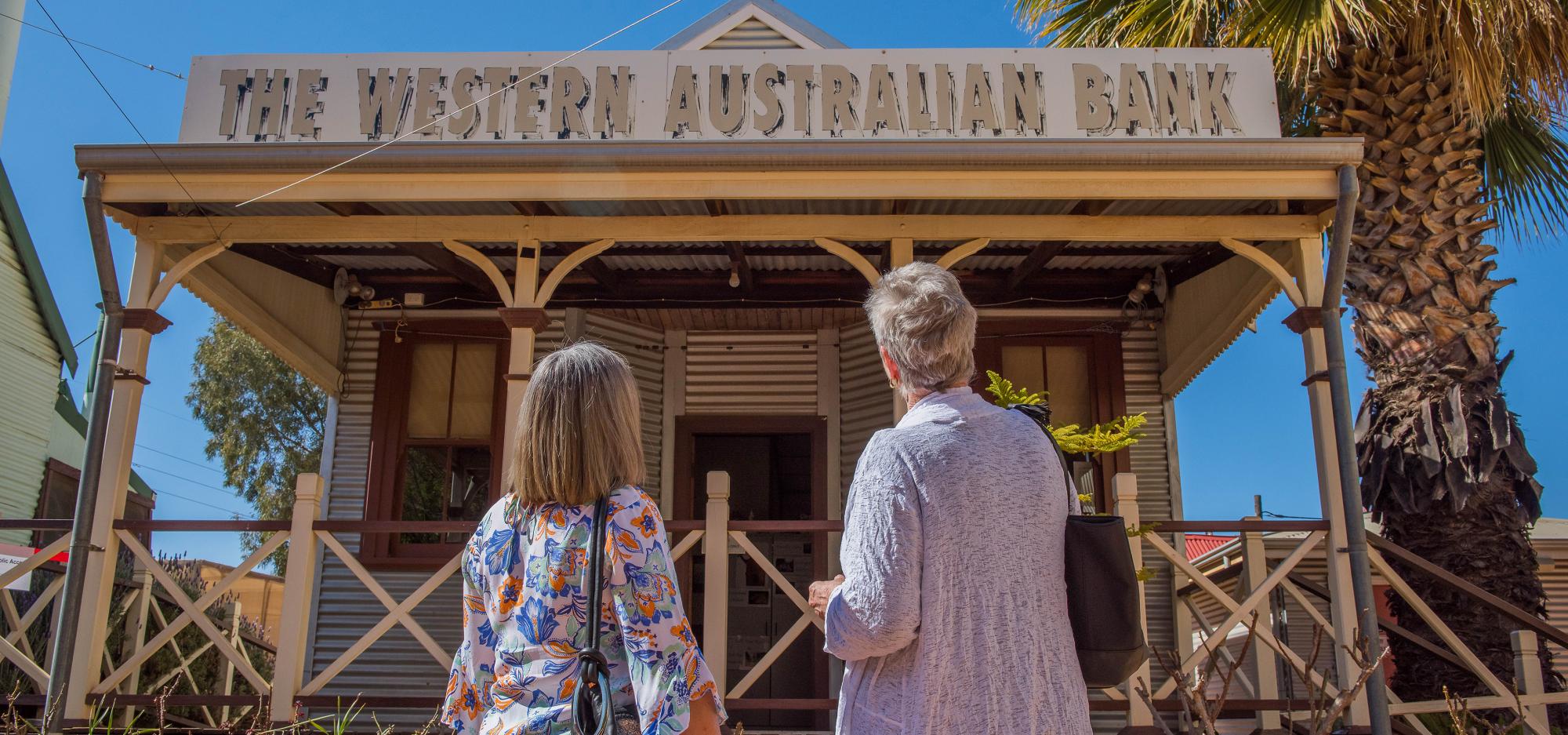 Open Daily
10.00am – 3.00pm
ANZAC DAY 1.00pm – 3.00pm
Closed Christmas Day, Boxing Day, New Year's Day & Good Friday
Entry
Entry is free, donations are welcome.
Contact us
(08) 9021 8533
PO Box 25, Kalgoorlie, WA, 6433
VISIT US
17 Hannan Street, Kalgoorlie, WA, 6430
Getting here
Address
Museum of the Goldfields
17 Hannan Street,
Kalgoorlie,
Western Australia, 6430,
Australia

Visitor information
Museum of the Goldfields Site Map – PDF [253.93 KB]
Access within Museum
There is level access on the ground floor to reception, shop, exhibition space and outside into the courtyard.
There is level access to the men's toilets and the unisex disability access toilet.
Women's toilets are raised two stairs.
The outside courtyard has level access and a side ramp to go to the upper courtyard level, the British Arms Hotel, outbuildings and to the De Bernales display area.
There is a lift that operates to four floors: basement, ground, 1st floor and Headframe viewing platform.
Some electric wheelchairs and prams are difficult to manoeuvre into the lift. Please note, the lift is sometimes out of order due to age: please call ahead (08) 9021 8533 to confirm availability and alternatives if it is out-of-order.
Access to the first floor of the British Arms Hotel is only via stairs; due to split levels there is no disability access.
ACROD Parking
At front of Museum forecourt entry in Hannan St. Kerb is ramped at this site. Parking is free. If required, buses/cars with disabled passengers can arrange to have the front gates both opened and can drive directly to the front doors of the Museum.
Address
Museum of the Goldfields
17 Hannan Street
Kalgoorlie Western Australia 6430
Audio Guides
Not available.
Captioning
Video material has print captions available. Video material in the Museum in the display areas does not have audio.
Contact
Please contact reception (08) 9021 8533.
Drop Off Area
At front of Museum forecourt entry in Hannan St. Kerbed at this site. Parking is free.
Entry to Museum
Entry to Museum's front doors from Hannan St and side lane is level, wide concrete path/forecourt area, no steps. Door requires manual opening, opens out.
Equipment Available
One wheelchair available for use.
Hearing Loops
No hearing loops available.
Reception
Reception is located inside and opposite the main entry doors of the Museum on the ground floor.
Storage
There are no storage areas for luggage or large bags.
Toilets
There is a unisex disability access toilet on the ground floor.
Touch Trolleys
Not available.
Trained Guide or Assistance Dogs
Visitors accompanied by a Trained Guide or Assistance Dog or a dog undergoing such training are welcome in this site.