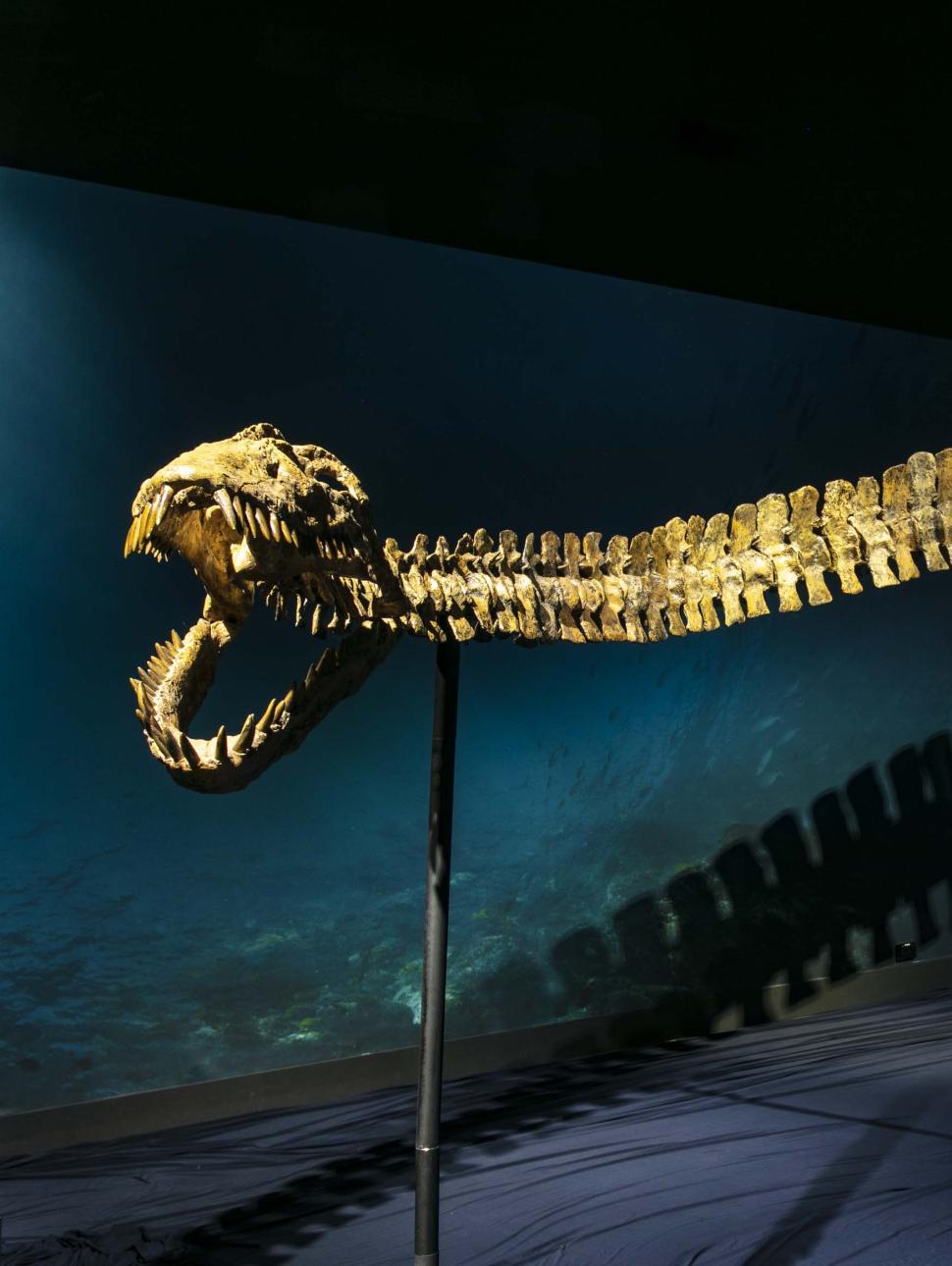 Sea Monsters: School Visit
Dates
Monday 3 April - Friday 14 July 2023
Cost
Self-Guided Visit
$10 per student | *Groups 20+
*Includes 1 free adult supervisor ticket for every 10 students for registered schools and service providers. Additional adult tickets charged at group price.
Take your class on a journey back in time to the age when prehistoric marine reptiles ruled the waves.
Explore the key themes of palaeontology, adaptations to life in the ocean, and ocean predators today. This exhibition has been produced by the Australian National Maritime Museum with a view to national curriculum, and offers the opportunity to study Science Understanding and Science as a Human Endeavour through insights from fossil evidence.
With great storytelling through museum grade replicas, interactive experiences  and insights informed by contemporary research, your students will have the opportunity to: 
Learn about the large dominant marine predators of the era, including ichthyosaurs, plesiosaurs and mosasaurs.

Explore the patterns of evolution and adaptation of different species over millennia 

Consider food webs and the role of apex and large predators within a marine ecosystem 

Distinguish ancient marine reptiles as a separate taxonomic group to land dwelling dinosaurs that lived at the same time. 

Learn about the research processes that inform contemporary palaeontology and recent fossil research in Australia 

Understand the grand story of thriving prehistoric life, extinction and later discovery that reveals the story of sea monsters.       
This exhibition supports educators to inspire STEM learning for students through up-to-date palaeontology and fascinating fossil evidence linked to both Australian and international sites.
---
Bookings
We currently do not take online bookings for self-guided school excursions. Please send an email to education@museum.wa.gov.au with the following details and we will begin to process your booking.
Self-guided (or program name)
Preferred visit date (and alternate if not available)
Number of classes & student numbers in each class
Teacher name, email and contact mobile
School
We look forward to welcoming your students on an excursion soon.
---
Join us for a free educator preview to showcase the exciting new exhibition featured at the WA Maritime Museum during Term 2. 
Sea Monsters: Prehistoric Ocean Predators features key examples of massive marine life from the fossil record in Australia and the world of prehistoric life in the oceans.
Explore the potential  for high impact STEM learning through this highly interactive exhibition and stories of when ichthyosaurs, plesiosaurs and mosasaurs roamed the ocean waters.  
Based on current research insights and rich with wonder for students, this exhibition is not to be missed. 
Thursday 6 April | 5.30pm – 6.30pm