Dates
This event has now finished. Please visit
Tours & events
to see what's on at the Museum.
Wednesday 22 February | 6pm – 8.30pm
This event has now finished. Please visit
Tours & events
to see what's on at the Museum.
Eight people. One microphone. A live audience. Join us for Ockham's Razor, the ABC podcast for compelling stories of science!
Ockham's Razor is the ABC's soapbox for all things scientific: stories, insights, arguments or tributes – anything that can grip an audience by the ears for 10 straight minutes.
For this evening of talks, you'll hear from a hand-picked roster of superb speakers, hosted by ABC's own Tegan Taylor (Coronacast, the Health Report). Expect a jam-packed evening of short talks that will intrigue, excite and inspire – featuring West Aussie scientists! Hear stories from coral reefs to fireballs, including ABC's Top 5 winners Alix Woolard and Jacob Martin.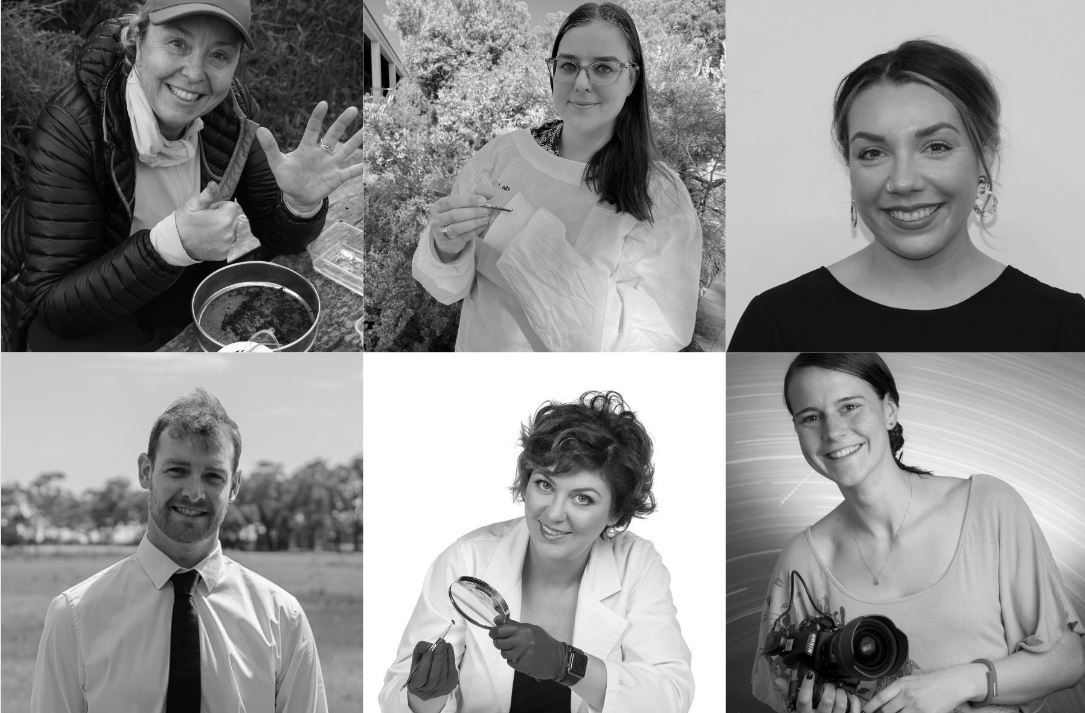 Who's speaking?
Find out more about the eight speakers.
Lisa Kirkendale
Dr. Lisa Kirkendale is Head of Aquatic Zoology at the WA Museum and is fortunate to lead a team of passionate museum scientists in documenting the Western Australian fauna. Her other hat is a molluscan biologist specializing in the taxonomy, phylogeny, biodiversity and biogeography of bivalves, including giant clams.
---
Alix Woolard
Dr Alix Woolard is a senior researcher and co-lead of the childhood trauma research program for Embrace at Telethon Kids Institute, Western Australia's first research collaboration devoted to the mental health of children and young people ages 0-25.
Dr Woolard's work involves preventing, intervening, and treating childhood trauma, and she works with the most vulnerable populations in WA aiming to help children, young people and their families recover and thrive after trauma.
---
Callum Donohue
Callum is a post-doctoral researcher at Murdoch University and the Harry Butler Institute where he researches the application of bioenergetic models in freshwater conservation.
---
Ellie Sansom
Ever seen a shooting star? The Earth gets hit by thousands of tiny space particles every day. Most are so small we don't even see them. Dr. Eleanor Sansom is the program manager of the Global Fireball Observatory, watching the skies for fireballs that drop meteorites. She studied geophysics at Imperial College London before moving to Perth to do her PhD with the fireballs team at Curtin University.
---
Charlotte Oskam
Dr Charlotte Oskam is a senior lecturer and researcher in the Centre for Biosecurity and One Health in the Harry Butler Institute at Murdoch University. She's a molecular parasitologist, which means she gets to tease DNA out of parasites capturing important information about their vertebrate hosts, ticks, and the pathogens found within them.
---
Paola Magni
Paola is a forensic biologist using natural sciences to help crime scene investigators solve complex and puzzling crimes. Her main scientific interests are in forensic entomology and aquatic forensics; she has been an expert forensic court witness in cases of homicide, suspicious death, animal/wildlife cruelty, food forensics and stored products security. Paola's research has been published in international journals and books and received top honours for conference presentations around the world. On the tech front, she is the developer of the SmartInsects smartphone app for crime scene technicians and the VirtualCSI VR platform for crime scene training.