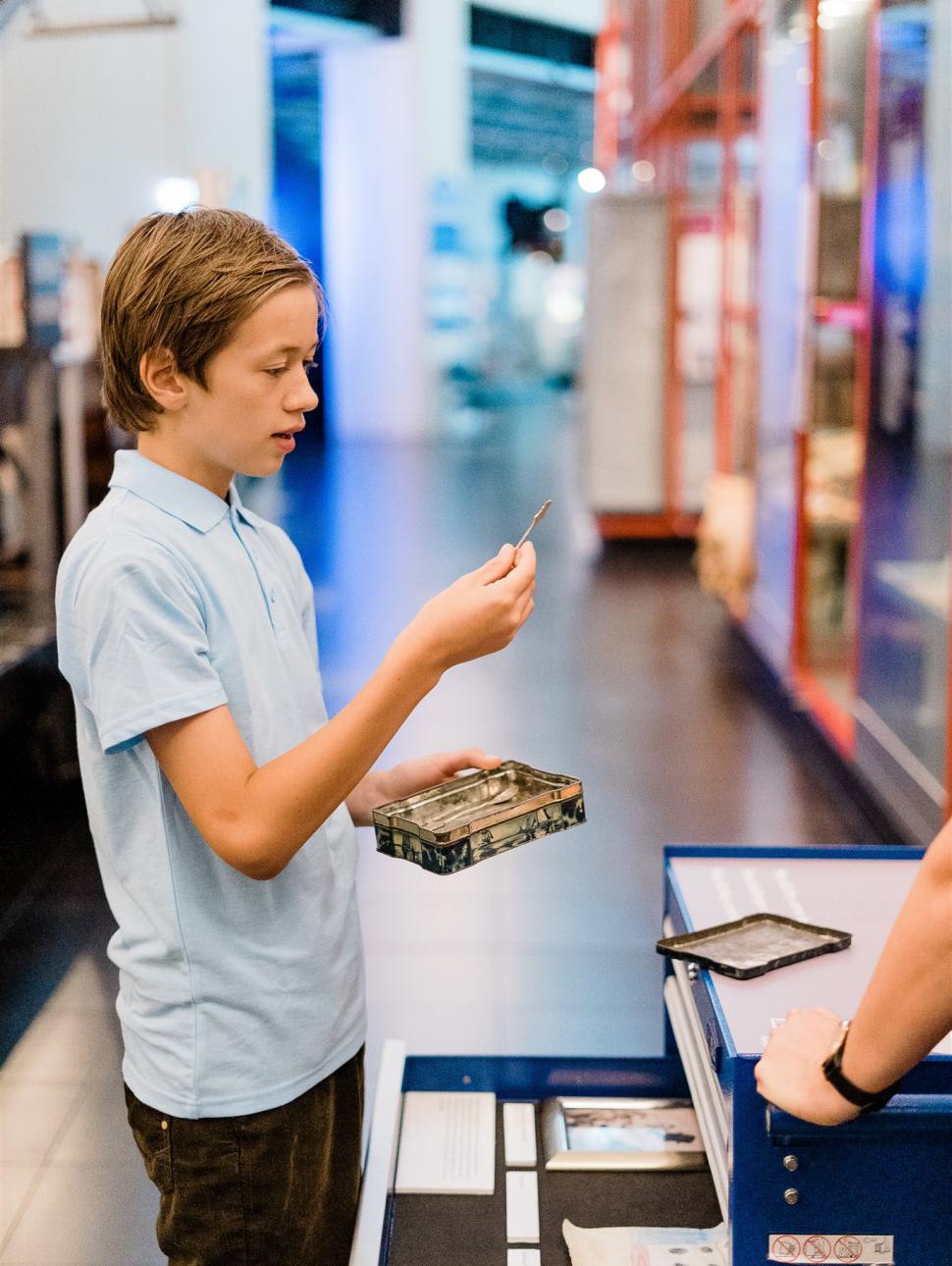 Dates
Monday to Friday during term | 10am
Arrival from 9.30am to allow for morning break
Start time can be adjusted on request
Cost
$240 per class (maximum 32 students per class)
Overview
The WA Maritime Museum is the perfect location to bring Year 6 students as a stimulus to explore the stories of people who migrated to Australia. The Museum is located on Victoria Quay in historic Fremantle where many people disembarked ships to start the Australian part of their migration story.
Immigration Stories is a two-part 120-minute curriculum-linked package that immerses your students throughout our galleries. It assists teachers of Year 6 students with the following HASS focus questions:
Why did they migrate to Australia and what were their stories and challenges? (ACHASSK136)
How did they contribute to Australian society? (ACHASSK137)
---
At the Museum
What your class will experience
Students participating in the two-part 120min program (one or two classes) will:
Part A: Interactive Gallery Tour (Ground floor of the WA Maritime Museum) 
Take part in an interactive gallery tour that follows the life of an Italian fishing migrant who came to Fremantle in the early 1900s
Recreate some of the challenges and achievements of this person's life in the context of migration to Western Australia
Discuss how individuals and groups such as the Italian fishing migrants have shaped Fremantle and Western Australia in the past and today
This part is led by a Museum Educator
Part B: Object Exploration (Level One of the WA Maritime Museum)
Read the stories of five migrants who have come to Western Australia between 1891 and 1968
Handle a range of objects that are linked to the various stages of each person's migration story
Discuss the motivations for coming, challenges, achievements and contributions of each migrant
See gallery artefacts that come from or link to migrants who came to WA
Reflect on the importance of using a range of sources when examining the past
This part is led by a Museum Educator
An optional third part is also available for students participating in the two-part program. For those schools bringing three classes, Part C is incorporated into a 180-minute three-way rotation program. Students in this part will:
Part C: Self-Guided Precinct Walking Trail (Outside the WA Maritime Museum & Victoria Quay)
Participate in a self-guided precinct walking trail linked to Immigration Stories
Find some of the migrants featured in Immigration Stories on the Welcome Walls
Consider the changes that have occurred in the Harbour and the surrounding landscape
Visit statues linked to CY O'Connor and migration to Fremantle and reflect on why they are there
Download the trail via the button below and print one per group leader
As Victoria Quay is part of Fremantle Ports you can view their emergency plan here
This part is led by your group leaders
Download the Immigration Stories Precinct Walking Trail [PDF 745KB]
---
Booking instructions
Step 1 – Creating your class rotation
We can accommodate up to 3 classes per day – all starting at 10am (start time can be adjusted on request). Before you book, it is important that you create a proposed rotation for your visit so that you are clear on what time your class is participating in the different parts of the program
1 or 2 classes participate in the 120-minute two-part program (with the option of adding the self-guided precinct walking trail)
If there are 3 classes, all students participate in the 180-minute three-part program, which includes the self-guided precinct walking trail. You can print out and use the following timetable if you wish.
WA Maritime Museum Education Program 3 Group Rotation Timetable [PDF 127KB]
Step 2 – Making a booking
Please send an email to education@museum.wa.gov.au with the following details and we will begin to process your booking.
Program choice: Immigration Stories, Shipwrecked!, de Vlamingh's Journey or Strangers on the Shore
Preferred visit dates and session times
Number of classes & student numbers in each class
Number of attending adults per class
Contact Teacher name, email and mobile number
School
Step 3 – Planning your visit
Don't forget to read the Planning Your Visit section so you are prepared for your visit to the Museum
If you are booking for more than one class please share this page with your fellow class teachers
Please email education@museum.wa.gov.au or call us on 1300 134 081 to discuss other booking options if the above is not suitable.
Booking conditions
We may need refuse entry if we are already at capacity at your selected Museum and you haven't pre-booked
Each Part starts on the hour and we are unable to shorten the program (especially if you are rotating with another school)
For the best learning outcome we recommend a maximum of 30 students per session
A minimum supervisor ratio of 1 adult to 10 students is required, however a ratio of 1 to 6 is preferred for this program
Bookings need to be made 14 days before the date of your visit
Changes to dates and times are subject to availability
Refunds are not available if you cancel your booking within 14 days of your visit
---
Curriculum links
Programs and exhibitions at the WA Museum support teachers in their delivery of the WA Curriculum to their students. Immigration Stories has been developed with reference to the following content description(s) from the Year 6 Western Australian Curriculum:
Humanities and Social Sciences (HASS)
Knowledge and understanding
History: Australia as a nation
Stories of groups of people who migrated to Australia (including from one Asian country), the reasons they migrated (e.g. push–pull factors) and their contributions to society (ACHASSK136) (ACHASSK137).
Skills
Questioning and Researching, Analysing, Evaluating, Communicating and Reflecting
---
Duration
Immigration Stories is a 2-hour package* that consists of the following two components:
Facilitated tour – 60 minutes (approx.)
Facilitated object exploration – 60 minutes (approx.)
For two classes, both classes start at the same time and rotate between the two activities. 
An optional 60 minute self-guided Precinct Tour is also available to extend your visit.
*For three classes, Immigration Stories is three hours long. It includes the two facilitated sessions and the self-guided Precinct Tour as part of the rotations. It cannot be shortened.
---
Planning your visit
Specific to this program
Before arriving at the Museum please have students already organised into FIVE groups of 4-6 students, each with an adult helper if possible, for the Part B: Object Exploration component of this program. Having your students already organised into groups will give them more time to enjoy the exploring objects activity, rather than spending time splitting into groups.  If you do not have enough adult helpers, we suggest that you organise 2-3 groups of more independent students that can work without direct adult supervision, and then allocate the adult helpers to the groups that require more support.  The minimum supervisor ratio is 1 adult to 10 students, however a ratio of 1 to 6 is preferred for this activity.
 
Students will NOT require any pencils/paper or clipboards unless you specifically wish them to record their work for later use.
The program starts promptly at 10am and runs for the full 2 hours with a short transition period in the middle. There is no time for a snack break during the transition and we strongly recommend that a morning tea break occurs before the program start time.
General to WA Maritime Museum
On arrival at the Museum, please check in at the Front Desk to confirm your student numbers, booked session times and emergency contact details.
 
The Museum is open from 9.30am for access to toilets and storage of bags etc.
 
If you are running late please contact the WA Maritime Museum front desk on 9431 8334, or the Customer Relations Team on 1300 134 081.
---
Teacher familiarisation sessions
The Maritime Museum Education Team is excited to offer teachers the opportunity to experience Immigration Stories through one of our FREE program familiarisation sessions. This will help you to plan your excursion and prepare your students and adult helpers for the day. 
At the familiarisation sessions teachers will:
Meet the Education Officers who created the program
Learn about the background to Immigration Stories and how the program links to the curriculum
Take part in the highlights of the interactive gallery tour that follows the life of an Italian fishing migrant who came to Fremantle in the early 1900s 
Handle the objects that represent the stories of our 5 featured migrants and find out more about the related student inquiry activity
Find out about the booking process and important excursion essentials to the WA Maritime Museum
Chat with your teaching colleagues on how they will incorporate Immigration Stories into their classroom
Sign up to our education newsletter to be notified of the next session.
---
Education resources
Visit Immigration Stories Education Resources for suggested Fremantle excursion extensions, post-visit activities and classroom activities to explore the topic of immigration.