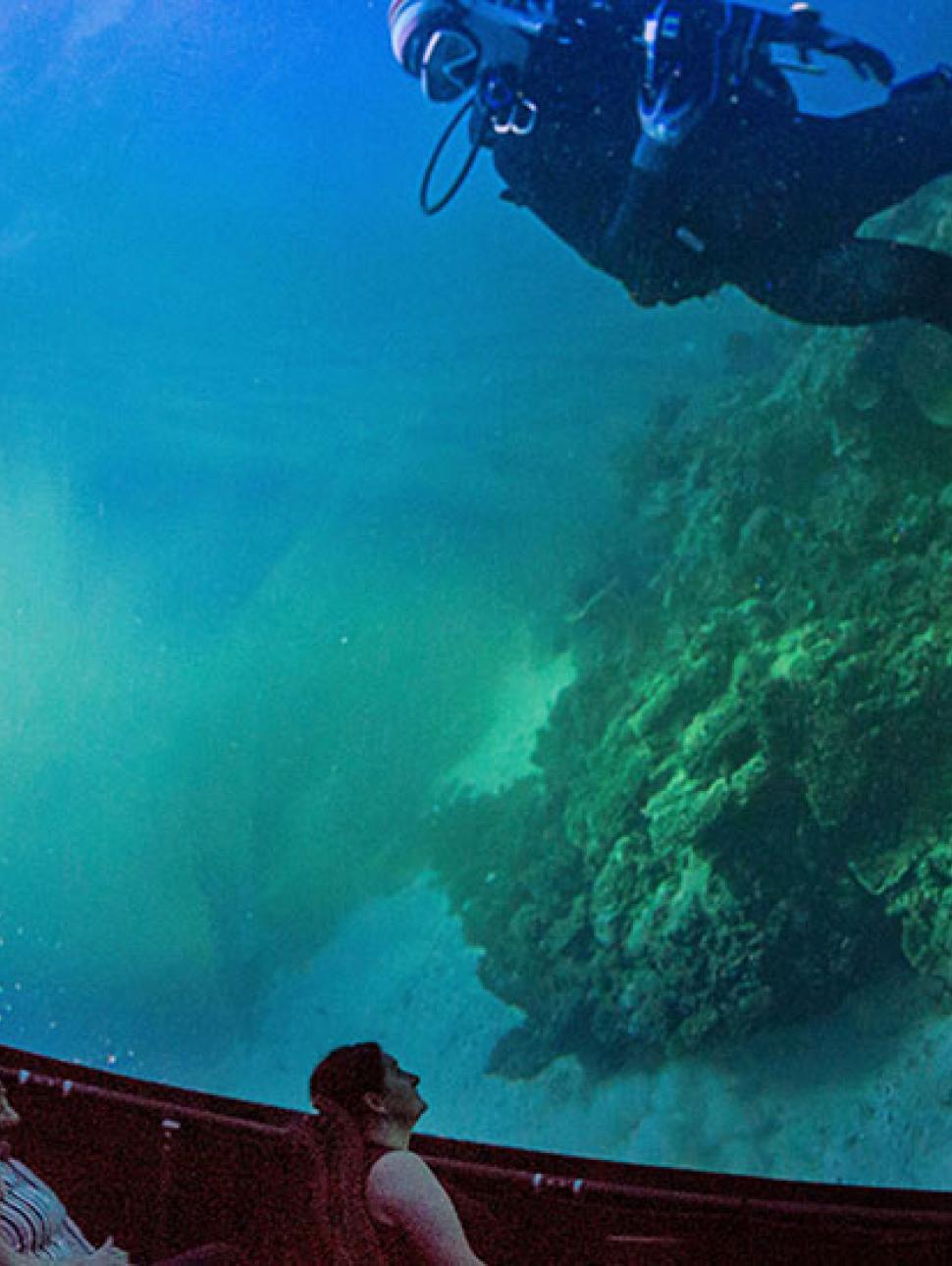 Under the Dome: School Groups
Dates
Monday to Friday during term
Various sessions daily commencing at 10am
Year Level
All year levels
Cost
$7.50 per person
Maximum 20 students and 2 supervisors per session.
Overview
WA Museum has partnered with Fremantle documentary company, Prospero Productions, to bring you an immersive cinema experience… Under the Dome at WA Maritime Museum.
Enjoy documentary films throughout the year in this unique, boutique, 22-seat, 180° curved dome cinema with 5.1 surround sound.
Recline and relax in the plush seats and let WA Maritime Museum transport you to other worlds through films specially created for this dome experience, by a local team dedicated to showcasing the wonder of our state and sharing our stories.
The dome cinema is air-conditioned and has two seats that can be removed to accommodate two wheelchairs.
---
Films
Teachers have the option of the currently screening public film or can choose from our library of previously screened films at the WA Maritime Museum.
Please select your film from the options available below.
Our film library will continue to grow with time.
Star Dreaming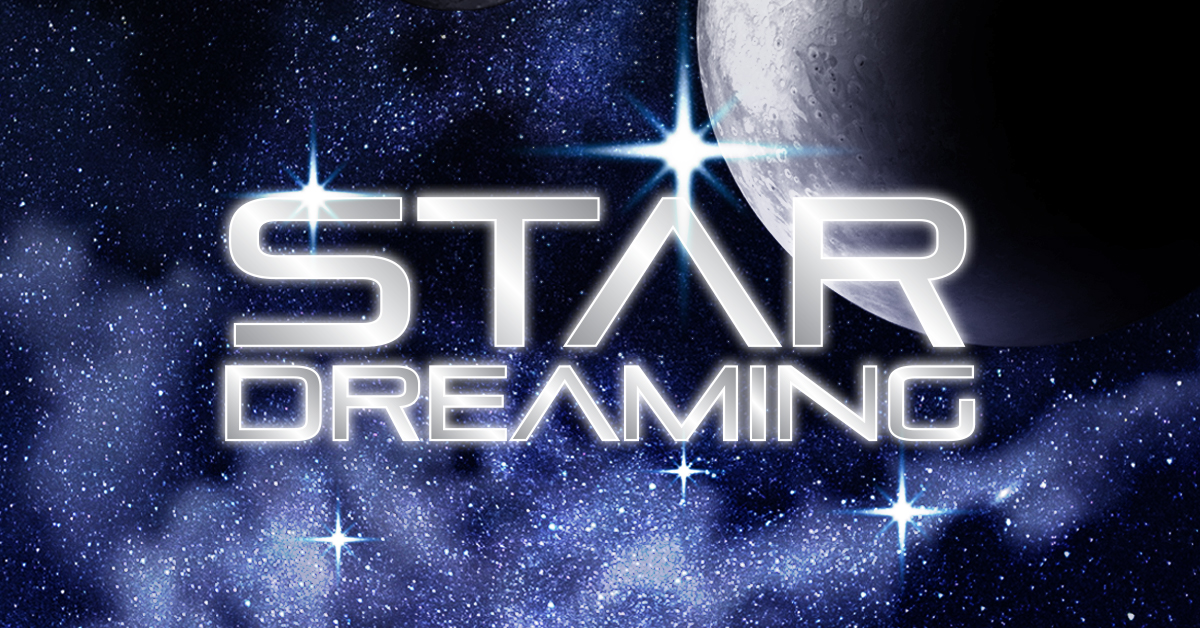 WA Museum has partnered with Fremantle documentary company, Prospero Productions, to bring you an immersive cinema experience Under the Dome.
Look to the stars and take a breathtaking journey through science and Aboriginal culture with Star Dreaming – fusing live action with cutting edge technology and astrophysics. Follow as two children go on a magical odyssey through time and space, exploring the mysteries of the Universe and the ancient stories of Yamaji people from the Murchison region.
In the arid heartland of the Murchison region of Western Australia, Max Winton and Lucia Richardson visit the remote site of the Square Kilometre Array, or SKA, radio telescope. There, they learn about the beginnings of time and space and the life cycle of stars. Entering the ancient land of the Yamaji people, they meet with artists and their guide, Charmaine Green. She introduces them to other Yamaji artists, who share through their paintings ancient star stories that have been passed on from generation to generation for thousands of years.
Come with us and see just how much the scientific world and one of the oldest surviving cultures have in common – we all live under one sky, a shared sky.
Download the Star Dreaming Teachers' Guide [21.4MB]

Whale Super Highway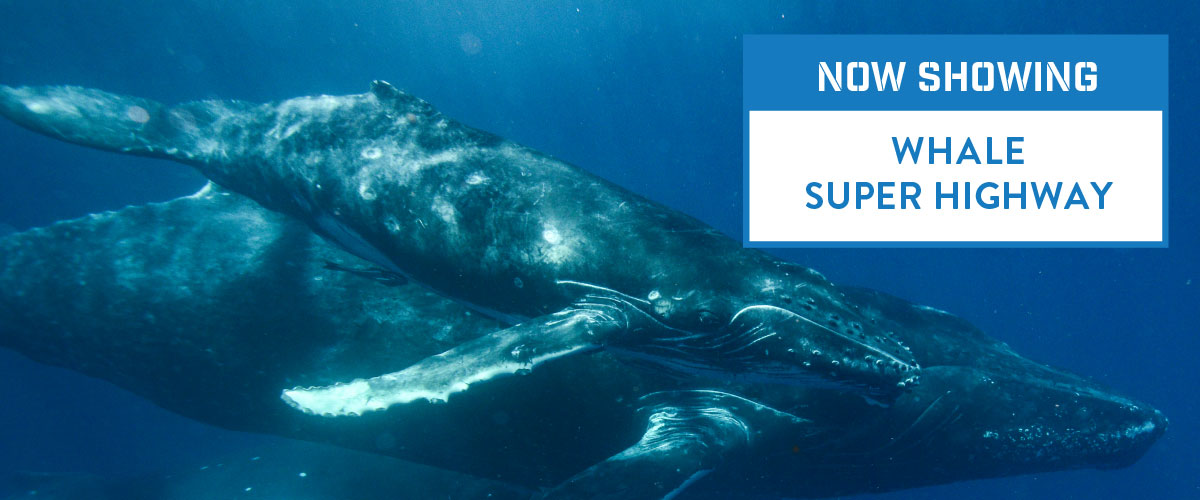 Experience one of the greatest animal migrations on the planet!
Once hunted to the brink of extinction, humpback whales have made an extraordinary recovery. The WA coastline captures the attention of scientists across the globe as it is home to the largest population of migratory humpbacks anywhere in the world.
Why this marine highway is so successful, is a question scientists are trying to answer. Why do more than 35,000 humpbacks travel this stretch of water annually?
Our first documentary—Whale Super Highway—delves deep into this mystery, and the Indian Ocean, following humpback whales and blue pygmy whales on their 6,500-kilometre migration down the coast of Western Australia to the freezing waters of Antarctica, and back again.
See whales like you've never seen them before! Enter their domain, learn more about their habits and meet the Western Australians that dedicate their lives to studying, understanding and preserving these truly majestic animals.
Download the Whale Super Highway Teachers' Guide [11.6MB]
Whale Super Highway is a Prospero Productions production. Principal production investment from Screen Australia, in association with the Western Australian Regional Film Fund (WARFF), supported by Royalties for Regions, Screenwest and Lotterywest.

Ningaloo: Australia's Other Great Reef
Young marine scientist, Anna Cresswell, aboard mini-submersible Odyssea, embarks on a daring voyage into the labyrinth of Western Australia's iconic Ningaloo Reef. Her mission is to witness the annual, synchronised mass coral spawning.
Governed by the lunar cycle this is the greatest reproductive show on Earth. Along the way Anna navigates through a maze of spectacular coral structures, inhabited by an abundance of exotic marine life, in one of the most diverse and complex eco systems ever discovered.
By nightfall, far inside the reef, Odyssea sets down in darkness, surrounded by an array of tiny predators also there for the coral spawning. Mysterious, mammoth in scale and wondrous to behold, coral spawning is the well-spring of all life on the reef. In the face of global warming it may also be its saviour. Anna believes that understanding it more fully may help scientists protect the World's coral reefs from the ravages of climate change.
Download the Ningaloo: Australia's Other Great Reef Teachers' Guide [9.5MB]

---
Booking instructions
We currently do not take online bookings for school visits to Under the Dome.
Please email education@museum.wa.gov.au or call us on 1300 134 081 to discuss your options
Have your film choice, preferred dates and times ready when you contact us
Bookings need to be made 14 days before the date of your visit
Advanced payment will be required to secure your booking and you will require your school's payment card (we accept VISA or Mastercard)
Payment can be made over the phone or a payment link will be sent to you
Once your payment is processed you will receive a confirmation email of your booking. This email is also your Tax Invoice and receipt for the credit card holder. 
Please note that if you cancel your booking within 14 days of your visit, you will be required to pay the full cost of the excursion. Changes to dates and times are subject to availability. Refunds are not available for students who do not attend.
---
Curriculum links
Programs and exhibitions at the WA Museum support teachers in their delivery of the WA Curriculum to their students. Under the Dome film experiences have potential links to a variety of areas from both the HASS and Sciences Curriculum.
---
Duration
Films in Under the Dome are approximately 25 minutes in duration and commence on the hour and half-hour
45-minute versions of the film are available on request for students in secondary school or in primary schools with a particular interest in the topic ($10 per person).
A standard class of 32 students will require 2 sessions. The class-half not in the cinema can explore the Museum with their adult helpers.
---
Planning your visit
Specific to this program
Before arriving at the Museum please have students already organised into the cinema session groups with the appropriate number of adult helpers assigned to each group. This will save time when you are at the Museum. Students who have behavioural issues should be grouped with the class teacher or teachers aide who can adequately supervise them if needed. 
 
The capacity of the cinema is 22 seats. The number of students is capped at 20 per session, this is to allow at least 1-2 supervisors to also have a seat. Supervision ratios must be adhered to while visiting the Museum galleries.


| | | | |
| --- | --- | --- | --- |
| Years | K-2 | 3-9 | 10-12 |
| Supervisor Ratio | 1 to 6 | 1 to 10 | 1 per group |
Under the Dome sessions start promptly at the allotted start time.
General to WA Maritime Museum
On arrival at the Museum, please check in at the Front Desk to confirm your student numbers, booked session times and emergency contact details.
 
The Museum is open from 9.30am for access to toilets and storage of bags etc.
 
If you are running late please contact the WA Maritime Museum front desk on 9431 8334, or the Customer Relations Team on 1300 134 081.
---
Excursion extensions in Fremantle
Teachers can combine the Under the Dome Experience with our free self-guided excursion options to make Fremantle the perfect value-for-money excursion destination.
You can create a Fun in Freo excursion package consisting of:
All this starting from just $7.50 per person!
To create a Fun in Freo excursion package contact our Education Bookings Team on 1300 134 081 or education@museum.wa.gov.au.