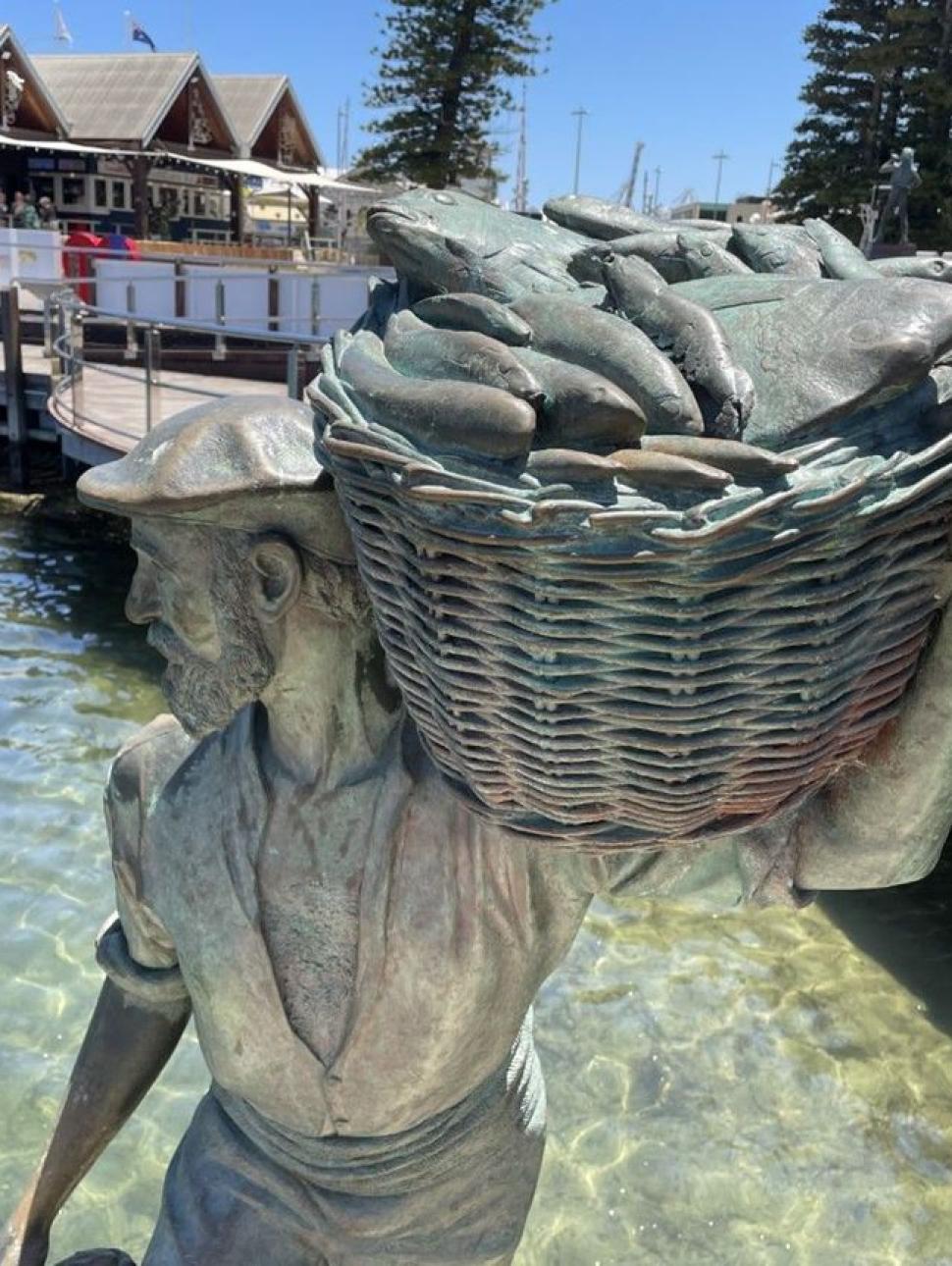 Let's C Freo: Change, Culture, Celebration and Commemoration Shipwrecks
Dates
Monday to Friday during term
Curriculum
Humanities and Social Sciences
Communities and Remembrance
ACHASSK062
ACHASSK063
ACHASSK064
ACHASSK065
Step into the past and explore change, culture, commemoration and celebration in the streets of Fremantle.
Take a walk from the WA Shipwrecks Museum through the surrounding precinct. Use old photographs to identify some of the ways that Fremantle has changed over the past few centuries, and discover some of the historical buildings and landmarks that have remained the same.
Along the way, learn about the importance of Walyalup to Traditional Owners, the Whadjuk Nyoongar people. Reflect on the impacts of colonial arrivals and discover some of the ways that Nyoongar cultures are acknowledged and celebrated in this area today.
Consider the thousands of migrants who arrived by sea in the 1800s. Look at local landmarks and learn about their connection to cultures. Find out how Fremantle's rich multiculturalism is commemorated in the past and today.
Students will also hunt through the Shipwrecks Museum with a fun bingo-style hunt for objects that relate to these same themes.
This program assists Year 3 teachers with the following HASS questions:
---
At the Museum your class will experience
Students participating in this two-part program will:
Part A: Self-Guided Precinct Walk (Stopping outside the Shipwrecks Museum, the Kidogo Arthouse, Fishing Boat Harbour and Esplanade Park): 
This section is best done as a whole class with one teacher leading, or in two large (half-class) groups with a teacher or other school staff leading (not suitable for parent helpers to lead).  

Listen to clues that lead to the discovery of an old building, monument or historic landmark.

Learn how each site relates to changes over time, cultural significance, special commemorations and celebrations.

Compare the scene they are looking at to historical photographs and paintings of the same area, considering what has changed and what remains.

Participate in fun tasks and photo opportunities that will help them to record and remember their experience
Duration
Let's C Freo is a 2 hour package that consists of the following two components:
Part A: Self-guided Precinct Walk – 60 minutes (approx.)

Part B: Self-guided Museum Exploration (Object Bingo)– 60 minutes (approx.)
Download
Part B: Self-Guided Museum Exploration (inside the WA Shipwrecks Museum):
Students can complete this part in smaller, supervised groups (suitable for parent helpers).

Use the Object Bingo section of the trail to find items in the Shipwrecks Museum

Each item will link to the themes of Change, Culture, Celebration or Commemoration

Items can be 'crossed off' and students can either record or discuss answers to simple questions about the objects (please bring your own pencils and clipboards if you wish students to record information)

Before or after this section, students can have a morning tea or lunch break
Part C: Optional – Self-Guided Lawn Games (Shipwrecks Museum Lawn)
Borrow a kit of Shipwreck Games (physical activities) to play on the grass outside the Museum.

Rules and guidelines are provided in the kits, although parents and students can make up their own versions of the games.

Groups are responsible for packing up the games ready for the next group.

Before or after playing the games, students can have a morning tea or lunch break.

In wet weather, Part C, will not proceed as games cannot be played inside the Museum. If this is the case, the class will spend additional time on the other two parts.
---
Booking instructions
Step 1 – Creating your Class Rotation
Before you book, it is important that you create a proposed rotation for your visit so that you are clear on what time your class is participating in each part. This is even more important when you are booking for more than one class.

We can accommodate up to 5 self-guided sessions per day, with available time slots inside the Museum (Part B) of 10am, 11am, 12pm, 1pm and 2pm during term time. Each session needs to be booked separately.

A maximum of 64 students (two classes) is allowed per self-guided (Part B) session.
Step 2 – Making a booking
Please send an email to education@museum.wa.gov.au with the following details and we will begin to process your booking.
Program choice: Let's C Freo (Shipwrecks) 

Preferred visit dates and session times

Number of classes & student numbers in each class

Number of attending adults per class

Contact Teacher name, email and mobile number

School
Step 3 – Planning your visit
Don't forget to read the Planning Your Visit section so you are prepared for your visit to the Museum

If you are looking for more than one class please share this page with your fellow class teachers
Please email education@museum.wa.gov.au or call us on 1300 134 081 to discuss other booking options if the above is not suitable.
Booking Conditions
We may need to refuse entry if we are already at capacity at your selected Museum and you haven't pre-booked.

A minimum supervisor ratio of 1 adult to 10 students is required, however, a ratio of 1 to 6 is preferred for this activity.

Bookings need to be made 14 days before the date of your visit.

Changes to dates and times are subject to availability.

Refunds are not available if you cancel your booking within 14 days of your visit.
---
Curriculum Links
Programs and exhibitions at the WA Museum support teachers in their delivery of the WA Curriculum to their students. Let's C Freo has been developed with reference to the following content description(s) from the Year 3 Western Australian Curriculum:
Humanities and Social Sciences (HASS)
Knowledge and understanding




History: Communities and remembrance
The importance of Country/Place to Aboriginal and/or Torres Strait Islander Peoples who belong to a local area  (ACHASSK062)
One important example of change and one important example of continuity over time in the local community, region or state/territory (e.g. in relation to the areas of transport, work, education, natural and built environments, entertainment, daily life) (ACHASSK063)
The role that different cultural groups have played in the development and character of the local community (e.g. as reflected in architecture, commercial outlets, and religious buildings), compared with development in another community (ACHASSK063)
The historical origins and significance of the days and weeks celebrated or commemorated in Australia (e.g. Australia Day, ANZAC Day, National Sorry Day) and the importance of symbols and emblems (ACHASSK064)
The historical origins and significance of celebrations and commemorations in other places around the world (e.g. Bastille Day in France, Independence Day in the USA; and those observed in Australia, such as Chinese New Year, Christmas Day, Diwali, Easter, Hanukkah, the Moon Festival, Ramadan) (ACHASSK065) 
---
Planning your visit
Specific to this program
Before arriving at the Museum

 please have students already organised into groups of 4-7 students, each with an adult helper, for the Part B: Self-Guided Museum Exploration (Object Bingo) component of this program. Having your students already organised into groups will give them more time to enjoy exploring the precinct, rather than spending time splitting into groups. If you do not have enough adult helpers, larger groups will need to be arranged as all groups require supervision in the Museum. The minimum supervisor ratio is 1 adult to 10 students, however, a ratio of 1 to 6 is preferred for this activity

Please have the 

trail

 printed before you arrive and give a copy to your staff and adult helpers. Make sure all adult helpers are familiar with the trail notes and the layout of the Museum. Please note that the Museum Exploration can be completed in any order so that gallery spaces are not congested.

 

Students will NOT require any pencils/paper or clipboards unless you specifically wish them to record their work for later use (or to fill in the Object Bingo chart).
General to WA Shipwrecks Museum
On arrival at the Museum, please check in at the Front Desk to confirm your student numbers, booked session times and emergency contact details.

The Museum is open from 9.30am for access to toilets and storage of bags etc.

If you are running late please contact the WA Shipwrecks Museum front desk on 9431 8469, or the Customer Relations Team on 1300 134 081.
Shipwrecks Teacher Familiarisation Sessions
Sign up to our education newsletter to be notified of the next WA Shipwrecks Museum teacher familiarisation session.