Sea Monsters: Prehistoric Ocean Predators
Location
WA Maritime Museum
Victoria Quay Road, Fremantle
Tickets
Standard | $15
Concession | $12.50
Junior (5 – 15) | $12.50
Junior (0 – 4) | Free
Family | $50
Education
Information for education groups.
Session times
Pre book your tickets early to secure your preferred session time
This exhibition has now finished. Please visit
Exhibitions
to see what's on at the Museum.
Seriously scary - not for the faint-hearted!
Millions of years ago, while dinosaurs ruled the land, giant reptiles more than 20 metres long hunted the depths of the sea – and they're coming back to life at WA Maritime Museum.
Sea Monsters: Prehistoric Ocean Predators brings together real fossils from millions of years ago, life-sized casts from actual specimens, including a 13-metre long Elasmosaurus and nine-metre Prognathodon, multimedia, and hands-on interactives to raise from the dead these ancient monsters of the deep.
The exhibition features over 70 exhibits and includes a huge 1.4-metre Kronosaurus jaw. There is also an incredible ichthyosaur specimen giving birth and a five-metre-long fish that died after swallowing another fish whole.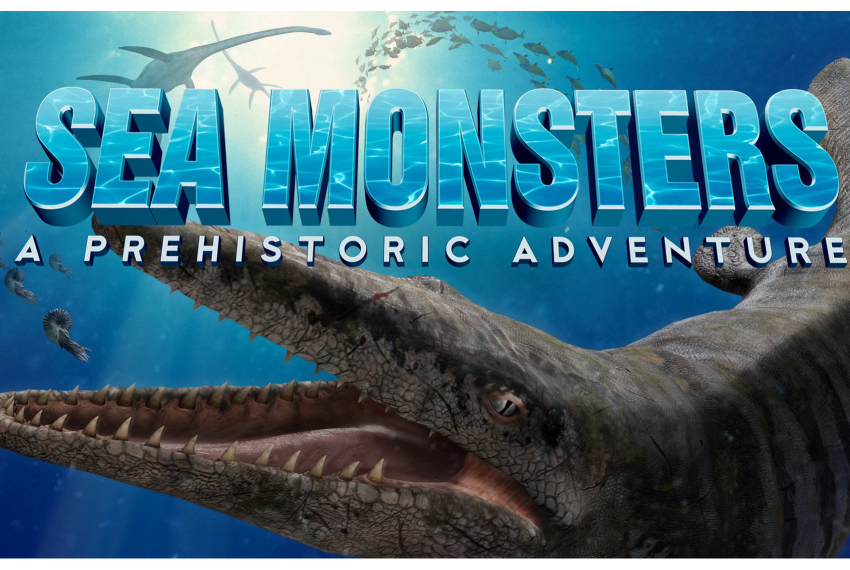 Sea Monsters: A Prehistoric Adventure
Rated G, 40 mins, Screening daily every hour | 10am – 4pm 
Film screening is free for exhibition ticket holders.
A film for the whole family. Journey 80 million years back in time to an age when mighty dinosaurs dominated the land – and an equally astonishing assortment of ferocious creatures swam, hunted and fought for survival beneath the vast, mysterious prehistoric seas.
About the exhibition
Seriously scary sea monster facts
Marine reptiles originally evolved on land and then went back to the sea.
The biggest marine reptile was the 24-metre Shonisaurus, a type of ichthyosaur.
Australia's top plesiosaur predator, the Kronosaurus, had a bite force of 3 tonnes – more than a saltwater crocodile.
The mosasaur Prognathodon's head was so heavy; if it had lived on land, it couldn't have lifted it.
The first sea monster fossils were discovered about 50 years before we found any dinosaurs – we've known about them for around 250 years.
Sea monsters ruled the oceans for over 180 million years (modern humans have only been around for about 300,000 years).
Some ichthyosaurs could swim at speeds of 40 kilometres per hour.
Some Australian sea monster fossils have become stunning and valuable opals.
We can learn about what sea monsters ate by looking at their fossilised poo, called coprolites.
The plesiosaur Albertonectes had 72 neck bones – more than any other animal. We have only seven.
About some prominent sea monsters
Dolichorhynchops
Lived 80-90 million years ago 
Name means "long snout" 
Approximately the size of a dolphin 
Fast swimmer that fed on fish and squid 
Had no external ears, making it possibly deaf to airborne sounds 
Tylosaurus 
Lived 73-80 million years ago 
One of the largest mosasaurs 
Among the largest and most ferocious predators of any era 
Grew to between 35 and 45 feet long 
Eyes were as big as grapefruit 
Had four rows of sharp, cone-shaped teeth to seize and crush prey, and could swallow prey whole 
Styxosaurus
Lived 80-85 million years ago 
A member of the plesiosaurs 
Its neck was 20 feet long — up to half its body length 
Each of its flippers was the size of an adult human 
Swallowed hundreds of small rocks to help grind up meals 
Xiphactinus 
Lived 70-95 million years ago 
Largest bony fish of Late Cretaceous, reaching 20 feet long 
Nicknamed the "bulldog" fish because of upwards thrust of jaw 
Able to swallow prey up to half its length 
Often fed on a 6-foot fish called a Gillicus
Cretoxyrhina 
Lived 82-95 million years ago 
Largest of the Late Cretaceous sharks, reaching 22-24 feet long 
Cretoxyrhinateeth have been found in Tylosaurusremains, clues that these two predators may have encountered each other 
Sharks outlasted extinction of all marine reptiles, except sea turtles 
Was similar in size and role to the modern great white shark
Hesperonis 
Lived 65-89 million years ago 
Large flightless bird that swam in the ocean 
Swam and fed much like modern penguins 
Grew as big as 5-6 feet long from beak to foot 
Had teeth in its beak to help with holding prey
Accessibility

This event is wheelchair accessible.
50% visual content rating – Sea Monsters: Prehistoric Ocean Predators has both sound and visual components.
50% aural content rating – Sea Monsters: Prehistoric Ocean Predators has sound components.
If you have any questions about access, please get in touch with us via reception@museum.wa.gov.au or on 1300 134 081.
An Australian National Maritime Museum touring exhibition in partnership with Queensland Museum Network

In partnership with