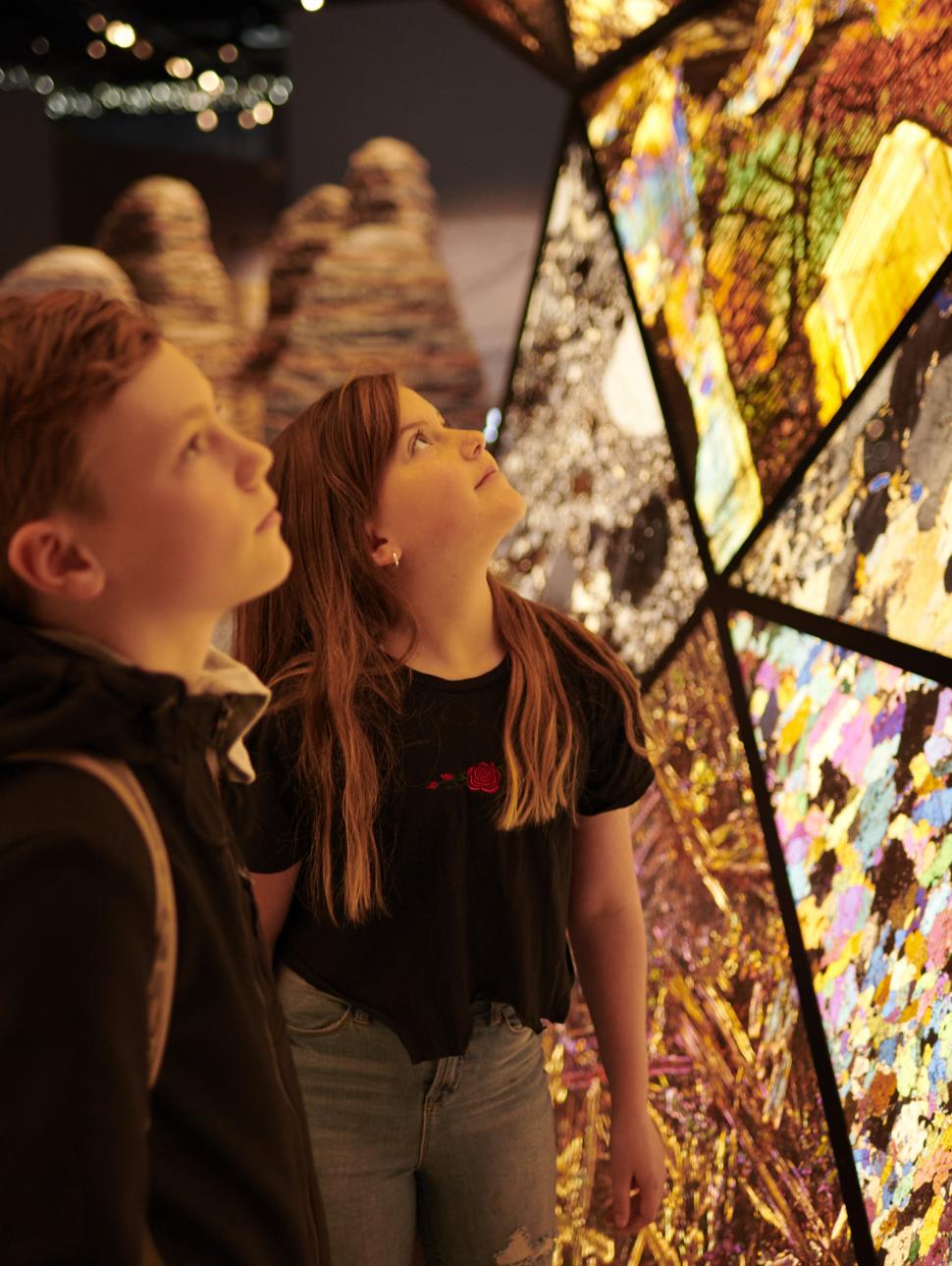 Cost
Free* | Registration required
Self-guided exploration of the permanent exhibitions at Boola Bardip allows you and your students to explore at your own pace. Visit our Exhibitions page for more information about our permanent exhibitions.
---
Bookings
Self-guided excursions are free, and available Monday to Friday. Bookings are essential. Click here to select your date.
Please ensure you have read the terms and conditions.
*Self-guided education bookings are free of charge and include general admission for those 15 and under, students 16-18 attending as part of an educational booking and accompanying teachers to a ratio of one adult to six students. Any additional adults will be required to pay general admission. 
---
Plan your visit
Our Planning an excursion page provides you with all the information you need to prepare for your visit, including information about transport, lunches, site maps, our Excursion Management Plan and our Certificate of Currency.
---
Self-guided resources
Enhance your self-guided museum visit with our self-guided trails. Students will find significant objects within our collection, discover stories, and cover cross curricular topics such as Aboriginal and Torres Strait Islander histories and cultures and sustainability within the galleries. Topics covered in these trails can be linked back to classroom discussion and utilised as a debrief tool after your visit.
Each trail will take approximately 2 hours to complete, allowing 30 minutes in each gallery.
How to use these resources:
Prior to your visit. Download and print your trail.  Trails are printed on an A3 sheet to fold into an A4 double sided booklet. Flip the page on the short edge when printing.

At the museum. Bring trails with you. Divide your class into groups and spread out across the galleries to reduce congestion. Each trail covers four galleries and can be completed in any order.
---
Connecting Trail | Years 3-6
This trail highlights connections found in the world around us, from connecting to the past through fossils, to Australia's connections with the world. Stories of first contacts are included, as are opportunities for students to make connections from our collections to their own lives.
Galleries Visited: Ngalang Koort Boodja Wirn, Reflections, Wild Life, Connections
---
Diversity Trail |Years 6-8
From biodiversity and adaptations in nature, to farming methods and diversity within our society, this trail covers many stories of diversity from within the museum's extensive collection. This trail allows students to identify objects with powerful stories and make connections with them, while considering some of the 'big questions' about our diverse world that we live in.
Galleries Visited: Ngalang Koort Boodja Wirn, Changes, Wild Life, Connections
---
Movement and Change Trail | Years 7-10
Download Movement and Change trail
This trail focuses on many aspects of change, both environmental and social. The objects included in this trail provide students with background information to many stories, from the felling of forests to migration statistics, and asks them to consider the impacts of this movement and change. Questions on this trail can also be used as prompts for follow-up discussion at school.
Galleries visited: Changes, Origins, Wild Life, Connections
---
Codebreakers
Part scavenger hunt, part escape room, Codebreakers is a series of challenging puzzles, codes and clues leading you across galleries and through the Museum. Your mission is to identify an agent from the mysterious Shadow Society who is intent on raiding the museum's collection! Hire a codebreakers kit and allow students to explore and work in teams to identify the secret agent intent on raiding the Museum's collection!
This challenging trail is suitable for year 4 students and above. Please allow at least 2 hours to complete Codebreakers. 
---
Gogo Digital Guide
The Gogo Digital Guide uses location awareness to locate and guide you around the Museum to discover more, accessing extra content and highlighting the many stories of WA. Use Gogo to take a highlights tour and follow our immersive audio guide around the Museum.
This resource can provide structure to your self-guided excursion and elevate your student's engagement with the galleries.
Visit the Gogo Digital Guide page for more information on how you can access this resource using your own devices.
---
Facilitated Education Programs
WA Museum Boola Bardip also offer a number of facilitated Education Programs that tie in with curriculum links and learning outcomes. Programs can be offered in connection with Self-guided visits so that you can make the most of your excursion. Find out more about designing your visit here.