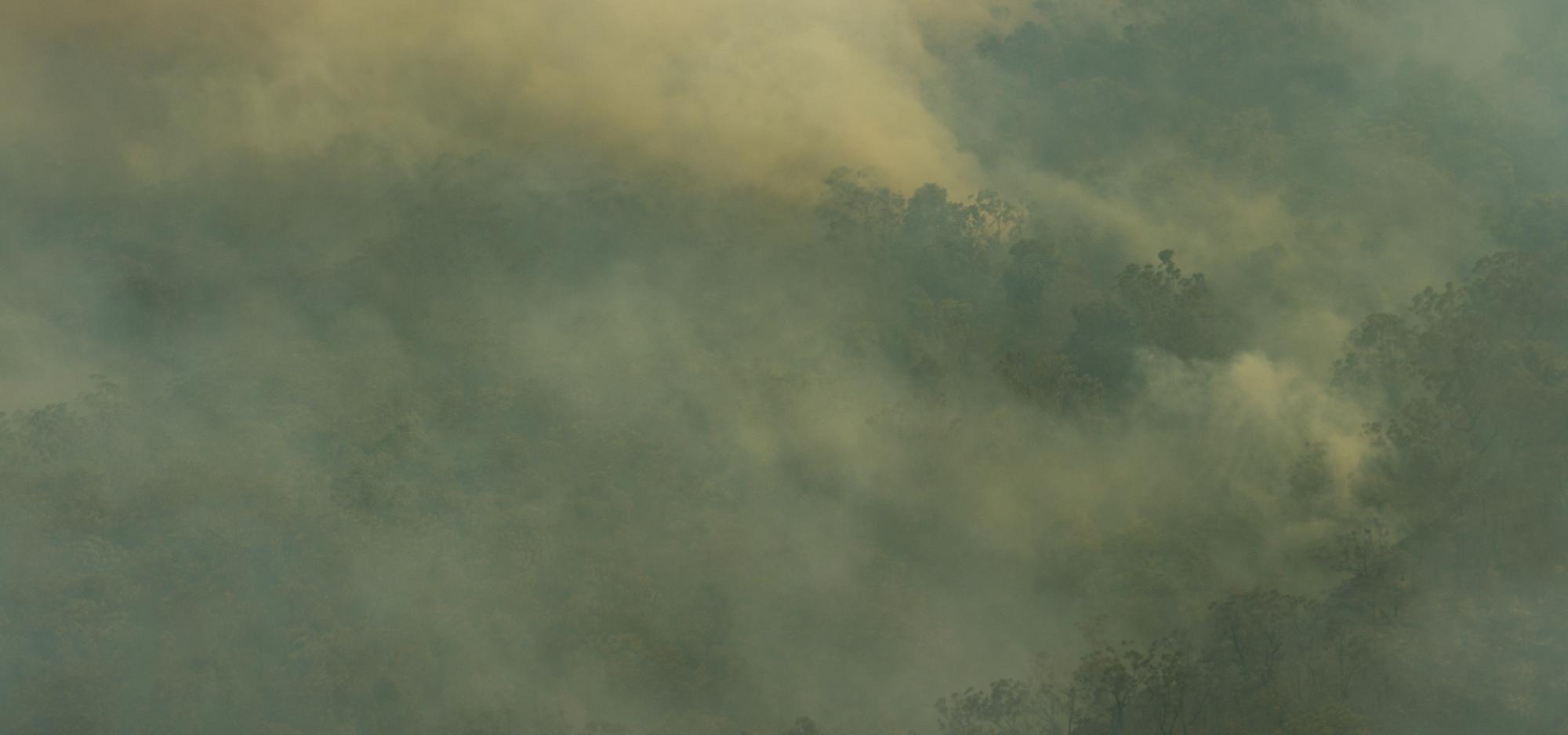 Politics of the Precipice
What is activism anyway?
We kick off the Tipping Point series by taking a look at the political precipice – the view from the front line in the struggle towards a sustainable future. In conversation with facilitator Meri Fatin, panellists Chantal Caruso, Dr Sajni Gudka, Jeff Hansen, Jaime Yallup Farrant and Bella Bergemeister explore the concept of activism and how it has measurably affected climate action.
If mainstream politics is failing us, and we have to take to the streets, where do we go from here? Take a look through the eyes of the political activists, policy experts and community organisers fighting for our survival.
This conversation was recorded live under the blue whale in Hackett Hall at WA Museum Boola Bardip on Thursday 10 June 2021.
Episode transcript

In Conversation: Politics of the Precipice

Intro

Western Australia is a land of unique landscapes that have created and shaped many diverse communities. Through this connection to the land Western Australians are often witness to the early effects of global climate change. While we have everything we need to slow and ultimately halt this, scientists agree we have reached a tipping point with very little time to avert the most catastrophic consequences.

Welcome to Tipping Point, a conversation series and podcast curated by the Western Australian Museum Boola Bardip. Join us as we discuss the complex realities of climate change in our region with leading Western Australian thinkers. Tipping Point is recorded on Whadjuk Nyoongar boodja. The Western Australian Museum acknowledges and respects the Traditional Owners of their ancestral lands, waters and skies.

Live Panel

Meri Fatin: Tonight we're talking to the activists. I really want to know who in the audience regards themself already as an activist.

[Pauses for audience response.]

Meri Fatin: Well, at least half of you. Yeah, there's a couple of half hands there and there's a couple of very, very strong, solid ones. It reminds me of when I was a producer at ABC Radio years ago and you know, from time to time there would be some conversation on talkback radio where listeners would call up and tell us what they thought about militant activists and disruptive actions that had gone on. And it was, you know, pretty blunt. It was, "go get a job," "waste of space," all that kind of thing. And it made me really curious about what it takes to drive a person to have that kind of passion for their cause, to take on frontline activism and all of the risks that entails. And subsequently, I've spent a lot of time talking to activists, and I have the utmost respect for them.

So tonight, we're talking about activism directly related to environment and climate. And as you all know, a couple of weeks ago, there was an avalanche of good news for climate activism, and it was summarised really well in this one Tweet. "Dutch court ordered Shell to halve emissions. Shareholders slammed Chevron over Ecuador. Exxon loses two board seats to climate activists." And in Australia, in the class action against the Federal Environment Minister, it was also ruled that she does have a duty of care to protect Australian children against damage from climate change. So, it was a very big week. Yeah, applause is good. [laughs]

[Audience applauds.]

Meri Fatin: So, I mean, they are super big wins, but at the same time we can't forget that behind the scenes there have been years of daily strategizing and a dogged belief in the cause no matter what. And with that in mind, I would like to introduce my powerhouse panel for this evening. I'm going to have to jump around with this, please excuse me.

Chantal Caruso has spent over 15 years working on climate from various perspectives, but from a pretty young age she identified frontline activists as her tribe. Chantal's career has been built around her skill working in public policy to effect change. She has worked with the Greens at a State and Federal level and was described by Scott Ludlam as a policy genius. I thought you'd like that. Chantal is the author of Clean State's Comprehensive Jobs Plan that offered Western Australia a road map to a green recovery. She's currently working with Shelter WA, and no matter what role she's in, that dark green heart always guides her principles. Please welcome Chantal Caruso.

[Audience applauds.]

Meri Fatin: Dr Sajni Gudka joined Extinction Rebellion WA when it was formed in 2018 and has being supported in a couple of actions by the Red Rebels. She has also devoted a lot of time to the Beeliar Group of Professors for Environmental Responsibility. Sajni is both adjunct research fellow at the School of Population and Global Health at UWA and principal of her own public health consultancy. Her particular focus is air pollution. For example, she has contributed to UWA's climate change Preparedness Report last year and wrote a report on air pollution in the Burrup [Peninsula] for Clean State. Please welcome Dr. Sajni Gudka.

[Audience applauds.]

Meri Fatin: Everyone tells me that Jaime Yallup Farrant knows everyone who is acting on climate change [laughs] and I have to tell you that she was recommended for this conversation tonight by none other than the revered Nyoongar elder, Noel Nannup. Jaime is the organiser and convener of the Climate Justice Union, which works on restoring a stable climate while taking care of people and place. Jaime's been doing this work since arriving on Whadjuk boodja in 2001 from the UK. She's a former co-ordinator of 350 Perth and has also worked with at-risk youth. Jaime was crowd funded as a climate organiser for several years until she became the first proper employee at the Climate Justice Union. Please welcome Jaime Yallup Farrant.

[Audience applauds.]

Meri Fatin: Student organiser for School Strike for Climate, Bella Bergmeister walks the talk of climate activism so completely, organising numerous events sitting on boards and committees as the youth voice and acting as an ambassador for two global youth climate initiatives. Bella is the author and regular presenter of Bella's Challenge, which outlines the UN's 17 SDGs, we call them - Sustainable Development Goals - in an easily understandable way for young people. A recent triumph is that Bella was one of the litigants who brought the class action against the Federal Environment Minister, Susan Leigh, on behalf of all Australian children and teenagers. Please welcome her.

[Audience applauds.]

Meri Fatin: A qualified electronics and computer engineer, Jeff Hansen joined—

[Audience laughs]

I feel like Victoria Nichols on sale of the century. That's what I feel like. But Jeff is a qualified electronics and computer engineer who joined Sea Shepherd Australia as a ground support volunteer in 2006. His strategic decisions in the whale defence campaigns of the following two years actually led Captain Paul Watson, the founder of Sea Shepherd, to offer Jeff the role of Australian Director for Sea Shepherd Global.

As you know, Sea Shepherd's work focuses on protection of the ocean and its inhabitants, but particularly around illegal fishing, plastics, pollution and climate change. And Jeff's leadership has delivered some important victories for the environment and biodiversity across each of those measures. Please welcome Jeff Hansen.

[Audience applauds.]

Meri Fatin: Jaime, let's go back to this thing about how Uncle Noel dobbed you in for the panel. Tell me about your relationship with Noel and with the Indigenous community more broadly in relation to climate.

Jaime Yallup Farrant: Um, so... I've been working with Noel for over a decade and have spent a lot of time with him. And I suppose my relationship with him is that he's an Elder of mine, um, and as a non-Aboriginal person— so I was born in the UK—so as a non-Aboriginal person I have this relationship with Noel that he's my, a teacher of mine and my [bubinga?] and Elder. And so when an Elder turns around and tells you that you're speaking on a panel instead of them, you kinda just suck it up and do what you're told [laughs] and so— But one of the things that's really interesting in that is, a lot of us that are working in the space of climate justice have been working, some of us for a long time, some of us for shorter times, really trying to make sure that our work is decolonised and it's grounded in the knowledge and the wisdom of the First Peoples of this land.

I remember a few years ago I was involved in organising one of the big people's climate marches that was at Wellington Square, and we actually had Jimbo Morrison and Tierra Clanton[sp?] emcee that whole event. Jim Morrison's part of the organisations Bringing Them Home and Yokai as well, so, lots of advocacy around Stolen Generations and is very, very well regarded within the Nyoongar community and Aboriginal community in general. When I was talking to Jim and Tierra about emceeing the event and how it was going to go, he just looked at me and he went, "So you fucked it up and you want us to come and solve it for you?"

And I was like, "No!" And, actually, five years later I'm kind of reflecting on that, and kind of, yes, right? Like that's actually what we're asking a lot of the time when we'e wanting Nyoongar people on our panels, because we didn't go to their panels, we didn't go to their events. We haven't been turning up for that for the land rights campaigns for decades. But now we're all woke and we're like, could you come and be on our panel? Can you come and be a part of our conversation? Like, we need to do this because we know it's really important now.

And so, I think part of— I think the voice and the challenge I'm going to kind of bring here is not speaking at all, of course, on behalf of any Aboriginal Nyoongar people or any of those things—that's not my place, and I would literally get my head knocked off if I tried that—but to actually really ask and challenge that question of what is our role as non-Aboriginal people in this place? And to acknowledge that for Nyoongar people and for Aboriginal people, climate change started with colonialism. We often go, "Climate change is caused by fossil fuels," but actually it's that extractive mindset, it's that colonialism, it's white supremacy, it's neoliberalism, it's that set up of all of those worldviews that started when those tall ships arrived and when those people arrived off those ships and they weren't able to recognise what was here. And we have this incredible privilege and opportunity to learn from that. But it's our job to do the learning. It's not Nyoongar people's job to teach us. So I think that's maybe a way of addressing that.

Meri Fatin: Thank you, Jaime. I want to start tonight by asking each of you to reflect on a time that you will always remember proudly about your activism, about something that you were involved in or undertook that really means something to you. I was going to start with you, Sajni, but would you like me to start with somebody else?

[Audience laughs.]

Meri Fatin: All right. Bella?

Bella Bergmeister: I can go, sure. I think one of the best events I've ever been to is our School Strike that happened. So many of them, I guess. I think one of the big ones was, we had about 5000 people marching down the street, and you could hear the screaming and the chants coming off the walls of the buildings. I got people telling me from in these buildings, they could hear us from the top levels. I think that was just such an incredible feeling to know that we were making a difference and that people could hear us. And having 5000 of the people walking behind you was such a powerful moment. And I think that was definitely something that stood out for me.

Meri Fatin: Yeah, amazing feeling. And the incredible thing about this School Strike, is how they brought an entirely new sector of the community out onto the streets, which has been absolutely extraordinary. Thanks, Bella. Jeff? Jeff Hansen: Is [the microphone] working? Okay. Um, well, after asking that question, I actually was digesting it and thinking how incredibly lucky I am because there's dozens that I've been a part of. Victories that I've been there and witnessed and been a part of. And sometimes later, sometimes just played strategic roles. So, I just feel incredibly lucky. But I think I always go back to— The one that first kicked it off was on the bridge of the Steve Irwin vessel in Antarctica. I had studied the weather patterns, the ice charts, and the weather, and I really looked at where we were heading, where the Steve Irwin was heading, and I strongly believed in my heart and my gut that we were heading away from where the Japanese whaling fleet was. I felt was going to be quite ill unless I got it off my chest.

So I was standing at the radar screen. I called in the first mate, explained my reasoning, he went and got Captain Paul Watson. I explained it to Paul and Paul said, "Okay, let's change course." I stood back and I felt very ill because the realisation was, in the moment— I was running on adrenaline and then I stopped and went, "What if I'm wrong? All the people that have got us to this place in this time. What if I was wrong?" But yeah, luckily we had not long— We had two targets on the radar trying to take us away from our position, which we believe were harpoon ships, kill ships. And then I was asked to give a position on where I believed the factory whaling ship to be, because if we find the factory whaling ship and we stay with them, that means they can't load dead whales, which means the harpoon ships can't kill the live ones.

And yeah, in a short amount of time we found the factory whaling ship. It took about eight hours of chasing in and out of the fog. The realisation [it was] the structure of the Nisshin Maru, we could see it. And then I was given the honour of going up to the bow and hoisting up the black flag, the Sea Shepherd Jolly Roger flag, and that meant that whaling had ended that Antarctic summer and we saved over 500 whales.

[Audience applauds.]

Meri Fatin: Thanks, Jeff. Sajni?

Sajni Gudka: I have... Let's see. I think I started my real activism in Australia with the Beeliar protest and that was a short, sharp two years of high intensity background work and then three months of front-end direct action. That is probably my big initiation into organising and coordinating environmental movements. And with that, you know, I think probably that summer of 2016-2017 when the direct action was happening was probably the most intense, but also the most fruitful part of my memories because we pulled together everybody. Everybody who is here, was there. It wasn't just one person, it was all of us. And it's in our recent memory as one of our biggest actions.

Meri Fatin: Thank you. Chantal?

Chantal Caruso: That was one of mine as well. But then I thought of a moment where I had pure joy. I could liken it to, you know— I've seen grown men cry when the Dogs won the AFL Grand Final, which I don't relate to, but I wished that I had this joy. Like, what's my equivalent? And my equivalent to winning a Grand Final was when we got a shareholder resolution passed at Woodside's AGM.

[Laughter and applause.]

Chantal Caruso: So, total nerd, but that's my equivalent. And it was on my birthday, and we'd worked so hard behind the scenes. I'm really into shareholder activism and climate litigation, and for so long you don't get the wins. You're doing so much work behind the scenes and you just don't get the wins and it's soul destroying. But on that day, it was during COVID as well, and so their whole AGM was online.

So we had— Instead of being in a room like this, we actually were literally face-to-face, and you could see the Chairman's and the CEO's face as all of these questions from investors were asking, question after question, about climate change, the impact to the rock art on the Burrup, on Murujuga, why are they advertising to children and exploiting the nippers? It was just wonderful. And then they passed, then the shareholder resolution passed. It was the highest vote ever in history in Australia of an action against a resolution for climate change. The Sydney Morning Herald described it as a shareholder revolt and I feel like that started this domino effect, which has just been incredible. So yeah, that was one that was really fun.

Meri Fatin: Another extraordinary story. Thanks Chantal. Jaime?

Jaime Yallup Farrant: It's actually really lovely to hear these stories of pride because we don't share them very often with ourselves. We share so much other stuff. So, it's really lovely to sit here and reflect on these things. The School Strike that Bella is talking about: there were two moments in that School Strike. One was the very first one where we just kept turning around and kids kept turning up, and we were just, like, [gasp] "Where'd they come from?! How are they here?" It was in the thousands at that point.

This was back in—

Bella Bergmeister: Bus loads, it was bus loads. Kids just coming off buses wearing school uniforms.

Jaime Yallup Farrant: Yeah, back in 2019. And we had no idea what was going on. We were training people literally on the steps of Parliament House. We'd never done it before. We had no idea if anyone was going to come and yeah, literally, bus load after bus load of kids came up. There were almost no adults at all and we were like, "How did they get here?" So that was kind of that. But also, I wanted to share— Sorry, I'm going to cheat— I wanted to share, last week I had a moment. So, I'm not a fan of reconciliation action plans. I can have that conversation with anyone outside of here, but sometimes you use different tools in different spaces. And so, in my daughter's school, I've been involved in a reconciliation action plan program with them and been part of the working group. The school had never raised the Aboriginal or Torres Strait Islander flags in the 120 years of the school being around. And last week we raised the flags for the first time. We had a smoking ceremony. We had Torres Strait Islander community members there as well. And it was this extraordinary moment of fulfillment of so many conversations.

And I was sat there in the audience, but it was that moment, where the scripts had been written by other people said the things that we needed them to say, and we followed correct cultural protocol in so many ways and, and how Elders were acknowledged and just this whole kind of shift of an entire culture within that moment is probably my most recent kind of experience of pride and fulfillment in my activism.

Meri Fatin: Thanks, Jaime. Bella, I'd love to hear a lot more about this story about how you got involved with this class action. Can you tell us a bit about it?

Bella Bergmeister: Yep. So, I got involved in the class action we just did through School Strike, actually. This amazing opportunity came around and I just was like, "I'm going to do it." You know, it looked great. And then from there, we had meetings with these lawyers who were absolutely incredible. They met with my parents and we talked through exactly what was going to be happening. And I was like, "I'm doing it, 100%," and then from there, we had meetings. I already knew most of the other litigants through School Strike and our networks. So we kind of connected through that. The whole process was absolutely incredible.

We had the four day judgment and obviously we couldn't go over there from COVID, so it was a live stream. So I was sitting there in my pajamas about 7am in the morning watching this on my TV, and I'm like, "Oh my god, this is so exciting." It was just such a great experience. And, you know, we're still going. We just recently added submissions again. And, you know, the huge decision that was made, Australian first, about how the Minister now has a duty of care to protect young people from the devastating impacts of climate change. It's just such an exciting feeling from there.

Meri Fatin: So, what did you have to do? Did you have to give ideas or give words for the lawyers to present in court? How did you actually get involved specifically?

Bella Bergmeister: So, our first meeting with the lawyers, he was like, "Alright, should you want to be a part of this after you discussed it with my parents and everything, what I need you to do is, I need you to tell me, I need you to order me to start this case," or something like that.

And I was like, "Oh, okay, how do I say it?" And he goes, "You just need to say, I would like you to take this on behalf of me or something like that." And I was like oh, okay, this is really awkward. And I was like, "Can you take this on behalf of me?" And he goes, "Yep, sure. Thank you. That's all I needed you to say." And I was like, "Oh, that's excellent! Thank you." And then we just met after that again and again, and I was like, "Okay, that was really simple!" I just I don't know why I felt so awkward about it, but I was like, oh, that's all they needed from me? And then from there, we met with our barristers and our lawyers again and again, and they talked us through the process so we all knew what was happening. It was just a really, really excellent process.

Meri Fatin: Yeah, incredible, incredible to be involved in. Yes, Jeff?

Jeff Hansen: Can I just ask, how did the idea come about? Like, who did the groundwork to see that there was an opportunity there?

Bella Bergmeister: That was mainly our lawyers. So, they had said they'd run cases like this previously. I know one of their cases was against an insurance company about not having climate change insurance or something like that. I can't quite remember. So, they had been doing things like this before, so they thought it'd be great to take this idea because it's an Australian first, it's never been done before, and you know, it's a building case. So, we're trying it out on one mine. Obviously we already now have the duty of care, which is so exciting, as we can use that argument again and again in so many different ways, which is super exciting. A world first, yeah.

Meri Fatin: I want to go back to when, in my introduction, I was talking about how the general public views disruptive activism. And I want to ask, specifically when you're connected to a particular organisation, how do you want the general public to view you? Jeff, let's talk about Sea Shepherd, because, you know, people have had some really interesting views about what Sea Sheperd is about. In fact, if you Google 'Sea Shepherd', one of the questions that comes up is, is Sea Shepherd legal?

Jeff Hansen: Yeah, it is. We get labelled as militant activists and vigilantes and all sorts. All sorts of words come about. Even when I've spoken at State Liberal conferences before, I've had Liberal politicians go, "Well, why should you have DGR charity status when you break the law?" I say, "Well, we don't break the law. We uphold laws." We uphold international conservation laws. And we've got a long history of that. We work with governments. We restore the livelihoods of artesian fishermen in Africa. We clean up beaches, working with Indigenous rangers in Arnhem Land. We work with governments to facilitate government science. But it's the media grab, that 30-second clip of the ships colliding that they go, vigilante activists. And they see a picture of us wearing a balaclava— That's because it's Antarctica, it's cold. The customs guys wear balaclavas too. So it's just the way that it's spun. That's why we have to work so hard at getting that story out first, before, say, the Japanese whaling fleet, because they're spinning their story and we always have to try and be on the front foot. But I guess that whole notion of, how do we want to be seen, is that we want everyone to be on board.

We don't want Sea Shepherd to be just for the militant activists or the militant vegans. We need the support from all parties, from all races, from all religions, from all political affiliations, because we need to be on this together. We all need to understand the importance of the natural world, because I don't want to be doing this fight. I don't want our kids to be doing this fight. Going back to what Nyoongar culture is all about is the connection with the natural world and the understanding. We all love the natural world, but a deeper understanding of its ecological importance.

So, I guess for me it's to be seen that this is not radical. To know where our planet is headed and do nothing? That's radical. We're the conservative ones. That's sort of where we want— We want people to see what Sea Shepherd is, and a sense of belonging that— You know, we go to a football game on the weekend and we take ownership in that victory. "Oh, my team won on the weekend," you know, and it's just a group of guys or girls running around kicking a ball. We want people to have that sort of ownership when they're part of a movement to save the forest, for the trees or the oceans. That the victories that our activists do on the front line are the same as the activists sitting in the loungeroom giving $50 a month. We all got to share in and feel empowered in those victories.

Meri Fatin: But Jeff, you do have a Jolly Roger on your flag, so there is something piratical that you're obviously maximising on somehow in there.

[Audience laughs.]

Jeff Hansen: They kept calling us pirates and so we thought, well, if you want to call us pirates, we'll be pirates. We'll be pirates of compassion going after pirates of greed on the high seas. And at the end of the day, it was a pirate that shut down piracy in the Caribbean. So, if you want to stop pirates, you need pirates to do it. So, we have a Jolly Roger, which is Neptune's trident and the shepherd's crook or staff. The shepherd's crook represents, you know, guarding our flock or representing our clients, which are whales, dolphins, turtles, right down to the krill. They're the clients that we represent. But given that most of the air we breathe comes from our oceans, ultimately, what we do is for humanity. But yeah, our government partners prefer to not have the Jolly Roger logo as a partnership. They prefer to have the more conservative logo, which is the whale and the dolphin, and that's what we use a lot for our government partnerships. But the merchandise sales do not lie. I mean, you look at merchandise sales, and 90% people want Jolly Roger.

Jaime Yallup Farrant: People love pirates.

Jeff Hansen: Absolutely.

Jaime Yallup Farrant: They totally love them.

Meri Fatin: Yeah. Sajni, tell me about XR [Extinction Rebellion]. How do you think XR wants to be regarded? And in fact, how do you want to be regarded as an activist having associated yourself with XR? I mean, you've given me some badges with some pretty strong words on them tonight from XR.

Sajni Gudka: Yeah. Okay. Who here has signed a petition for an environmental issue? Thank you. Who here has maybe written a letter or a Tweet or tagged one of their ministers for environmental action on their social? Who here has attended a very civil protest, like the School Strike? Who here has been with Sea Shepherd out on a rig or a boat? So, this is where Extinction Rebellion sits. It sits in that middle of a mass civil protest where we all go and walk, march, with a banner, with our message. We feel really good when we're doing it. The moment is great. The next few days is great. You're desperately looking for what media got generated. Where it went, what happened with it. And then it dies down. Extinction Rebellion sits in that middle ground with its constant pressure, a constant reminder that we had an obligation to stop our carbon emissions at 350, 350 dot org. Our carbon parts per million are 418. We had international obligations that by the year 2020 we would plateau on our carbon emissions and then work our way to net zero by 2050. We know that only if we plateaued in 2020 do we have a reasonable chance of hitting net zero by 2050. Currently, apart from our forests, we have no other technology that will help us get there. That is what Extinction Rebellion is. It's a channel for your grief, for your rage, for your love, and for everything that you hold precious that doesn't work with signing petitions, going to a protest twice a year, because we don't have the opportunity to do front end direct action all the time. It's that nonviolent direct action and it's a constant level of pressure, and that's what's attracted me to it. It's a constant channel for everything that we need to do, and we collectively need to do.

Meri Fatin: Thank you.

Sajni Gudka: If anybody wants a badge, I have some in my bag.

Meri Fatin: There's a whole box of them.

[Panellists laugh.]

Meri Fatin: Chantal, where do you want to talk about your activism as existing in response to this conversation? Because I was thinking about the story of the Greens and the origin story of the Greens as being a really good part of this conversation for you to add to.

Chantal Caruso: Yeah, I guess I feel extremely privileged because I feel like I've kind of had a belonging at all the points of the spectrum in activism. When I was a teenager, for example, and I'm kind of embarrassed to say, I used to have a picture of the guy on the Zodiac that found the Nisshin Maru on my wall, like, he was my hero. Bob Brown was my hero. And yeah, the Greens came from that grassroots, not so much activist rebel side of things, but Christine Milne and Bob Brown were, you know, a teacher and a doctor that actually just got together as part of a community to prevent the Franklin Dam. So, they were then tarnished as activists, but that grassroots action stopped the Franklin Dam and was the foundation of the Greens Party in Tasmania. Here in Western Australia, the Greens Party has its roots in the anti-nuclear movement, the peace movement. So yeah, there's this legacy of incredible activism, but the party now attracts people that are, you know, financial managers and GPs and teachers and all kinds of really mainstream amazing people. But in Parliament the Greens are a minority party and essentially are there to kind of defend that thin green line and essentially be activists in an incredibly antiquated, very slow-moving place full of old white men that are very conservative and very frustrating.

But you can get amazing outcomes if you learn the levers of Parliament and if you work with activists on the ground to jam those spanners into those very big moving wheels. And that was one of the really fun parts of the job, was learning how to use those levers for our ends. And we held off the Beeliar wetlands destruction for a year through legal action and through Senate inquiries and through all kinds of shenanigans that we were really lucky to get to play with. But it's a whole other language and it's a whole lot of privilege that you've got to figure out how to navigate. Thinking about my activism, I was sent this amazing article just by chance about this kind of spectrum of rebels to reformers and that, somewhere along the line, we are all activists. And so I see myself now as a reformer. Like, I'm in there wanting to do policy change, but I think people that work in policy are punk. [Laugher.] Like policy, people that want to make better policies, want to make better worlds. And that's just the way that we use it. And we do it, so I guess I'm a punk policy person.

Meri Fatin: Well, both Chantal and Sajni said to me prior to this conversation that you can't work in public policy and not be an activist. Do you want to respond to that more Sajni?

Sajni Gudka: Yeah. We strongly believe they go hand in hand because it is, like, every box you open. Once you know, you know, and once you know the scale of what needs to be done and what is necessary, we cannot start talking about what is possible. We want to stick with what is necessary. With environmental movements, with social movements. What is possible is boardroom chat within structures of money, within structures of infinite growth on a finite planet. We talk about what is necessary, and that's where policy and advocacy activism go hand-in-hand.

Meri Fatin: Yeah, thank you. Bella, I want to ask you something a little bit different. How do you feel, what's your sense of how the School Strikes particularly have measurably impacted on climate action or the kind of sense of solidarity and community around climate action?

Bella Bergmeister: Yep, okay. I guess I feel that we have made a difference. I think, I definitely think that having young people standing out in the streets and saying, What our politicians are doing is not enough, has made a huge difference in bringing out more young people into these activism spaces and, you know, showing them that there are young people also concerned about this. More adults saying, If the kids are doing it why aren't we doing it? And even to our politicians who are saying, If our young people are scared about this, we should be doing something about it. Because we can't vote. We have to share opinions to these adults, who are leading our country, somehow. And this is our way of doing it, to show them that we are worried, to show them that we are concerned and to show them that we want change.

And that's with giving suggestions about how they can do that. And, you know, we're just trying to get our voice heard in these political systems and things, because obviously we can't vote. We can't put people in there. You know, we can't really work with policies and things because, you know, we're still at school. We have homework and all that kind of stuff, too. So, um, yeah. So I think we have definitely made a difference in that in that sense.

Meri Fatin: Yeah. Jaime?

Jaime Yallup Farrant: There's hope—

Bella Bergmeister: That's right. Yeah, definitely, hope is a big part of it. You know.

Jeff Hansen: [inaudible]

Meri Farin: Just use your mic, Jeff, so everyone can hear you.

Jeff Hansen: I think you give a lot of hope to the people like, you know— You speak to Bob Brown, you speak to all the campaigners I work with, be that working on fighting in the Bight and knocking out all the big oil— We can have these wins, but to know that there's this younger generation coming through that, when they can vote, are going to vote for the planet, that means I feel what we're doing now with our environmental wins is just biding us time, to hold the line and get as much stopped and as much slowed down as we possibly can for this younger generation to come through and get rid of these old fossils in Canberra that still vote for destroying the planet. Yeah.

Bella Bergmeister: I think part of that is that we're quite educated about what's happening to our planet now. You know, people who vote sometimes are just voting because, you know, their families always voted Labor or their families always voted Liberal, whereas young people coming up now are actually voting because they want to have a say in our political system and they want to have a say about their futures. Because we're getting to these tipping points where there's no going back, and the younger generations are really pushing to make a change.

Jeff Hansen: I've thought of that, many times, how many people will just vote for what their parents voted for as opposed to really looking at policy. And at the end of the day, if it was popular for action on climate and to stop deforestation, etcetera, we would have governments leading on that with those policies. But they're not doing it because they know it's political suicide at the moment.

Unknown: That's right, yep.

Meri Fatin: Jaime? Is there an activist playbook? I want to hear more about the backroom strategizing.

Jaime Yallup Farrant: There are so many activist playbooks, but none, like, not a definitive one. I can just loop back to that. But just as far as the, the young crew as well, like— One of the things that they did is that they granted validity to street protest and activism. So, where many people in the community would have seen what some of us have been doing for a long time, and would have just gone, you know, like, I agree with you, but I'm just not going to— I don't you know, could you be a bit more polite about it? Could you just, you know, could you be a bit nicer? What the School Strike did is it cut through that, and it brought a moral authority that was much harder to address. And we know that we had Liberal Party, Liberal politicians— Their kids were at those School Strikes, and this one particular politician, his wife was fielding calls from her social circle of people going to the School Strike.

So, it cut through in a way that none of us could have predicted. We couldn't have got the playbook and gone, These are the ingredients that we need. Some of us could intuit it when it was happening, which is kind of why Bella and I were like, This is where we jump in. What they also did, and one of the things that's in the playbook and as far as how we occur is that, we you know, we want everybody to see themselves as having a place in activism. We want everyone to feel like they belong. But there are hard, hard line ideological differences across the progressive movement. And there are reasons why we don't always campaign together. The environment movement hasn't always been a friend of the climate movement, for example. There are particular sectors of the unions that do not want to collaborate and play with other sectors of the environmental space. We have been played by media and by economics in many ways to create these false binaries that we then fall into, and we then act out.

What School Strike did and my students did is, they cut through a lot of that. So, they were able to just call up, you know— When you've got a fourteen year old calling up a union and saying, Hey, can we use your venue and do some training and can provide us with some radios? Like there's not a lot they can do other than go, Yeah. We'll provide some organising capacity too. And so that was incredibly important for uniting those of us that have been separated through various things over time.

I think as far as the playbook is concerned, there are many. I mean, XR have lots. There have been playbooks. Jess Beckerling— Shout out to some of the campaigners and organisers that have been doing this work for decades in the background— Jess probably wrote the book. There are people that wrote the books many, many decades ago. I think where we're at now, though, is every one of us needs to play our role in the story. And your book may be an entirely different book to my book, but we need to be talking. We need to be collaborating. And so, we're at a different point in time right now.

I don't think we can wait for the young ones to vote. Like, we don't have that time. We need to do, as Jeff says, we need to throw everything in and interrupt as much as we can. But we also need to do that in a way that is mainstreamed and that doesn't get us kind of kicked out of the room.

So, we need to be in every boardroom, but we also need to be on every street. The playbook for that is very different. But it is about training. It is about capacity building. It is about understanding power. Community development is critically important in this space. My background is in community development and I am a drama practitioner. When I came to campaigning, I got really frustrated because campaigning theory, it sucks at times. It really sucks.

So, we need our artists to come in and weave stories and hold grand narratives so that we can understand our place in these things. And we need that theory with those skills. But we also need people that literally can train you. Like, Okay, if you're going to stand in front of this building, here are your legal risks. Also we've got food covered for you afterwards. And here's what happens if you're going to be arrested and here's how you manage your body and here's how you manage your emotional outburst as this happens so that, you know— There's everything from, how do we engage in shareholder activism and not lose our cool when people are like saying really, really foolish things and they're looking at you and you're like, Hmm, and you don't want to get kicked out by the security. And then how do you hold yourself when you do want to get kicked out of by security?

Meri Fatin: Why are you nodding so hard at the campaign theory being so... well—

Jaime Yallup Farrant: It sucks! Sorry, no disrespect to campaigners.

Chantal Caruso: There's a new generation of campaigners, and there's all this language around theory of change and all this great stuff, and I just I hate it, but I'm very old school, so I just want to get in and do it. But there's this whole generation now— Which is an excellent thing, right? There's this whole generation of professional campaigners developing how we change stuff, and that's great.

But there's, I think, there's an eternal, what's the word, a face-off or tension between the campaigner in the office and the policy person in the office. Because the policy person just wants change, and the campaign is like, No, we need to talk to the community and organise and do all these things. I don't know if that gives you an insight, but that's why I was furiously nodding. You just have these endless conversations about NationBuilder and things, like, the technology has managed—

Meri Fatin: The data you have to use to organise?

Chantal Caruso: Yeah, yeah, yeah. Sorry. That's why.

Meri Fatin: Sajni?

Sajni Gudka: Yeah. Which is why Extinction Rebellion gives us that avenue of doing your daytime job, of writing policy, and then just going and standing on a street corner, not moving. You know, half an hour later, you're either arrested or you're moved on, and then you've made your point. Rather than sitting in meetings with theories of change!

Meri Fatin: Jeff, do you have to face the same issues in the structure of your organisation as well?

Jeff Hansen: Well, it's different because, you know, it's very black and white if you're chasing down illegal fishermen in high seas. You know they're illegal, you go after them and you pursue them. So it's very different in terms of— You know, you've got illegal fishermen, you've got armed local authority on board your ships, you're facilitating them inspecting that vessel and you're finding illegal shit. Or you're chasing the thunder for 110 days at sea. So yeah, that's real clear-cut stuff. But then, what I've done in Australia with the campaigns is very different in terms of Sea Shepherd globally, because we don't do a lot of the work that happens here, which is, like, how do we get involved and help the Kimberley and stop the big gas up through the, you know, off [?] and how do we get involved and stop BP, Equinor and Chevron from drilling a hole in the Bight? Like, that's all totally new, that we've learned on the ground. I don't have any campaign experience. It's just gut and heart and passion. But I work with people and learn, you know. People like Peter Owen, who's the director of the Wilderness Society in South Australia. And then I've learned working with Bob Brown, so I'm kind of like a sponge. You just absorb that knowledge from other people and just, you know, a lot of times you go with your gut, but then you see what or how they do things. And I think what really worked in the Bight Alliance campaign was, we realised that the government was not going to pull the rug on this project. It was going to be pressure on the companies themselves. That's what worked in the Kimberley with Woodside. You know, I'll be going after joint venture partners, etcetera. And in the Bight, it was going after BP and exposing all the things that had happened where they were given a lease to drill for oil in the Bight less than six months after the big oil spill in the Gulf of Mexico. And then going after Chevron, then going after the others.

But the other thing we did is we formed an alliance, the Great Australian Bight Alliance, and there was a Mirning Elder, Uncle Bunna Lawrie. So at very start when we built the strategy for that campaign, we had an Indigenous Elder on that, building that strategy, and that's really important and that's what you've got to do. It's the right thing to do, but it's [also] actually the smart thing to do because they've got a lot of knowledge and wisdom that they can bring. And then you've got, you know, Peter Owen, myself, and Bob Brown who formed Alliance.

One of the things that a lot of the oil companies said was, they won't drill if they don't have social license. And that's where the campaign, where we had a lot of people going out, doing the community engagement, talking to communities, presenting to councils, and in the end you had some 20 plus councils vote to say we do not want drilling for oil in the Bight. So once again social license was going. Then you looked at the commercial side of things, the commercial fishing sector. We saw the impacts of seismic on the tuna industry and on other fisheries, destroying the oceans through seismic, from the plankton right through the food chain. So you have to look at, who do you bring on that party? And you might not agree with a commercial fisherman or this person or that council or this area, based on their political affiliation. But who do you bring together to tackle the common enemy? And that's why the Great Australian Bight Alliance works so well. And then you had Surfrider come in the last bit with their big paddle outs. And as Peter Owen and I were totally fatigued and we couldn't do any more, in came another group over the top and we just said, Look, here's our images, here's our footage, go nuts. And they took off.

So, it's about building that momentum and keeping it going— but also being strong, where we've had other groups want to be part of the alliance, but the strategies and the ideas that they wanted to do would have derailed where the alliance and where the fight had got to at that point. Because we had a mix of quite conservative councils and areas on board, and doing certain actions would have only helped that particular organisation with their branding as opposed to the campaign outcome. So, we had to say no. So yeah, it's kind of learning as you go and learning off others.

Meri Fatin: Thanks, Jeff. I'm really, really shocked to see how we we've already charged through most of this hour. I want to ask each of you about despair, because it's, you know, we're in a situation at the moment where we have a Federal government that's not showing the leadership we need it to show. And, you know, as we've talked about in the introduction, the successes through litigation and through political sway, through shareholder activism and all that kind of thing.

But how what can we still do as average citizens to drive this? Maybe I'll start with you, Bella. First of all, what do you still feel can be achieved by taking to the streets?

Bella Bergmeister: Yep. I think the first thing that taking the streets does, it brings awareness to these issues. I think that's the major reason people march in the street, is not only to get our politicians attention, but to get the other average citizens' attention and to tell them what's happening. Because, you know, most people see that there's 5000 kids walking down the street all marching for climate action and they'll go, What's going on? Why are there so many children out there? What's going on and why are they concerned? And then we'll do their research or you know, ask people and have conversations with others. And that's what we're really hoping for, is to get all the people having these conversations and for them to realise what's happening and get on board in some way.

I definitely think that's what School Strike is doing. And, you know, as Jeff said, it's bringing hope for people who are already working on these areas, who have been doing it for decades. I've only been around for like five years in this area.

Meri Fatin: Says the fifteen year old. [Panellists laugh.] Just looking at years, five years.

Bella Bergmeister: And, you know, like I've only been around for a little while and I've already seen so much happen in this area. And I've been a part of School Strike and I've been a part of different things and I'm really excited about what's happening. But to see that we bring hope to other areas that are already happening, that's really exciting. And we keep doing what we're doing, and other groups keep doing what they're doing. We collaborate and we work together and we push for the same things because we're all working towards a better future.

Meri Fatin: Thank you. Jaime, what's your sense of how we can keep kind of lifting up out of that, you know, that worry and deep concern and just keep driving things forward?

Jaime Yallup Farrant: I think one of the things that we do with the Climate Justice Union is, one of our first employees was a mental health and wellbeing officer. Because I think if you're alive right now, then you're probably freaked out if you know what's going on and you're kind of engaging in conversations. And if you're not, then I'd say you're probably not aware of what's happening. And so, part of what we need to do is we need to be really honest about that. We need to be really clear about that, and we need to be in community around that. One of our volunteers has just done an article about it. I can share that for those that are interested. It looks at three things that we need to do.

One thing is we need to be involved in communicating about the truth. So again, back to XR's 'tell the truth' element. Like, we actually need to be talking about what's happening. Not only the truth of the science, but the truth of how it's impacting us, the truth of what we're dealing with, and the truth of the interconnections between how these things will all interrelate. We also need to be involved in collective action. Recycling is a fabulous thing to do, and it's wonderful, but it ain't going to solve these issues. And when you first started this question around, like, why get out on the streets? Because we have everything to lose and everything to gain. So I don't think we have a choice about whether we engage. But being engaged in collective action, being with a community that actually has got your back where you can— This is an ultramarathon. You run hard and then you take a pause and somebody else comes in, just like Jeff talked about, you know, when they got fatigued, the next crew came in. Yeah, we have to be organised and we have to be working collectively. So join the Climate Justice Union. Be a part of the Sea Shepherd. Get behind School Strike crew when it's happening.

But also, wherever you are in every moment— You know the anti-violence campaign and the anti-racism campaigns where they're like, 'it ends with me'? That's how we need to be about climate justice in general, and all of these conversations. Every conversation is an opportunity for moving action forward. And then finally, there was three elements. Communication, collective action— No, 'tell the truth', collective action, and then communication.

And one of the things about communication is, the science is pretty clear that when we're communicating about really awful things or really difficult things, we actually need lots of communication all the way through that process. We need to be prepared. There are people like me that use a lot of words. You need to give me time to use my lot of words because then when you're freaking out later, I will have used my words and I can be there for you.

So, we actually need to be able to really be clear in our communication. And some young people in an event last week turned around to us and said what they want us to be communicating about is capitalism and colonialise. They're like, Isn't that what's causing climate change? So they actually want us to be brave in how we're having these conversations and normalise talking about these things.

We don't want to feel that it's because we're passionate that we do this. I don't think any of us on this panel want to be applauded for being passionate anymore. It's kind of, it's not nice, because actually this is our duty as humans. You know, our role is to care and to protect what we love. So really being able to communicate those things. So those three things.

Meri Fatin: Thank you, Jaime. Sajni, what's your sense of, again, sort of lifting out of the despair and what will still drive us forward and make the make the case even more strongly?

Sajni Gudka: The best antidote for despair, for climate despair, is action. Doing more than signing petitions, doing more than writing emails, but being there at the big events, being there coordinating and organising your events, action against our fossil fuel industries. Because we know climate change is directly related to fossil fuel extraction and use. Our carbon emissions are a direct result of that.

We are having this discussion on top of the Woodside Learning [Studios], which is below us. As I drove into the city, I saw the overlords of Perth: Woodside, BHP, Origin, Rio. Big buildings, big bright lights. They're our overlords. So, what we need to do is we constantly need to challenge their social license. Fossil fuel companies are our big tobacco. We need to get them out of our communities, of our sports, of our art, of our festivals. If every time you see the word Chevron, every time you see the word Woodside Nippers, Woodside Dockers, Chevron City to Surf. Think about that. What power do you have? Do you have enough parents there? Do you have enough friends there? Do you know the directors? What are your powers of influence that could help get that name out of there? Use your brains. Use your skills. Use your networks. And hit the streets when it's required, because numbers make a difference. Action is the antidote to grief. Climate grief.

Meri Fatin: Thank you, Sajni. Chantal?

Chantal Caruso: Something that was one of the best things about working at Clean State for two years was that we deliberately tried to make climate action mainstream. And actually, we realised through polling and through a lot of the work we did that it already is. That the community strongly supports action on climate change. 80%-85% in all of our polls strongly support climate action, so I feel so heartened by that. We're already there. We just need to remind ourselves that there's a trick with activism where we think that we're kind of the rebels and in the minority. But actually, activism is just all about trying to get what's already mainstream and what we already want fixed. And so first, that's the way that I'm heartened. I know that it's mainstream and I know that we're in the good fight.

The second thing is to join up together. And so, you might not be able to hit the streets, but you certainly can dictate where your money goes, like what bank you're using, and you can call your local member. You can call the minister after tonight, Minister Sanderson, who's looking at approving Woodside very imminently. Your voice is so powerful and I know it's such a cliché to say, but we should use our voice. And so, I think, use your voice to call your minister, call your local member and know that it is powerful. But also belong to groups like 350 dot org. Anthony just walked in. He was instrumental in getting Woodside out of the Fringe Festival. There's Jess Beckerling here from the WA Rainforest Alliance. There's so many people probably in the audience that we should all be supporting. Do that. And yeah, that's, that's where I get hope, is working with each other and knowing we're finding each other and that we are part of the mainstream and we are going to win.

Jaime Yallup Farrant: Can I add a tiny thing?

Meri Fatin: A tiny thing.

Jaime Yallup Farrant: Have you seen the video of the dancing man? Google the dancing man. There's some awful ableism in there. I ignore that. But the dancing man is this whole conversation— not that I'm saying we should ignore ableism— there's this beautiful thing where there's a guy at a festival and he's dancing wildly and it's a breakdown of what leadership is. And in this whole kind of dictated conversation, it's not the wild dancer that we need to be. It's the second person that comes and joins him. Right? Because you've got the person that's out there, and that might be us, or it might be other people that are dancing wildly. And you can either leave them alone, you can either go, We're not XR, I don't agree with how they do those things. They should be a bit nicer. Or, you can back them and join them in the dancing. And that may be dancing with them on the street, but it may also be cheering wildly on your social media from the sidelines, getting in the comments on social media and doing those kinds of things.

So, I think the real critical thing is, not all of us need to be the dancing man. Some of us need to be the crowd that come in behind and normalise that kind of behaviour and that action.

Meri Fatin: Thank you, Jaime. We're not going to take questions from the audience tonight, but we are going to stay open for drinks and chats so that you can catch up with all of the panellists as you would like to after the conversation. I don't normally do this, but I was reading an article that Scott Ludlam wrote today about activism, and there was a quote in there from a former slave turned abolitionist called Frederick Douglass, and I'd like to conclude the conversation with this. "Power concedes nothing without a demand. Find out just what any people will quietly submit to, and you have found out the exact measure of injustice and wrong which will be imposed on them."

Please thank Chantal Caruso, Sajni Gudka, Jaime Yallup Farrant, Bella Bergmeister, Jeff Hansen. Thank you so much.

[Audience applauds.]

Mari Fatin: Jeff would like to share his final work, but he didn't get a chance.

Jeff Hansen: Sorry. I just thought it'd be helpful because— Well, I've been doing this since 2006, and I was complaining a lot about the world's problems, this and that. And I had someone turn to me and say, Well, what are you doing about it? And once I actually started doing something about it, I stopped complaining about it. So, yeah, there is no hope without action. And, you know, it's action that has stopped, you know, whaling in the Southern Ocean. The Southern Ocean is now a sanctuary for the whales. We've stopped big oil in the Bight. We've facilitated the arrest of over 70 illegal fishing vessels in Africa. We've cleaned up beaches right around Australia and work with Indigenous rangers and facilitate government science in the Bight. And I say that because this isn't a massive office corporation with a heap of staff, and this has got nothing to do with the name Sea Shepherd. It's people, it's community, it's volunteers, on the front line. Direct action producing tangible results for the oceans. I run Sea Shepherd from a [?] office space in Fremantle. Like, that's how lean we are. But it's the people that make it happen. It's the people with passion that bring their kids into this world and look at them, and in a heartbeat would lay our life on the line for our kids in a second. That's the same energy and focus we want in this climate fight. It's also what we mentioned before about meeting your local members, because I caught up with mine this week and they're not hearing from many people coming in and talking to them about Scarborough. They're saying, come and meet this person, go to this person, go to this person. The information's there, the advice is there.

There's a lot we can do. And actually, you don't have to be on the ships on the front line, but go and meet your local member. Get involved with Extinction Rebellion. There's so much that we can do. And if you need the knowledge or the tools or the information, we've got it, the groups are here, but also mental health and wellbeing is key. Don't sit online and flood your senses full of all the negativity, the cruelty to animals or the bad stuff happening. Still get out there and enjoy nature. Go for a run, go for a swim. Get out in nature every day. Do something that rejuvenates you. Do something for you. We don't have to kill ourselves in this fight. If we've got nothing, fill our own cup first, then let the world benefit from the overflow.

That's what we need to do. We need to look after our own mental health and wellbeing. That's so important in these fights. Look after each other. There's no point in being, you know, having these fights to care for the planet if we're stepping on everyone on the way through. So, compassion is key as well.

Meri Fatin: Thank you, Jeff. I'm sorry I butted you out of those final words. I should ask, though, so who considers themselves an activist? More hands than before?

Sajni Gudka: [inaudible]

Meri Fatin: [laughs] Worth consideration. Thanks, everybody. Thanks again, panel.

Outro

Thanks for listening to Tipping Point, a conversation series and podcast created by the Western Australian Museum Boola Bardip. To listen to other episodes from this series go to visit.museum.wa.gov.au/boolabardip where you can listen to all conversations from the 2021 In Conversation program. Tipping Point is recorded on Whadjuk Nyoongar boodja. The Western Australian Museum acknowledges and respects the Traditional Owners of their ancestral lands, waters and skies.

Download Politics of the Precipice episode transcript [63.6 KB]
Presenters

A chance opportunity to bring the chief architect of the Paris Climate Agreement, Christiana Figueres, to Perth in March 2020 has changed Meri Fatin's life.

Later that year she was guest curator of the TEDxPerth COUNTDOWN: WA Climate Leadership Summit, which led her to founding WA Climate Leaders, driving a vision to inspire big picture action from the State's decision makers in this critical decade.

Chantal Caruso has over fifteen years' experience across government, academic, non-profit and start-up sectors as a passionate advocate for action on climate change, protecting the natural world, and creating fairer economies.

For the last two years Chantal worked as the Director of Policy and Research at Clean State where she authored the Runaway Train report on the climate impact of WA's gas industry, and the Clean State Jobs Plan 26 Big Ideas for 200,000 Jobs, which involved the contribution of 90 experts and secured over $200m in state government election commitments.

Chantal spent eight years between Perth and Canberra working as senior policy adviser to federal Senator Scott Ludlam, with whom she co-authored three successive 100 percent renewable energy plans for the south west grid and honed the power of collaboration and solutions-focused campaigning for system change.

Chantal is a qualified planner, a tired optimist.

Dr Sajni Gudka is a public health researcher. With over 10 years of experience in identifying, curating and evaluating scientific evidence, her work bridges academic research and public health policy.

She strongly advocates for bold new approaches to policy and governance in the face of climate and ecological crises. 

Jeff Hansen is the Managing Director for Sea Shepherd Australia and a Director for Sea Shepherd Global. Jeff joined Sea Shepherd in 2006 to pursue his passion for marine conservation and protecting the natural world. Serving as a crew-member on two Antarctic whale defence campaigns, Jeff was instrumental in locating the illegal whaling fleet on both occasions.

Since Jeff's baptism of fire with Sea Shepherd, he has not looked back. Jeff continues to play a pivotal role in driving Sea Shepherd both nationally and globally in tackling the three key threats to our oceans: illegal fishing, plastic pollution and climate change.

Jeff thinks that no matter the opposition, when ordinary people come together, extraordinary things can happen, and if there is one thing worth fighting for on this planet, it's life.

Jaime, a community organiser in Western Australia with a strong focus on decolonisation and climate justice, is convenor of the Climate Justice Union a new community union working to restore a stable climate while taking care of people and place.

Since arriving on Whadjuk Boodjar in 2001 from the UK, Jaime has been working in the community for justice and equity. Jaime is the former coordinator of 350 Perth, a drama practitioner with experience working with at-risk youth, and recently worked as a crowd-funded climate organiser for several years until becoming the first employee at Climate Justice Union.

Bella Burgemeister is a youth and environmental advocate, leader, and author of the book Bella's Challenge. Her book is a unique children's take on the 17 United Nations Sustainable Development Goals – setting out simple challenges kids can take on to help their communities and the planet. Since the book launch, Bella has found herself an in-demand speaker on sustainability at schools and community events, addressing thousands of students and also adult groups.