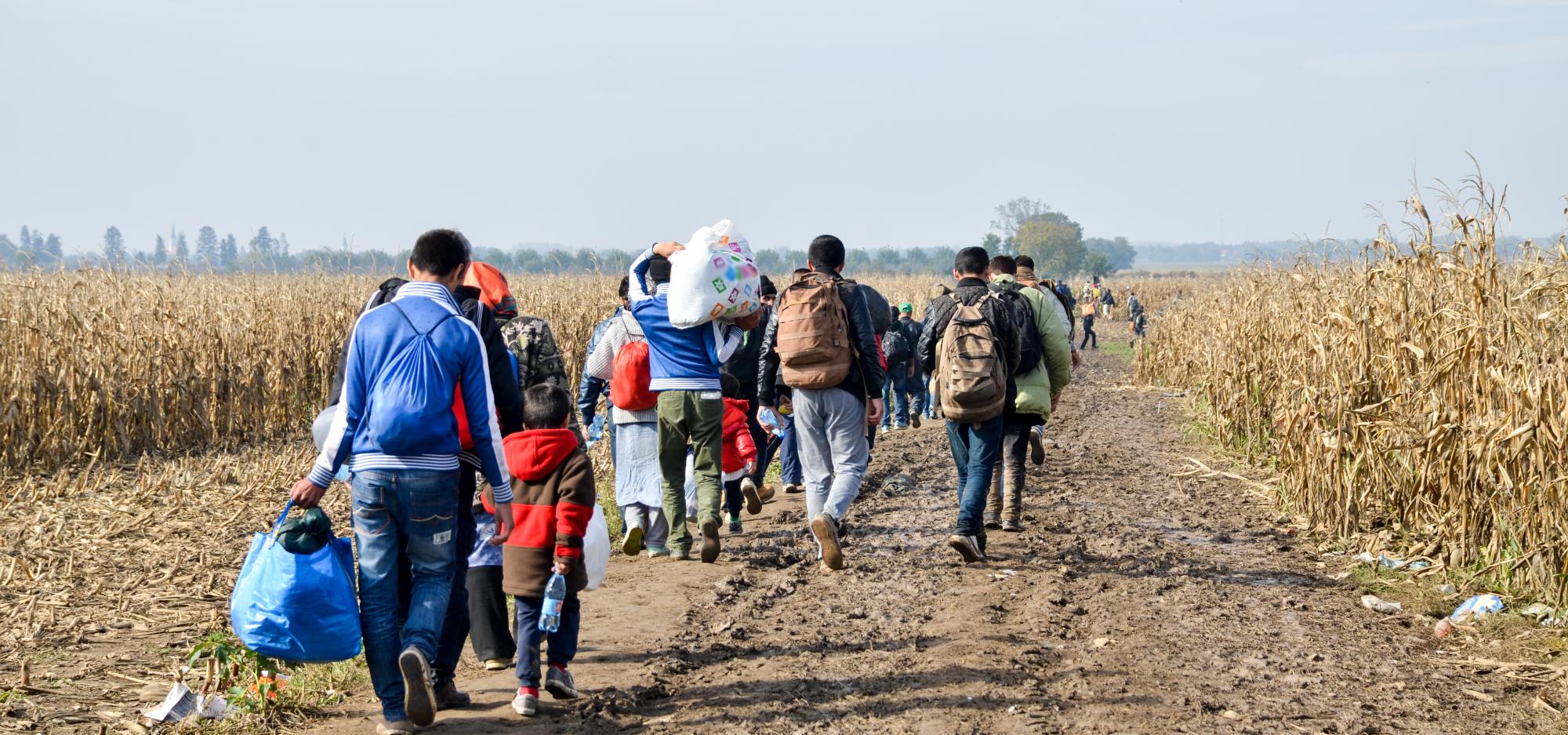 It is often assumed that a country with strong human rights standards will also offer a higher quality of asylum.
Australia's reputation in upholding human rights is marred by its treatment of refugees and asylum seekers. Many believe the regime of offshore processing and strict broader controls, including mandatory and indefinite detention, is a serious and flagrant breach of human rights.
This panel discussion will look at the relationship between a government's respect for the rights of its own citizens and the regard for refugee rights, exploring how the protection of refugees and asylum seekers should be seen in the broader context of the protection of human rights.
This conversation was recorded live under the blue whale in Hackett Hall at WA Museum Boola Bardip on Thursday 14 April 2022.
Episode transcript

Truth and Lies

Facilitated by Marissa Van Der Linden

Stories of asylum

Intro

Welcome to Human Rights Stories, a conversation series and podcast curated by the Western Australian Museum Boola Bardip in partnership with the Museum of Freedom and Tolerance. Join us and some of Australia's leading thinkers discussing a range of universal human rights issues through stories of resilience and action that shine a spotlight on overcoming prejudice in the face of persistent challenges and slow progress.

Human Rights Stories is recorded on Whadjuk Nyoongar boodja. The Western Australian Museum acknowledges and respects the Traditional Owners of their ancestral lands, waters and skies.

Panel

Marissa Van Der Linden: Good evening, everyone. Welcome to tonight's In Conversation session. Now, I wanted to just first of all, welcome everybody to this evening. This is the In Conversation Human Rights discussion, which is Truth and Lies: Stories of Asylum. Before commencing, I too will acknowledge the Traditional Owners and Custodians of the lands on which we are meeting, the Whadjuk people of the Nyoongar nation, and pay my respects to Elders past, present, and emerging. I want to start off tonight— I am not Marilyn Metter, just going to confess. I've had to step into Marilyn as she is having to isolate because she has a family member who's COVID positive. So, I want to just acknowledge my colleague Marilyn Metter, who had every intention to be here tonight, but things have gotten in the way.

So, I have the challenge of filling her very big shoes and facilitating tonight's conversation. So, my name is Marissa Van Der Linden. I'm the CEO of the Association for Services to Torture and Trauma Survivors, [ASeTTS] which is located just down the road on Beaufort Street. My organisation has been— This year it's our 30th anniversary of providing specialist torture and trauma rehabilitation services for refugees and asylum seekers. So, we support people who have experienced torture and trauma in their country of origin, in their journey here to Australia or in detention. And I want to pay my respects to the people that we support, refugees and asylum seekers. I recognise the difficult experiences of conflict and displacement and discrimination that refugees and asylum seekers have endured in their country of origin, in their journey here to Australia, and through the settlement process. I also want to acknowledge their strength and resilience. It is a true privilege to walk alongside refugees and asylum seekers and to support them in rebuilding their lives in a new country.

Right. So, what's tonight about? Tonight is— So, Australia is considered a progressive country by many. Some question that. However, our reputation regarding human rights is marred by our treatment of refugees and asylum seekers. In particular, our regime of offshore processing, strict border controls, and detention, is a serious breach of human rights.

Tonight's panel will discuss the contradiction that is what we claim to be as a progressive country, and the reality of our policies and processes here in Australia. They will share their insights and experiences, both lived and professional, and will explore the concepts of the right to be safe, the right to seek asylum, the right to families, for families to be protected and to be together, and what this means for Australian citizens compared to refugees and asylum seekers.

So, this session is pretty timely. I've thrown this one in myself because we've got an election around the corner, and we also have a number of humanitarian crises around the world, as everybody would be aware of. So, while there was an expectation that there'd be ceasefires around the world during COVID, in 2020-2021 displacement continued to occur and it actually increased at quite a steep rate. So, in 2020 the UNHCR recorded that one out of 95 people on the planet were forcibly displaced compared to one in 159 people in 2010. That's a pretty big jump. And this is at a time when borders were shut tightly closed. So many people – many, many people who in the past would have been able to seek asylum in another country or seek refuge in another country – were unable to do so.

Also as I mentioned, there is an election around the corner and you know, I'm imagining, knowing Esther, that there might be a bit of discussion about what we can do to influence change as citizens in community. We do hope to keep tonight informal and conversational if we can. I encourage you to ask questions and also to find ways to keep discussions happening beyond tonight, so, keep the conversations moving forward. We expect that this panel will run to around 8:15 to 8.30 and will be followed by drinks afterwards... if that's still the case, I'm assuming— Yes! I'm going to introduce tonight's panel members. I'm going to start to the far left for me, not for you. I have the pleasure of introducing Banafsheh Driver.

Banafsheh is an educator and a lived experience speaker with the Red Cross. She left Iran as a refugee some time after the 1979 revolution and fled to Belgium with her family as a young adult. She's lived in five countries and speaks three languages which is a lot more than I speak. She has a Master's degree in social anthropology, and has worked and volunteered in a number of roles supporting refugees and migrants. This includes teaching English; interpreting and role-playing through the National Accreditation Authority for Translators and Interpreters; Senior Life Skills Facilitator with Save the Children; a member of Lived Experience Advisory Group at Red Cross; volunteers as a reading writing teacher with Red Cross; and she's a photographer, a writer, and a performer. So, we're quite lucky she could find the time to join us tonight with that big list. Esther [Deng], who is next to me. Esther is the Acting General Manager of CARAD at the Centre for Asylum-seekers, Refugees And Detainees. CARAD provides welfare support and advocacy for the rights of asylum-seekers in the Perth community, a group who are highly vulnerable and who are not eligible for typical community services. She's also the state advocacy lead for the WA Refugee and People Seeking Asylum Network, which I also have the pleasure of sitting on. We just call it WARPSAN because it sounds like something out of Star Trek. Esther has worked with the sector and State government over the last few years to achieve significant change in government policy to ensure peoples who are seeking asylum in the state can access affordable public schools, vocational education, public transport concessions, access to free hospital treatment if they're without Medicare. And last but not least— Oh, there's a bit more to Esther, hold on.

Esther Deng: Surprise!

Marissa Van Der Linden: It's a long one. That's okay. She has a background in international and community development as well as youth work and has experience working with refugees through the settlement services program and with asylum seekers who are without income, living in WA community. So it was important we said that. Okay. And last but not least, we have we're going to be joined by Abdullahi Alim. Abdullahi is an award-winning community organizer and writer with a deep knowledge in the history and science behind successful social justice movements. He's a global impact strategist and community organiser and is currently based in Geneva. So, it's wonderful that he could join us. He also heads Global Shapers Program in Africa, in the Middle East for the World Economic Forum. In this role, he oversees the governance impact and growth of social justice initiatives operating in some of the most trying circumstances of our world. Prior to this, Abdullahi was Deputy CEO for People Against Violent Extremism the first and largest civil society organizations seeking to disrupt the reach and influence of violent hate groups. He was born in Somalia, raised in Australia, and joins us from Switzerland. So I think before we start this, give them all a bit of a round of applause. [Audience applauds.]

Now, I might start off by asking each panellist to share with us some of the challenges that they have faced in addressing human rights for asylum seekers and refugees. Um, you know, share some examples with us. So, I'll start with you on the end.

Banafsheh Driver: Yes— You can hear me okay? Yeah? Yes. Some of the challenges. Where to begin? Um, I suppose at work because I work for two large organisations, two large humanitarian organisations, the challenges tend to be on the practical level at times. They are not ideological. I don't have to fight with others to make them see sense. We all are come from the same ideological worldview both in Red Cross and in Save the Children. So practicalities more often than not, have to do with each time that the budget gets cut and the number of hours that we get to deal with people gets reduced. Facilities that we can offer, change shape. But nothing stops us. We don't let any of that deter us from what we do, and we just carry on. We use imagination. We put more of ourselves into it. Both teams that I work with, I'm really proud to be a part of both those teams. And basically the budget cuts are the main challenges.

Those are at work. When I'm not working, we are fortunate enough to be living in the western suburbs, affluent western suburbs of Perth, and a lot of our friends come from comfortable backgrounds, many of whom see sense in backing asylum seekers and refugees up, and some of them don't. So my personal challenge is when I have a friend or an acquaintance in the book club that I've been attending for 11 years, who turns to me and asks, "How do we know that these boat people are not terrorists?" [laughs] That is a challenge. And

I suppose throughout the years I have learned to put better words together to explain that people who throw themselves in the waters, people who have the strength to come out on the other side and build lives and educate themselves and their children, they are far from terrorists. That a terrorist really is backed up by well-off governments, more often than not. That they are educated. That they are more likely to fly first class and not arrive here on a boat. Basically, those are the two kinds of challenges, practical and ideological.

Marissa Van Der Linden: Thank you very much. Esther, would you like to share the challenges you faced?

Esther Deng: Yeah, sure. I suppose being a part of a, you know, sort of local not-for-profit service, aiming to provide welfare support and advocacy for rights. One of the key things that we see on a day to day basis is the lack of rights and access that people seeking asylum in the community face. Just really typical things that people, I guess, normally take for granted. Even myself sometimes. Having Medicare, being able to access free health care without really too much thought. Not worrying that you're going to get you know, a $2000 bill for one night in the hospital because you were really unwell. Even access to, say, local community services because, you know, you don't have a healthcare card or a Centrelink reference number because that's not something you're eligible for. So often our clients can't access those typical supports where most people in our community would turn to if they were in desperate need and they lost their jobs suddenly. I think certainly this most recent experience of COVID in the community, there is not a person here who has been unaffected by it, but where government has put in things in place like, you know, like— There were COVID payments or there were Jobkeeper, Jobseeker. These are all things that people seeking asylum weren't eligible for. So, the same impacts, and arguably greater, you know, the sort of levels of distress that we saw from clients who have a certain level of survivor's guilt because they were here, even though they were living a somewhat destitute existence, because of the ravages of COVID in their home countries and seeing their loved ones affected. So, undergoing all of those experiences and not having access to support, maybe like even mental health supports to help them cope through that time. And we see other things, you know, like Merissa mentioned, some of the advocacy work we've been doing and it's really only been in the last five to six years that those changes have been made. Prior to that, people seeking asylum, they couldn't access public transport with concession. They had to pay full fare. You know, they weren't able to access public school education for free. I remember one of the clients we supported was told that she'd have to pay $40,000 a year for kindergarten, for her daughter to be able to attend the local kindergarten. So, things like that. Like I say, we typically take it for granted. And you know, in her introduction, Merissa talked about how Australia is, you know, viewed as quite a wealthy and progressive nation. But at the same time I think, you know, we are very, very fortunate. You know, we sort of have this idea of being part of the lucky country, but at the same time when we look at how we treat people seeking asylum and even refugees, it makes us wonder. And to come up against that, I suppose, is quite a challenge in a practical sense, but also in an ideological sense. How do we reconcile with ourselves, the country we live in and the supports and benefits that we get, but how they're not afforded to, arguably, people who are among the most vulnerable?

You know, so I would say for me, that's sort of some of the biggest challenges that we face and see at CARAD every day.

Merissa Van Der Linden: Agreed. Abdullahi, I'm wondering if you could share your insights also?

Abdullahi Ali: So, and first of all, thank you as well for inviting me to this discussion today. I think I would challenge perhaps to the initial assertion that Australia is a progressive country, as a way to answer this question. I think, for the most part, we are a dormant public and I think that's largely a result of our, let's say, evening news cycle, which is dominated by very politicised and very securitised impressions of what refugees and asylum seekers are. And I think that, to be honest, has clouded the judgment of the Australian public to a point where it's almost made them immobile and unable to sort of have an interest, first and foremost, and then of course to follow that, to be able to really have some kind of ability to make those issues a voting priority, so on and so forth.

I think the first one is just the prime time evening news cycle which very much leans towards far right talking points. I think the second one is, as a result of that, I think as a country we are still a while away from having critical conversations about our own identity. I've often spoken about how Australia is often lauded as the lucky country. "Australia is a lucky country." If we go one step further, we would recognise that, for some communities in this country, namely refugees and asylum seekers, luck is actually just not enough. So, luck is not nearly enough for you to be able to navigate a pretty racist property market, for example. Luck is not enough to navigate, for example, what is often an underprepared education system – this is public schools in most cases – or even, like, the workplace, for that part as well. And luck doesn't really get you far when you're looking to gain institutional power in favour of inclusion and equity. So, I think the problem when it comes to working in this space is, you're up against what is a public that is, for the most part, asleep on these issues, and part of it is not their fault because it's a function of the dominant media narrative.

But also, at the same time, I think of myself and where I was maybe like ten years ago, fifteen years ago, and I would tell you that in the midst of being a student who, in my case went to only an Islamic school in Perth, where I was seated with other students who are first generation refugees from Afghanistan, or Iraq, or Yemen, or Syria, or in my case, Somalia, I saw the best of what I thought Australian values were, that plurality. I saw in my classroom. But it was very hard to then match that against a public sentiment which was operating pretty much against that trend. And so, I think even just as a young person, those who have lived experiences who could really step up and counter that narrative, you're really stuck in this identity world. What truly are Australian values?

Because I thought I embodied in this particular multicultural space, but it seems like that space is under threat from a public that's not really ready to have these conversations. And so, I would say there are forces that make the public dormant, but there are also forces that make people with lived experiences, to be honest, lacking even the privilege to be able to dream a country where they can be at the forefront of [?]. I think both of those make it super hard to work on these issues in Australia.

Merissa Van Der Linden: Thank you. It's a good segue to one of the prepared questions that I had for Banafsheh that was around, how do we ensure people with lived experience have a seat at the table? How do we make sure that we can hear about their experience and their truths so that attitudes change? What are your thoughts on that?

Banafsheh Driver: Well, I have a very good example to give. I have been fortunate enough to be working with Lived Experience Advisory Framework, Advisory Group, which is being set up by Red Cross's MSP, Migration Support Program, and we've been working for the past six months. I'm a board member. The board is— All the members are lived experience people from different backgrounds and different countries.

And we are all together, we come together. We are putting together a framework that hopefully, by the time— We're going through the test and learn process at the moment. It will become live in June, upcoming June. And hopefully it'll be a framework that can be used by many different segments within Red Cross, and also other organisations from outside will be able to use it. For the moment our focus is on immigration, asylum seeking and refugees. But as I said, it can be adapted to many different areas. We have had many different interests from outside organisations. The justice system, those who deal with slavery, for example, they're interested. And it is a very good framework. It is adaptable, and hopefully it'll become of use to a lot of people. So we have put central to the framework, to the formation of it, to the structure of it, we all do research for it. We... Our opinions are very well listened to by the people who run the framework. We do not hold back. And as I said, we are all lived experience people. So, we are given a voice, but it's a lot more than that. Our voice are listened to. They're analysed. We are questioned at times. We question the ongoing culture of things. We basically do not hold back.

So, it has been very empowering for us, it has been— And it looks as if we are going to be creating something quite useful for everybody else. We're comfortable within the set up. I have never actually physically met any of the members. We're always meeting on [Microsoft] Teams. Having said that, I feel as if I'm quite close to all of them. And the... the culture of the whole coming us together is so that we are very comfortable. It is a very good example. I think it is something we can learn from. There's a lot of talk about diversity and inclusivity in our culture at the moment. It is all extremely precious. I personally think it should be at the forefront of all our thoughts from the moment we go to work to the moment we come back home.

And later on at home. I am reproached many times by my children if I am generalising too much or if I'm expressing an opinion which is a bit closed-minded. So, I try to keep an open mind. Younger generation, it comes to them a lot more naturally, I find. It is more of a challenge for us. But I think on a universal level, we all tend to like and be attracted to similarities of another human being. Now, those similarities can be cultural, can be physical, can be simply what we hear in the accent, and we are all aware of it. I think we are all conditioned to be like that. Now, our challenge is not just be aware of it, but question ourselves all the time. Basically all day, every day. [laughs] That's what I do. And try and see my thought, which is leading by actions or leading what comes out of my mouth in terms of diversity and inclusivity. How true are they? How much am I giving in to this natural conditioning that has this kneejerk attitude of dealing with minorities, and either be frightened by them or put off by them, or simply not understand them and think it's not worth my while to question and learn about them.

So, I have a great affinity with minorities having been a refugee myself, and have lived in several different countries. I have been outnumbered on many, many occasions by many different nationalities. It is okay to be outnumbered. It is not to be run away— You can't run away from it. There will always be situations when you are outnumbered. But it is different when you are a minority and you are outnumbered by people who are powerful, who choose to ignore you. As an outnumbered person you are already vulnerable, and because we are outnumbering those minorities, we owe it to them. I think, each one of us individually and I also think collectively it's our responsibility to watch out for the minorities. They can take any shape or form. They don't have to be political refugees or asylum seekers. Anybody who is really a minority. We need to be conscious of there being there. We need to be welcoming them. We need to be celebrating our differences, really.

Merissa Van Der Linden: So I might throw a question to the panel broadly. At ASeTTS, for example, we hold ourselves as being client-led. So, the people we serve play a critical role in how we design services, deliver services, review services. There is, however, a really big challenge in bringing people to the table. Because of their experiences, they often— There is a fear or a hesitancy to, you know— They don't feel that safety. So, while they are safe in services, they don't feel that safety. How do we support? How do we create an environment where people feel safe?

Banafsheh Driver: A part, if I may— A very important part of the advisory group, that we are all a member of, is exactly that. Giving step to step guidance as what's the best way to make people an outsider feel safe. In some cultures, to be honest, that comes very naturally to people. We don't— You wouldn't need guidance in different nationalities, but here in Australia we do need that guidance. In a lot of Western countries, I think, you do need that guidance. It probably stems from the fact that Western cultures are more individualistic and less collectivist. So, in any case, those type, those step-by-step ways of behaviour; being conscious of the people, the minorities; and different ways in which we can make them feel safe, which almost always involve us going out of our way.

It's one thing for us to be chatting about it like this. It's another when that takes the form of a pamphlet that is shared across organisations in every single section of the organisation, and people come together and decide who is following, who is not following. What benefits can we have as a whole organisation, as a whole community, as a whole nation, when we pay attention to minorities?

Merissa Van Der Linden: Mmmm. Did you want to share something Esther? 'Cause you're nodding, in a thoughtful way.

Esther Deng: A lot of agreement for sure. It's just been great to hear you share your experience. I think something I guess through the work of CARAD that we've done, is try to make sure that people with lived experience, you know, are able to not just be involved in the things that concern them, but just the normal, everyday things, really, as well. You know, I think it's just— Everybody has value, right? And they're just as valuable as everybody else. And something that's actually really quite close to me, because of where we're meeting today, is a project that we were a part of producing for the new museum. I don't know how many of you who have had a chance to have a look. There's a little part of the Connections Gallery, which is the top floor, and we were really privileged to be part of producing young refugee stories for the museum, and not necessarily because they had something strong or political to say about Australia's refugee policies or the experience of being a refugee, but to tell their story.

And that's what I love so much about this museum, is that their stories, just like every other story in the museum, is valuable, and not just because they have an asylum seeker or refugee background, but because they're West Australian, just like you are, just like I am. And I think the more we kind of take that approach, the more we're going to see that kind of significant change and shift. And I do think, you know, it certainly does start and has significance in the matters and the arenas that impact them the most. You know, around immigration policy and refugee and asylum seeker rights, but also in every part of life. And that's what I was so excited to hear you say that, you know, hopefully this framework goes beyond just the organisation but into the community and influences, impacts, every part of society.

Merissa Van Der Linden: Mmmhm... Abdullahi, did you want to add your thoughts?

Abdullahi Ali: Yeah, I was I was thinking about this question a bit as well. I think... Of course, limited experience is incredibly important in the design of these programs. Yes. On the one hand, it is more so... Sorry, let me just take a step back. What I'm trying to say is, sometimes when you are in the middle of something, the middle of an experience – in this case, being a refugee – it's very hard to make sense of your own oppression because you are just living under the weight of it. So often what I would see is very, very well-intended – and I want to underscore that – very, very well-intended efforts – to create a more inclusive design in these programs which involves bringing people to the table. But, I mean, that needs to be preceded by active efforts, active discussions, where— I mean, you can liberate some of these people to actually understand their own oppression, because it's really difficult to tell somebody who's under the weight of it to, suddenly, first of all, come out of it, and then package, you know, in one hour, let's say, dialogue policies that can really take this particular initiative form. So, I think it really is a great idea, but I also think it really needs to be preceded by conversations that empower people to really understand the good of this country, also, the bad of this country, because they are both represented in our experiences.

[Panellists murmur agreement.]

Banafsheh Driver: Yeah. I think if I may, Abdullah is absolutely correct. It is not even imaginable to drag an asylum seeker newly released into this society, to come and join us at the table. Not even a refugee who has been a refugee just for a couple of years. I've been here in Perth eleven years and I was a refugee decades ago. Everybody else in the group has been operating within this society for quite some time. To be able to come to the table, you first have to have a presence somewhere in this society as a contributing member. We need to give those chances to people so that they can rise and shine. And then we bring them to the table and not just to give them a voice, but to listen to them and put their thoughts, beliefs and world views into action.

Merissa Van Der Linden: It's very important what you say. We recently had a government department suggest that a community leadership program should be delivered to people who'd been here under five years, and it was a really challenging "Hmmm," conversation around how would that work when we have got people who aren't in comfortable or secure housing, they haven't been able to find employment, they're struggling to learn English? The weight of those challenges, as you've all spoken about it, it's a real thing and—

Banafsheh Driver: And unfortunately, it takes time. It's not one year. It's not even five years. But as long as the ability— The possibilities are out there, opportunities are out there— Word of mouth matters an awful lot. If there is a twenty-one-year-old who simply just arrived, he or she needs two years to study and get to learn the language, then he or she needs probably, honestly, another two years to decide what it is they want to do with their lives. And that person might hear about a board in which all the members are lived experience and might strive to join in whatever area of interest they have. It does take time, unfortunately.

Merissa Van Der Linden: Yeah. Okay, Esther, I'm going to you. So, in your introduction, I talked a bit about your role in WARPSAN and described the work you've done around leading advocacy activity with State Government. You did mention the work around hospital access for people who don't have Medicare. I wonder if you could share with us the barriers to—the other types of barriers to services that people seeking asylum have experienced, and maybe share your thoughts around why things that are considered basic human rights would be blocked by bureaucratic processes. Nice, simple question. [Laughs]

Esther Deng: [laughing] Thanks so much.

Merissa Van Der Linden: You're welcome.

Esther Deng: It is highly complex, but then also sometimes really simple. I suppose, to understand it fully, it does take some time and unpicking. But, you know, I've met— We've mentioned some of the wins or successes that we've had with advocacy. But the list is still quite long. Some of the things that we're working on presently are access to public and social housing support from the State Government. In fact, I have a meeting with the Housing Minister last week which wasn't all that hopeful, but nonetheless it is really important for us as representatives of this network to make these needs and what we believe are rights, you know, clear to the people with the power to make the changes. And that's a really key area. I'm sure no one is unaware of the housing difficulty in Perth. Well, in Australia at the moment. We have increasingly high property prices, which also mean increasingly high rental prices. The rental affordability rate is, I guess, the lowest it's ever been.

And what we're starting to see is, you know, a lot of difficulty and challenge for people seeking asylum to find secure, affordable housing. And when they don't have that, you can imagine the list of social issues and impacts that has. So that's something that we're really making a concerted effort around. Part of our strategy is to talk to anyone who will listen about it and then ask them to talk to the people who make the decisions [laughing] and get someone— One of the of the lobbyists that was sort of offering us some guidance said, "Oh, you're going to make sure he hears it from his golfing buddy, aren't you?" [laughter] And I said, "If I can, I will!" So that's one of the key areas.

One of the other areas is affordable vocational and education training. At the moment, it's only a small amount of people seeking asylum and temporary protection visa holders who can access, say, for example, a TAFE course at an affordable domestic rate, otherwise they're expected to pay full international fees. And again if you're, you know, you're struggling, you can barely make ends meet or you have to rely on charitable or community support to survive, that's just not something that's an option to you. And so we're doing some serious advocacy there as well, with the Education Minister, Department of Workforce Training Development. Yeah. Again, the people who can change these policies, as much as possible.

Something else that's also quite related to the work of ASeTTS is, you know, access to mental health support as well, with adequate translation, interpreters as well, for what's required. Whilst ASeTTS does an amazing job supporting people who've kind of been through a torture and trauma experience, there's also a, you know, wide range of other mental health issues that people face. And even more so when they're still undergoing the process of seeking asylum. You know, years and years of uncertainty is certainly going to lead you to a place where you have chronic anxiety or paranoia, and it can lead to, you know, very easily, other sort of mental health disorders as well. So it's things like that access to disability support is another area.

Marissa Van Der Linden: Terrible.

Esther Deng: Yeah, it's pretty much— It's not non-existent, but it's nearly non-existent. And, you know, these are just some of the basic things. Again, you know, I've mentioned that we as members of the community have, you know, full rights we can take for granted. But if you have to navigate living here with a background of trauma, flight, not knowing the language understanding system structures, institutions and trying to get those basics supports is incredibly challenging. The next one I'm going to list is quite a hard nut to crack, but basically a welfare safety net or income support. People seeking asylum are not eligible for Centrelink. They did have access to a fund and program status resolution support, SRSS was the acronym for it. Over the last three years, that program has reduced by more than 90%, resulting in, I think, less than 70 people now in WA who are on that program. But obviously the number of people seeking asylum are in the thousands.

Marissa Van Der Linden: You know, it's very strict to get any services, has to be approved by the department.

Esther Deng: Extremely difficult. The eligibility is nearly impossible to meet. But you know, it's also contrary to what the government says or like, politicians say, it's actually only 89% of a Newstart allowance and even when the Newstart rate was increased during COVID, that amount did not increase. So it is, it's a small amount, but it is an ongoing support where, if you don't have work, you can rely on that. But now that no longer exists. And so even though it's sort of what we would see as a necessity, it is something that the Government's not at all prepared to really entertain or discuss. We live in hope with the election of possible changes, but we also don't hold our breath too much. Yeah, so I guess those are some of the areas. Just a few, Marissa!

Marissa Van Der Linden: Yeah, the list is long and even, you know, even mental health services is such a difficult, problematic thing.

Esther Deng: Yeah.

Marissa Van Der Linden: Somebody might, we might get a person referred and seen, but then the processes are so culturally unsafe if that it doesn't lead to anything. So you'll have a chronically unwell person in desperate need of crisis intervention. But it just doesn't work. So it's a very broken system for many people.

Esther: Yeah.

Marissa Van Der Linden: So I'm going to throw to Abdullahi here about this one. How can we get away with breaching people's rights in this way? How can we claim to be progressive, claim to be a human rights focused country, yet deny people things that are really basic human rights? How does that work? Simple question for you as well.

Abdullahi Ali: Would you repeat that once more, please? Marissa Van Der Linden: So how do we get away with it—how come Australia is considered to be a progressive country, yet we are denying asylum seekers these basic human rights?

Abdullahi Ali: Australia isn't considered, to be honest, in the international system by any means to be progressive. There are two things two and a half things that we're known for.

First is unfortunately the track record with Indigenous Australians. The second is the asylum seeker policy. Second and a half, that's the new half, which is a growing brand unfortunately, is around climate inaction. So by any mark, I don't think, unfortunately, as somebody who works in the international system, no, I'm not necessarily associated with a country that people would often see as being progressive.

And I think Australia also—and maybe this is a question we'll touch on a bit later—has a very, very new discussion on the lived experiences of refugees and it's still very much part of this whole idea of being stories. I like stories, but stories also create some idea of, like, a difficult start and somehow ending with this triumphant success. And the reality is most people's experiences and especially those who are refugees in this country, you have peaks, but you have a lot more troughs—Um, more low points. And those low points, to be honest, are rarely, rarely spoken about. I, for example, was the I was the WA Young Australian of the Year. This was some years ago. And in that capacity I was going to different schools and speaking with different groups of young people. And my story was very much the same, which was— If you think about it, what I was essentially saying was, if you work hard, you can also do better. If you put yourself out there, you can also step up to the best version of yourself, which there is partially truth to that, but never did I—and this is to my own kind of dismay, like now, looking back in hindsight—never once did I create spaces to talk about what are the systems in this country that are failing refugee populations? What are the narratives that are undermining the potential of refugee populations in this country? What is it about our identity that makes us think we're a lucky country, but don't afford that luck to other populations, other minorities in this country?

I wish I had said that. I wish I could have said that, but I'd be honest in saying that a lot of this kind of reflection and thought only came to me when I left Australia, which was five years ago, and being able to step outside of the bubble of being in a particular minority group. So, you can really step back and see your community, see the oppression and you understand a bit more intimately and therefore can speak to it with a bit more authenticity too.

So I think, I think as a country there's an image of who we are and I think that's a very, very aspirational image that we should keep holding ourselves towards. But we also need to recognise that that also comes with certain responsibilities. You know, I think the quote, "Good intentions are only good for 2 minutes" I think definitely holds in this case because that story is one that we, I think, assume of ourselves. But unfortunately, unfortunately, we fall short constantly on that narrative and the people that truly pay the cost are Indigenous Australians, I would say, and also refugee and asylum seeker populations.

Marissa Van Der Linden: So how would we move from storytelling to that more meaningful conversation? How would we do that?

Abdullahi Ali: I'm starting with my own capacity. So, I often now talk about our love as a country for the 'good refugee', which is the one that constantly reminds us of how grateful they are to be in this country, the one that constantly reminds us of how they started with adversity, but with the opportunities afforded them to this country, were able to excel to new heights. All of that is true, but that doesn't represent the entirety of someone's experiences. So for me, my responsibility is to speak to all truths of my experience in this country. So, I have to talk about the amount of times I was told by a student counsellors to be less ambitious, largely because of my family name, largely because of the suburb that I lived in, largely because of the fact that I came from a particular experience. I think of maybe internships that I did in Australia with, being one of the only few in my community, only to receive feedback at the end that I wasn't a cultural fit for the organisation. So those stories, those anecdotes also need to be part of the public experience because otherwise we're robbing people honestly of the truth, the full truth of what the refugee experience in this case, in this country looks like.

And I have to say one other thing. It's very hard to talk about the refugee experience without talking about race. I think what we've learned from Ukraine and even just the Australian public sentiment towards Ukrainians versus Middle Easterners or people from Africa is really at the core. We actually don't have a refugee problem. We have a race problem in this country and that also overlaps with the Indigenous Australians. We have this sort of hesitance to step outside this familiarity of a white Australia and I think that is honestly what we need to tackle at its core.

Marissa Van Der Linden: That's a good segue to where I was going to direct a question to you actually. So, something that I think we're all aware of, with recent events in Afghanistan and Myanmar and Ukraine, there's been a lot of discussion about how differently refugees from different regions are viewed and supported and treated, including in my workplace. There was there's been a lot of discussions around a perceived class structure within the different refugee groups from different countries. And I'm curious to hear you speak about the notion of the 'good refugee' and Western society's expectations and different attitudes towards refugees from different racial and cultural backgrounds. So, you know, a number of my staff got grumbled at by other staff about the discussion around Ukrainian refugees being treated better in the media, but also better by the Australian Government in how quickly they were given, you know, visas and permission to come through and all sorts of things. So, you know, I'm interested to hear more about your perspective on that idea of the 'good refugee' and what we're seeing at the moment in the media.

Abdullahi Ali: Yeah, I think, I mean, ultimately I can't help but then bring it back to race because I really do think it's leaning against that, and other factors too, but I'll start with race. I think one thing we don't do as often when it comes to Ukrainean refugees, which is correct of us not to, is attribute them to their oppressors. So rarely do we say Ukrainians could potentially be Russians in disguise or Putin allies in disguise now trying to infiltrate the Australian society, blah blah blah, on this false pretence of being refugees.

But we do say that, unfortunately, when it comes to refugees from Africa and the Middle East. We do unfortunately have this subconscious thought, fear that they could be terrorists. And the ultimate sin, the ultimate sin that we can commit as a society is to equate the oppressor and the victim as one and the same. It would be terrible, terrible to go, for example, to a survivor of domestic violence and pin that person to their abuse and say, "You're basically an extension of the same thing. I can't really tell which is which." That's the kind of pain, to be honest, that a lot of refugees who are fleeing, for the most part, examples of terrorism and conflict and violence, only to find that when you arrive to a place of safety, that there are suspicions as to whether or not you actually represent that too. And that difficulty and that trauma is something that I find that is, again, something attributed only to those from racially and religiously diverse populations. When it comes to refugees from in the European context now, not necessarily something we see.

The second one is— And I have to say, I loved that I saw this. I'm actually in England right now, and I flew from Geneva over. When I was on the plane, there was an option to donate money to UNICEF's Ukraine appeal. When I landed at customs, I was just met with a sea of Ukrainian flags and that kind of allyship was incredibly, incredibly powerful. At the same time, I'm not going to lie, a part of me also felt a bit jealous. A part of me also felt a little bit... just saddened at the fact that we always had this capacity. It's just we weren't willing to go as far for certain groups. And I hate to bring up the R-word, but it really does come down to race. When you are a white person or if you are white passing as a refugee, you immediately obtain people's familiarity. Oh, that could have been my son. That could have been my daughter. That could have been my family. Unfortunately, when you're black and brown, that becomes a little bit more distant for some people.

Banafsheh Driver: Yes, absolutely. Yes, I can't help but agree. All those questions of race, gender and class— I just read a beautiful quote that they are the pillars of a rotten house whose roof is held by capitalism. They are all intertwined and we can't go past them. We cannot carry on ignoring where our First Nations people are, how we have treated them, how we constantly ignore, step on them, build on them, never listen to them, never take action on what they claim and what they want. And then from there, we already are behaving like that towards our First Nations people. And from then, how can we actually expect for us to be behaving any better towards refugees who are most of the time, as Abdullahi says, different colour and different race? So yes, questions of race and coloUr and class and all the troubles we have in this society— Definitely, Australian society by far is not a progressive one. I agree on that. All the troubles that we have with refugee rights, with feminism, LGBTQ rights, with our First Nations rights. They are all different problems, but also share one very strong thing. And we can't move on, dealing with one of them and ignoring the rest. As I started by saying, I strongly believe that we have to be aware of all of that. That awareness itself is a good starting point. And the more we talk about it, the better it is.

But I also would like to say as a storyteller, I would like to say that it is true I'm, I was a political refugee and my story of being an asylum seeker is very different from a 15-year-old Afghani boy who has been here in Australia all on his own for the past five years, or very different from the grandmother who's dragged her six-year-old child from Syria. What we have in common and what all those stories of the traditional owners, of the asylum seekers, of the LGBTIQs, every single minority group that we do injustice to, the stories of heartache, struggle, power imbalance are at the heart of all those stories and we need to talk about it. I teach citizenship to a group of women who have been here under five years and English is not their first language. And over and over the question that gets repeated is, what is it that we all have in common and what is the building block for all these cultures living here in Australia? And the answer that they have to click on their computer is 'unity and mutual respect.' So the ideal is there. And as non-Australians who became Australians, we all have had to go through those questions and memorise that unity and mutual respect are very important. But we have to act on it now. It doesn't mean we have— It's the opposite. We must not hide all those ugly bits. We just need to talk about them more and talk will lead to action, hopefully.

Marissa Van Der Linden: So from this discussion it's quite clear that we're not progressive. So the email that I got saying Australia is a progressive country, let's scratch that and bury that for good. I think, you know, also with the announcement that we've lost our accreditation with the Australian Human Rights Commission, it's been a challenging few weeks for human rights here in Australia. That means that, you know, we have lost our standing and our ability to speak at the international stage about human rights.

So, many years ago I studied, I completed a Master's in human rights and it was a deeply depressing process. What I thought would be up lifting was actually quite depressing because what I learned was, it's idealistic. It's not the reality for most people. It's a bit like George Orwell, Animal Farm. What is it? "Everyone is equal, but some people are more equal than others." And it just— This conversation is really highlighting that really, fundamentally, the issue, one of the big issues we have is that we don't really value human rights terribly well in Australia. And there are particular groups that are paying the price the most for that. So... I'm just I'm just winging it now... So how do we move from a lot of rhetoric about rights-based principles, rights-based framework, rights, rights, rights to actually doing it? What do we need to see?

Esther Deng: Well, I think firstly, I think it's good to, you know, take a good, hard look at yourself. You know, I think without that sort of reflection— Sometimes we say to sit with that discomfort and ask questions. Why? Why do I feel this way? Why am I having this reaction? Why am I having this response? You know, is there a part of me that has bias? Is there a part of me that's being judgmental? Racist, even? And I think it is an exercise of reflection. But then also, as much as on a sort of broad government level, a broad Australian level, there's a lot to be concerned and dismayed about. What I find encouraging and hopeful is when I look at our organisation, which is a largely member-based and volunteer organisation, there are hundreds and thousands of people in our local community that I can see doing something practical. And it is hard. We're talking about really big issues. We're talking about things that aren't easily solved and certainly won't be happening overnight. But what I see on a day-to-day basis is people doing whatever they can. You know, there's people in the community who make a donation to our food bank, which— I still can't believe to this day that, you know, without having to spend any money to buy anything, you know, Karen's been able to support over 150 people every week with food security based on the donations of people in the public. You know, that's a small thing, but from there it grows. You know, like other people are involved in homework help and detention centre visiting, even, like, community engagement. Some people give money if they can. Some people are advocates; they go and meet with their local member of Parliament to raise these issues and say, "As your constituent, this matters to me, and let me check what you believe and hold you accountable as the representative, you know, of this area of me and my family." So, I think there's things that everybody can do and kind of put to action, you know, after thinking about these things, talking about these things, reflecting on these things. And everybody is different. Everybody's got different strengths, talents, abilities, resources. But what I would say is, whatever you can do, you know – whether it's even just having an honest conversation with somebody, challenging somebody's views on this, telling them maybe something more truthful or more realistic – whatever it is you can do, collectively that's how we make a change. You know, we're going to see a swell and then hopefully a wave. I think that's why it is such it's such a timely thing that we're having this discussion sort of in the lead up to the election. You know, even your vote matters. So, yeah, I suppose I take this opportunity to say, you know, hopefully we all go home and think more about what we've been discussing tonight, but also get to action and do something as well.

Marissa Van Der Linden: Now we should probably do a plug for WeAllNeedOurFamilies.com at this point. Yeah, did you want to do the plug? I'm not meant to.

Esther Deng: So for WARPSAN, one of the key, I guess, policy platforms and campaigns that we have in the lead up to the election is something called We All Need Our Families. And basically what we're trying to address is, partially, the visa system here for a lot of people who are seeking asylum. At the moment, they're only offered temporary protection. So that's a three year or five year visa. And I don't know about you, but the nature of protection to me, if it's got an end date, if you're counting down, is not real protection, you know. And so part of what the campaign is, is to try to seek for a change in this visa sort of set up and framework where temporary protection is done away with and permanent protection is brought in.

And one of the key limitations of temporary protection is that there's no option for you to reunite with your family. You can't then sponsor your family over. And for many people seeking asylum, you know, they have been the delegate sent from their family. They have made that great sacrifice. You know, it's great risk and also great cost for many families. And so there's a delegate that's sent, and they are obviously hoping and wishing the best, that they could go get protection, bring the family over soon. Some people have been separated from their families for close to ten years now. You know, they've been waiting for their protection claim to be determined. And then they finally got the protection. But it's temporary and that doesn't allow them to be reunited with their families.

And so part of this campaign that we have is really looking at the different political parties and what their position on this is. And we're not telling anyone how to vote, but just to have an awareness of what the various parties stand for. And then using, I guess, you know, that information to help you, you know, shape what your yote and support would be in this upcoming election. So, yes, I believe it's We All Need Our Families, WANOF. We just love a bad acronym at WARPSAN. Yeah. Dot com. I think it's dot au, too. Yeah. But if you Google it, it'll definitely come up.

Marissa Van Der Linden: I think it's on all of our websites anyway. But anyway.

Esther Deng: Yes. Sorry. Shameless plug. Sorry.

Marissa Van Der Linden: Well, it's an important plug. And it's especially important if you read, for example, One Nation's policies or lack thereof – very, very interesting read. Your face is perfectly summing up the feeling. So I'm just mindful of the time that we're going to move to questions. My final questions for the panellist would be, what are the three things you'd like the audience to take away from this conversation? I might start with Abdullahi, because you've probably had the least chance to talk.

Abdullahi Ali: Three things to try to take away. I think for anyone who has a history, a story of being an asylum seeker or being a refugee, I think just a reminder to us all to remember the power in our ancestry. I think some of us come from the oldest surviving cultures and traditions on Earth, and these are cultures and traditions that have survived waves. Waves of challenges, waves of oppression. So there's nothing but evidence for each of us to know that we can thrive in this country too. I think that's the first one.

The second one is, I always believe that social change comes down to the three Ps. It's people, politics and power. So I think it also comes down to organised citizenry and political action. So for me, I'm at a stage now where I would love to see us zoom in on media representation. And that doesn't only mean people who have particular experiences, but also those who are willing to champion and be allies to those causes and to those very important discussions. We need to see a lot more of that in our media landscape. And the third one is around politics, I think, I think it's the case that you can travel to the most multi-cultural, racially diverse, religiously diverse electorates in this country and you'll find for the most part that it's not somebody who is racially, religiously, or culturally diverse, who represents those communities in the seats of government. Which I think it's unfortunate because I think when our efforts are left in the hands of a translator, only some of those ideas go forward. You know, and often what happens is those political figures end up. I don't want to reduce their intentions, but usually then perhaps go into another state of their political career or non-political career. So their commitment or their attachment or their loyalty to their electorate sometimes fades beyond their position. But I think sometimes we have to reform those groups in those positions, whether they're in it for a long time or not. You'll see that whatever position that gives them, they will still be allies to those groups. So I really do think it's time that we do two things. One of them is encourage more and more young people from diverse people, a diverse from racially and religiously diverse and asylum seeker backgrounds and refugee backgrounds to potentially consider public office, whether that is running or whether that's just going into the public sector machinery itself. It's the largest institution for social change. We have to remember that. And also really just to remind those who are in positions of power right now, but the power that you have really to be to be effective allies. Again, like it's so dormant, the conversation around refugee rights, human rights, in this country, and that's a function of our distance from the rest of the world perhaps. But really, to be honest, Europe, North America – which is perhaps our best benchmark to go up against – are miles, miles ahead. And yeah, there's an opportunity for us to really do some catching up.

Marissa Van Der Linden: Thank you. I'm going to go to Esther.

Esther Deng: Sure. Three things. I would say, reflect, would be the first thing, on some of the discussions we've had. And, you know, some of that reflection may involve learning and finding out more. Then I would say to commit to doing something different than you're already doing, whatever that may be for you. But also, the last thing, that I always encourage anyone that I speak with to do, is to tell somebody else you know. Don't let it stop with you. Don't let it stop with whoever you came with tonight. Tell someone else. You know, "I went to this interesting discussion. We talked about these ideas. I'd never considered it before. What do you think about that?" The more we start talking about this, the more we start normalising it again. That's where I feel like we're going to see that groundswell of change come from. The more that we normalise this in our typical discussion, again, I think, that's where we'll start to see a lot more action and change.

Marissa Van Der Linden: Banafsheh?

Banafsheh Driver: Well, working for a Red Cross, and I'm very proudly working for Red Cross. To me, the power of humanity, we are not to forget that. And following that is that, there's more good than bad. Almost always there's more good than bad. And at times when there is more bad than good, that doesn't last long. It feels like forever, but it will change. And I do believe in power of humanity, and I think justice is possible eventually. And that we're all connected, really, like it or not. At times we're very blind to it, but we are deeply connected all over the Earth and the Earth is all we have. So we better do the right thing.

Outro

Thanks for listening to Tipping Point. A conversation series and podcast created by the Western Australian Museum Boola Bardip. To listen to other episodes from this series, go to visit.museum.wa.gov.au/boola-bardip where you can listen to all conversations from the 2021 In Conversation program. Tipping Point is recorded on Whadjuk Nyoongar boodja. The Western Australian Museum acknowledges and respects the Traditional Owners of their ancestral lands, waters and skies.

 
Presenters

CEO of ASeTTS (Association for Services to Torture and Trauma Survivors)
Merissa has a strong background in human services and human rights, with hands-on and leadership roles in a range of state and national organisations, including Community Vision Inc WA, the WA Disability Services Commission, National Disability Services WA and most recently at Activ WA, where she was the head of Quality Safety Health and Environment. Merissa holds Bachelor of Science (Developmental Psychology) and Master of Human Rights degrees.

Lived Experience Speaker, Red Cross

Acting General Manager, Centre for Asylum Seekers, Refugees and Detainees

Global Impact Strategist & Community Organiser